Published on
December 16, 2022
Category
Features
The best turntables on the market.
This decade has started off strong for vinyl sales, 2020 and 2021 both saw an increase in sales compared to the previous decade and 2022 has followed suit. This ever-increasing popularity has moved vinyl from a "trendy" comeback to something that's more solidified.
Just as in previous years, manufacturers are continuing to produce new and improved turntables that keep up with contemporary trends. Feature-packed audiophile-centred turntables are becoming more common, and this is happening across all price brackets. Built-in features such as high-quality Bluetooth and streaming capabilities can now be found across all price points. Premium qualities that were previously only found in higher-end turntables are also making their way into more budget-friendly decks.
While a lot more quality decks are flooding the market, the same can be said for low-priced "plug-and-play", suitcase-style turntables. On paper, these all-in-one turntables seem convenient, affordable, and accessible, but they are terrible for your records. The needles that come preinstalled to these units are no good! They will scratch your records with each spin, which diminishes the quality of your listening experience and ultimately leave your records unlistenable. Don't be fooled by their adorable luggage design and handy in-built speakers; stay far away from these types of decks.
That being said, now is the perfect time to get into vinyl. Whether you're new to vinyl, an experienced audiophile, or had a turntable in the past, there are many fresh modernly designed turntables out there for you.
Below we look at three of our favourite turntables from this year.
---
BUDGET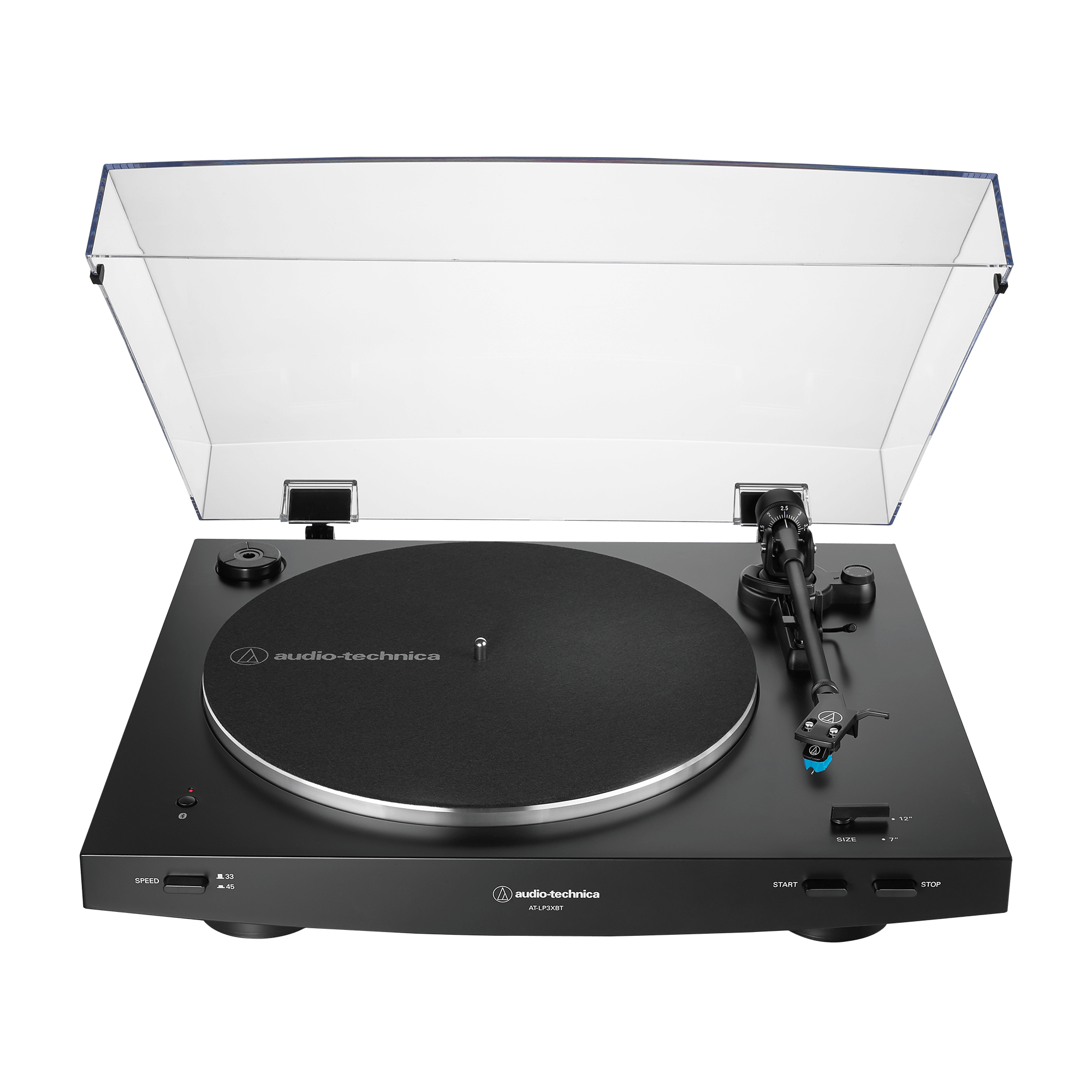 Audio Technica AT-LP3XBT
Price: £279.99
Pros: Fully automatic, built-in preamp, Bluetooth
Cons: Does not play 78 speed records
Verdict: The AT-LP3XBT is a fully automatic beginner-friendly turntable that combines improved Bluetooth wireless technology with high-quality analogue sound.
Audio Technica's £279.99 Audio Technica takes their budget- beginner-friendly LP3 and gives it a well-needed Bluetooth upgrade. This turntable is well-equipped for anyone interested in getting into the world of vinyl. It's fully automatic, has two speeds for 12″ and 7″ records, is belt-driven, has built-in Bluetooth for pairing with speakers, and even has a phono pre-amplifier built in! Oh, and it's super easy to use. There's also Audio Technica's flexible AT-VM95C cartridge included, which is compatible with any stylus from the VM95 series without requiring a whole cartridge replacement.
---
MID-RANGE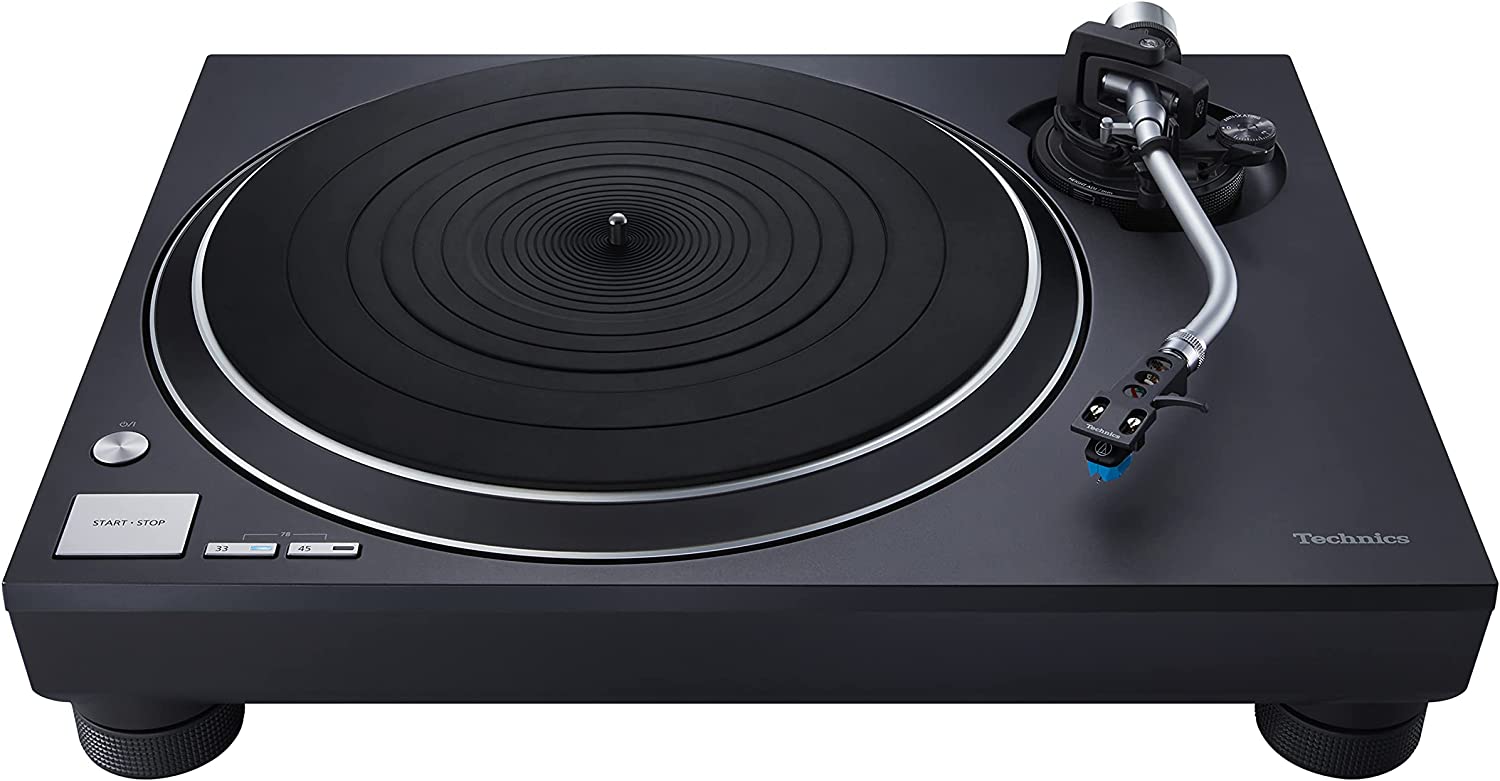 Technics SL-100C
Price: £700
Pros: Direct drive, three speed
Cons: no built in pre amp
Verdict: Play your vinyl records with ease and stability on the Technics SL-100C, which boasts an unrivaled audio experience in a modern, minimalist form.
The SL-100C lives up to the quality you can expect from years of refinement that Technics is known for. This deck is equipped with an upgradable Audio-Technica AT-VM95C pickup cartridge and a coreless direct-drive brushless DC motor for "stable rotation free from cogging." An S-shaped aluminum tonearm, two-layer platter, high-rigidity cabinet, and a high-damping insulator for "smooth" vinyl tracking can be found in this unit alongside an Audio-Technica AT-VM95C cartridge.
---
HIGH-END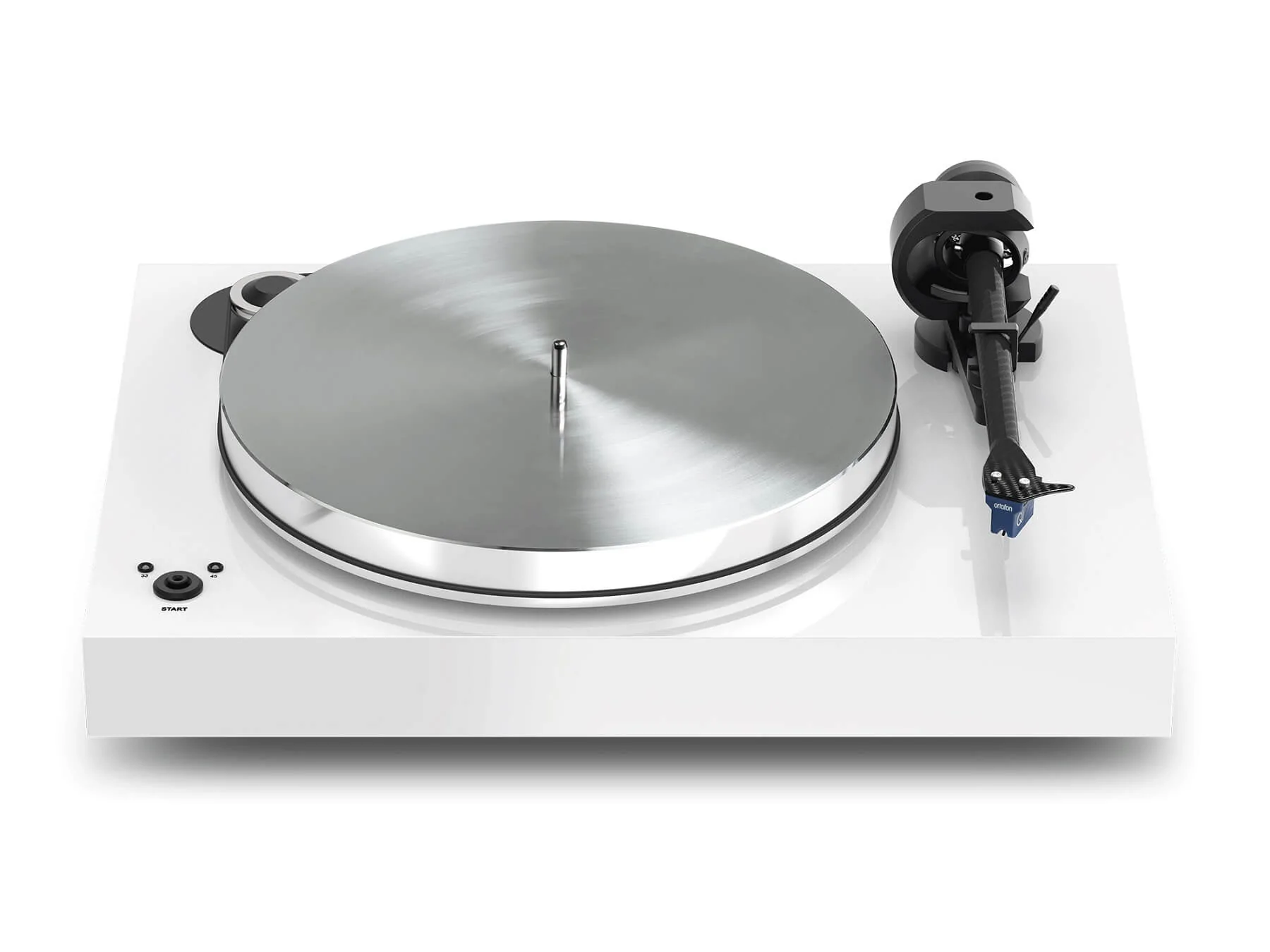 Pro-Ject X8
Price: £2099
Pros: Well-built, mass loaded
Cons: No Bluetooth
Verdict: Heavy duty and fully manual, the Pro-Ject X8 belt-drive turntable can spin records at either 33 or 45 and has audiophile features seen in more expensive top-of-the-line turntables.
The X8 turntable is a top-tier turntable that borrows heavily from the super well developed technology Pro-Ject put into the X9 and X10. The platter is damped with a TPE (Thermo Plastic Elastomer) insert and machined from a single piece of metal for accuracy. The platter is supported in its rotation by an inverted bearing made up of a ceramic ball and a PTFE push pad. An opposing neodymium magnet repels the platter from the plinth and bearing, reducing the stress on the bearing and providing years of peaceful, trouble-free playback.