Published on
November 13, 2013
Category
Features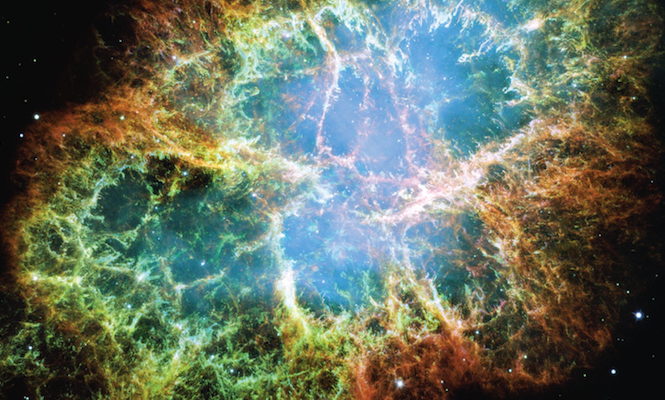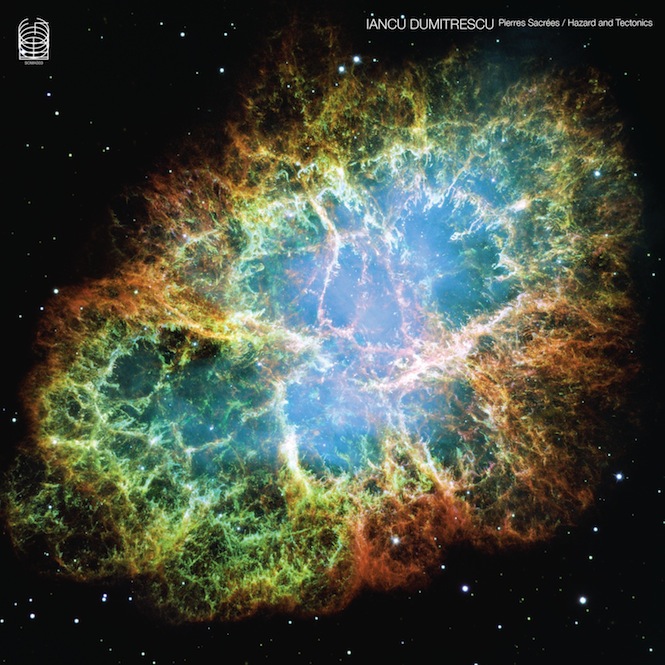 Continuing our weekly reissue review series in which we take a closer look at some of the most important (and often neglected) records to be newly reissued on vinyl, VF contributor and co-founder of experimental music platform St John Sessions James Hammond explores the sonic nebulas of Romanian composer Iancu Dumitrescu.
---
Words: James Hammond
A vinyl release from Romanian composer Iancu Dumitrescu is a very infrequent occurrence, and with the reissue of one of his most vital works in Pierres Sacrées this is quite the listening event. Having been single-mindedly pursuing a spontaneous nature in composed sound since the 1970's, Pierres Sacrées comes as one of his more violently ecstatic pieces and marks his first serious foray into the use of distortion.
Often underfunded and still a relative unknown in the seemingly incompatible world of all things 12 tone, there's no better place to start with his considerable oeuvre than with Pierres Sacrées as it gets straight to the crux of his work: the exposition of the sonic interior. Recorded in 1989 on an 8 track using a prepared piano, metallic plates, handmade microphones, and other sound objects, it's 13 minutes of sonic brutality to cleanse the mind of the superfluous. There's a tension and constant sense of the unexpected as the piece progresses, with the attack and decay feeling like naturally occurring phenomena rather than something actively struck or played; the distortion forcing each sound to a threshold of existence and then revealing its inner quality. A literal combustion of sound.
It's no wonder this is released as part of the Ideologic Organ Series which is curated by Sunn O)))'s Stephen O'Malley; a vocal fan of Dumitrescu and another key figure in propagating the transcendent qualities of distortion and the obscured. The package itself is a thing of beauty with the cover being one of the Hubble photos of the Crab Nebula and a clear reference to the music's affinity with the miraculous and the elemental. The formation of stars, the atmospheres of the planets, the music of the spheres all having been key themes to a variety of musicians and works, from Holst to Brian Eno's Apollo soundscapes and other lesser visions. Dumitrescu's cosmically themed work often stands apart in reaching out to the sublime by not relying on the whimsical for a sense of mystery, with the imagined rejected in favour of a pure sound.
Hazards and Tectonics is the companion piece on the record and was the product of 4 years of development before being premiered in Glasgow this year. Using computer assisted sounds as part of the orchestral technique it has a more digitally pronounced sound than Pierres Sacrées, yet sounds far from terms such as 'inorganic' or 'shallow' that are often thrown at heavily digitized music. That both these pieces took considerable time and trial and error to create is assured; Dumitrescu like Jimi Hendrix and other visionaries before, is driven by timbres that exist in the mind, and a life's work in pursuit of their articulation in the unrepeatable and unique.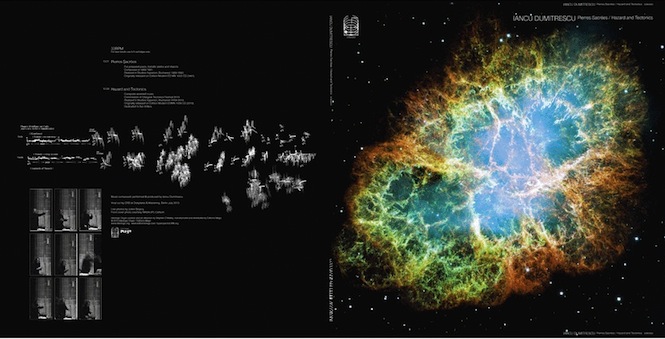 Another point of interest on this one is the score printed on the back cover. Giving directions for the amplified attack of the metal plates breaking left and right, it has more in common with a diagram for nuclear fission than standard notation. It points again to importance of seeing him conduct an ensemble in person. Living in France at present and a regular visitor to these shores, along with this vinyl it's something not to be missed.