Published on
January 8, 2016
Category
Features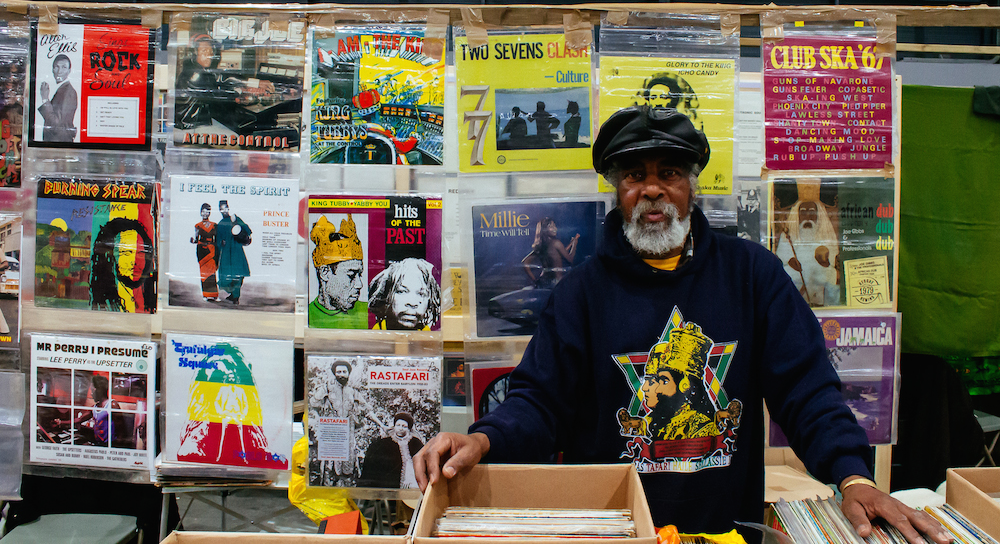 From Brazil to Belgium, we profile six vinyl pushers.
Last Autumn we travelled to Utrecht for the bi-annual Mega Record & CD Fair. With 35,000 rabid record collectors descending on a concrete jungle of ceramics, Star Wars dolls and more vinyl than you can fathom, Mega is the right word.
A staple on the dealing calendar, some five hundred and fifty sellers from across the globe attend the fair. For most, it's both a place to make crucial sales and an opportunity to catch up with old friends.
It's easy to write off dealers as Nick Hornby High Fidelity types – you know, obsessive compulsives that squabble over pressings and chase out customers with bad taste. But as we found out in Utrecht, every seller has a story to tell.
---
Name: Eddy de Clercq
Nationality: Belgian
How long have you been dealing records?
I started buying records and working as a DJ in 1974. Slowly but surely I also started selling records. First I swapped or sold to DJ friends, and then I began selling to collectors.
I've been dealing at the Utrecht record fair for five years now and in general I've been dealing records for probably 15 years. I have an online shop on Discogs and I also sell through online auctions. Since eBay has become such a hassle to sell through, I'm preferring to expand my activities on Discogs.
What's your area of specialism?
Black music with a penchant for South African jazz & jive, disco and boogie. I also buy and sell lots of 78s in every genre. I just love the sound quality of old shellac, the material is so fragile that I hardly play them but what a sound! No digital sound can ever equal a 78 rpm shellac disc.
Is there a record you would never sell?
I don't have it with me (obviously) but it's Sam Fletcher's 'I'd Think It Over'. It's a US soul 45 Tollie records.
Any funny or strange experiences from dealing records?
Once I was selling a Gary Numan album that I found at a flea market. I didn't realise it at first but when I pulled the record out, there was a hidden stash of money in. The previous owner had actually tucked 100 Dutch guilders (c. 50 euro) in the cover. I didn't realise this until I sold it but I managed to take the money out before I sold it! The buyer understood of course.
---
Name: Julian aka Digger's Digest
Nationality: French
How long have you been dealing records?
I've been dealing for 10 years and collecting for about 20.
What's your specialism?
Rarities. Mostly French and European jazz, tropical music, Caribbean jazz. I just released a compilation called Kouté Jazz. It's a hybrid jazz album from the French West Indies.
Tell us a bit about your label.
It's a reissue label so I can't say it's a real label. Last year, I released a record called Israel Suite by Rupture, which was made famous in the UK because Gilles Peterson played it.
Is there a record you would never sell?
It would have to be something unique but not necessarily a rarity. Perhaps it would be this unreleased album Candy Girl by Mal Waldron, the American pianist. It's a beautiful deep jazz funk record with members of Lafayette Afro Rock Band. The LP was pressed in France on Calumet as a promo copy but was never properly commercially released.
Any funny or strange experiences when dealing records?
Yeah! They're not always funny but I have many stories from dealing. For example, one day someone wrote me on my website, the name sounded familiar and in fact it turned out to be Q-Tip from A Tribe Called Quest. He was doing a gig in Paris, so he came round to my flat to buy some records.
---
Name: Eve and Dominic aka Vault Vinyl
Nationality: British
How long have you been dealing?
Eve: It's slightly complicated. It was my husband's business but unfortunately he died last year. So we're trying to keep it going.
Would be come to Utrecht every year?
Eve: Yes, he came for seven years before he died. Twice a year.
Do you know how he got into selling records?
Eve: It started off as a way to fund his obsession. So he'd sell some on to give him the funds to replenish his growing collection. He eventually took a small market stall in Paris. It was actually cheaper to trade from Paris than it was to have a permanent stall in London, which is crazy.
So would he go to Paris every week to trade?
Eve: Yes, it was just a weekend market which allowed him to trade during the week in London or wherever he needed to be internationally. But Paris was his base.
Area of specialism?
Eve: Black music, predominately jazz but he was a very big reggae dealer in Paris. We also have a lot of hip-hop, soul funk, Latin and African.
Is there a record you would never sell?
Dominic: An Indonesian jazz track by Tony Scott called 'Djanger Bali'. It was one of my dad's favourite jazz tunes, and probably mine too.
---
Name: Barry Isaac
Nationality: Jamaican
Have long have you been dealing records?
I've been selling second hand records for over 40 years. I still go to Jamaica and buy records to trade in Europe. I started playing the sound systems in 1970 and now I run a label called Reggae On Top with my bredrin Pablo Gad. It's a statement that reggae is on top! The problem we're having though is with manufacturing, there's no quality control!
Is there a record you would never sell?
When I was growing up, one album that was always on the deck was Grounation by Count Ossie & the Mystic Revelation of Rastafari. That's a very special record to me. When I'm feeling like I want to be a bit more positive, I put that on. It's very cleansing. As Bob said, "Your belly might be full, but you're hungry." Hungry for righteous and that's why roots is so important.
Has anything unusual happened when out dealing?
Last year I was here in Utrecht and a man came up to buy a big pile records. I was thinking, 'I'm gonna have a nice day now!' When he came to feel for his money, there's was nothing there. Someone had stolen all of his money! Right where you're standing! He was so shocked. Nobody should be stealing, it was a very low moment. Why you wanna come here and rob people?
---
Name: Mafer Records
Nationality: Brazilian
How long have you been recording dealing?
Mafer has been going for 15 years now and is run by Danilo Guedes. He was a collector first and then opened a store in the centre of Sao Paulo.
What's your specialism?
Classic rock, hard rock, heavy metal, punk, pop. And naturally, we specialise in Brazilian pressings.
Is there a record that you would never sell?
We would sell everything for a price! There are some signed items from dead artists like Ronnie James Dio and Jeff Hanneman of Slayer, that are very special to us though.
Has anything strange happened when out dealing?
Most people who buy our records are weird people. There are often funny characters who come into our store and start signing a song, asking 'Do you know this song? I need the album but I don't know the band or anything.'
---
Name: Antal aka Rush Hour Records
Nationality: Dutch
How long have you been dealing records?
The Rush Hour store in Amsterdam has been open for 18 years. I have been coming to Utrecht for maybe 20 years as a buyer and as a seller for maybe 14 years.
What's your specialism?
We do everything. All good music is one. Genre is useful to talk about music, to have some kind of reference, but other than that I don't really care. I also don't necessarily like to talk about it, I want to hear it.
It's interesting how immediate music can be.
Yeah, sometimes you can hear it really quick. Some tunes need to grow and some are just like, 'Wow this is unique.'
Is there a record you would never sell?
Anything I play, anything I listen to… if I only have one copy, I keep it. I sell so many records so I don't need to sell my own records.
Ok maybe this is a better question – if you could only save one record in your collection what would it have to be?
[Laughs] Definitely Marvin Gaye's What's Going On.
Why?
Because it's a masterpiece. I listen to it over and over again.
Do you have any strange stories to tell from dealing records?
I could write a whole book about it.