Published on
November 24, 2015
Category
Features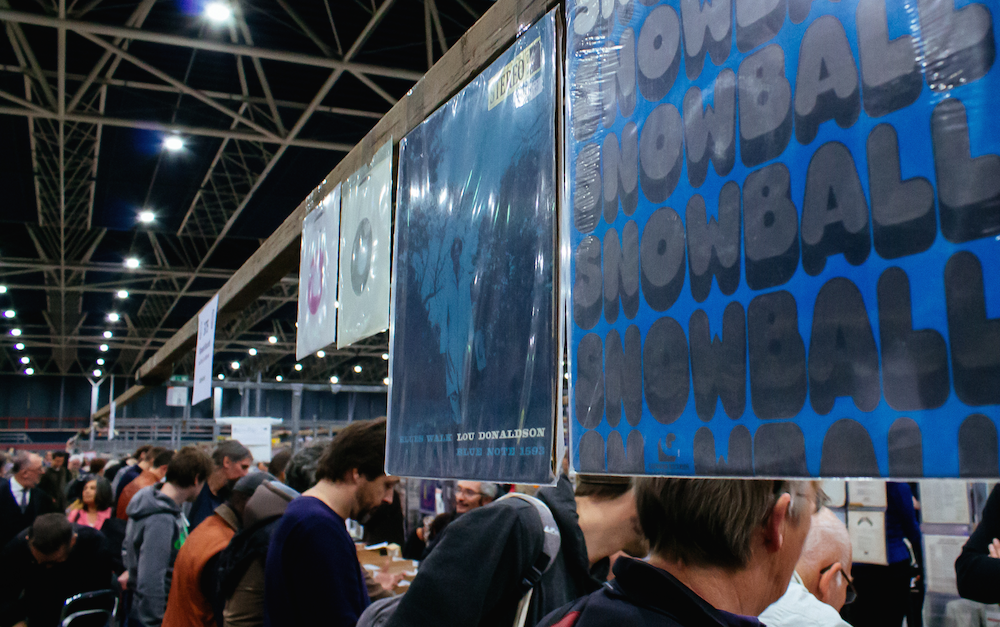 A first-timers guide to Utrecht's Mega Record & CD Fair.
The seat of Catholicism in the Netherlands until the 16th century, it's a different kind of pilgrimage that brings people to the city these days. Familiar almost exclusively to record collectors and anyone who has spent too long playing Football Manager, the small university city of Utrecht in Holland may be an unlikely setting for the world's biggest record fair, but the comparison is apt – the collectors' fair dominates a series of hangers the size of ten football pitches, and competition is rife.
Just thirty minutes from Amsterdam, the Jaarbeurs complex is a short walk from Utrecht central station but for some it's still too far. Grown men with empty wheelie bags duck and weave between the crowds, only to be greeted by mammoth queues for tickets and cash points. Pity those who come to Utrecht unprepared.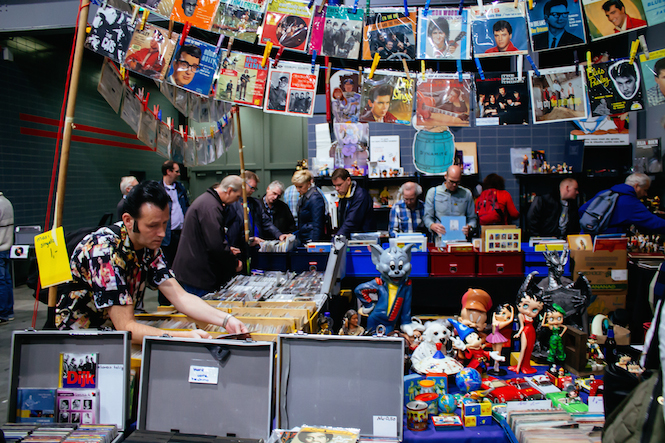 The first hanger you enter is collectables. The Mega Record & CD fair dovetails with the Jaarbeurs collectors' market, and that means wading through aisles and aisles of assorted toys, candlesticks and flea market ephemera before you even get a sniff of the records. Only once you've passed through two aircraft hangers without a 7″ in sight do you begin to realise the scale of what goes on at Utrecht – something that's simply impossible to capture on camera and can leave you feeling a little pale. There are no windows, just rows and rows of Phil Collins' But Seriously, that seems to emit their own strange glow.
The stats probably do a better job of illuminating the scale. Over five hundred and fifty dealers descended on the event this time round from countries as far as Venezuela, catering for 35,000 diggers over the course of the weekend, or in other terms over 10% of the entire population of Utrecht.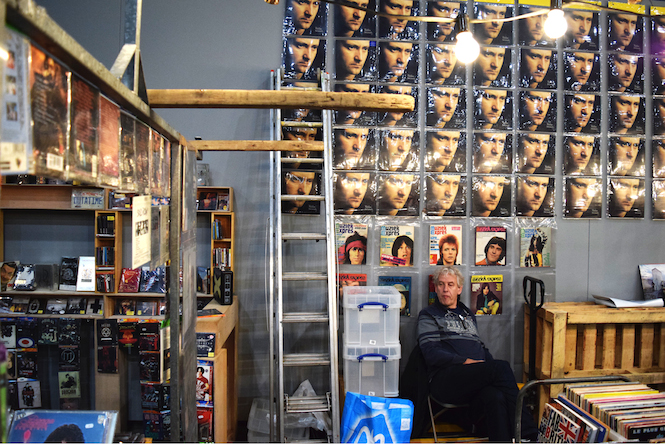 While it's only open to the public on Saturday and Sunday, punters can pay a premium for first dibs on the Friday – or "dealers' day" (although we have it on good authority that all the major deals go down in the hotels on Thursday night). Sure, there are lots of men – many with moustaches and tatty jackets shuffling between the classic rock crates clasping plastic bags to their chests, others crouched down by the bins, taking a breather with a carton of juice and a home-packed sandwich – but as with the stalls themselves, to get the best of Utrecht you need to look at the specifics rather than the whole.
Among the rows of golden oldies and CDs (seriously? Who comes to Utrecht to buys CDs?) are labels like Manchester's Finders Keepers, who operate like micro-economies within the fair, catering for young buyers (a pair of Turkish girls were there buying up as much psych as they could carry for the second year running) and operating shifts to pick out the best of what's on offer for their personal collections. Here they rub shoulders with Amsterdam dance music emporium Rush Hour, Spanish psych specialists Wah Wah Recoords and cult France-meets-NYC disco label Celluloid, who set up to sell pristine warehouse back stock at discount prices. It's like having all your favourite record shops pitch up on the same street.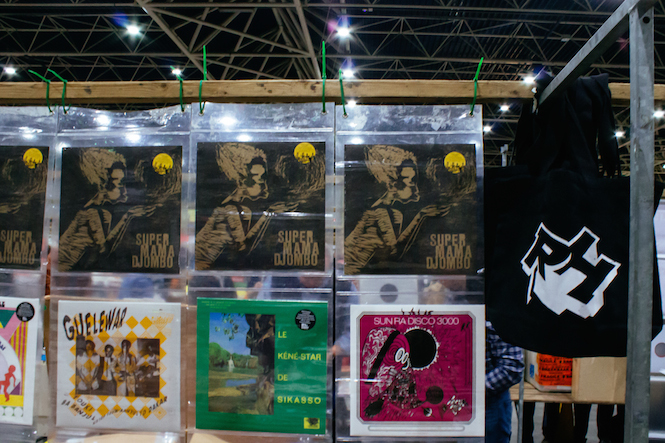 Surveying the scene for the first time – the smell of Dutch croquettes wafting through the air – can be both intoxicating and bewildering. Try to comprehend the scale of stalls and number of records on your wantlist concealed within and you can easily feel suffocated by surfeit. Seasoned diggers at Utrecht all talk of their 'systems'. Everyone has their own way of navigating the space, of picking out the stalls where deals can be struck and gems discovered.
Most begin with the back wall – the dealer's shop front – which is as good an indication as any of what to expect. Although a transaction is always the end game, striking up a relationship is just as important, especially if you're going to be hanging around all weekend. That pricey 45 you had your eye on on Saturday morning may be significantly cheaper come Sunday evening. It may be a game, but temptation is all around you in Utrecht. At least your wallet won't be as heavy as your suitcase when you leave.
For a full insider's perspective we spent some time with Doug Shipton of Finders Keepers and profiled a number of record dealers at the fair for features, both of which we'll roll out in the coming weeks, but for the time being take a look at a selection of photos from the fair and bunch of the records we picked out below.