Published on
April 12, 2017
Category
Features
From his Autechre worship phase to the digi-dub 7″ he bought yesterday, Objekt unlocks his record collection.
Following his debut album Flatland on PAN, TJ Hertz aka Objekt has just dropped 'Objekt #4', the latest in his club-focused white-label series that kicked off back in 2011.
The record is a tribute to the now-shuttered Basement Q, a beloved haunt in Berlin's Schöneberg 'hood "which quietly but profoundly shaped the musical identities of Hertz and several of his contemporaries."
You don't have to spend long in Hertz's record collection to see how committed he is to the art of DJing. One of the most functional, working collections we've experienced, it's pure-fire house, techno and electro here, all united by a sense of "rhythmic propulsion."
Yes, you might find a smidgen of African folk or the odd blues compilation but for Hertz, it's not about owning prized objects but rather, symbiosis of sounds.
---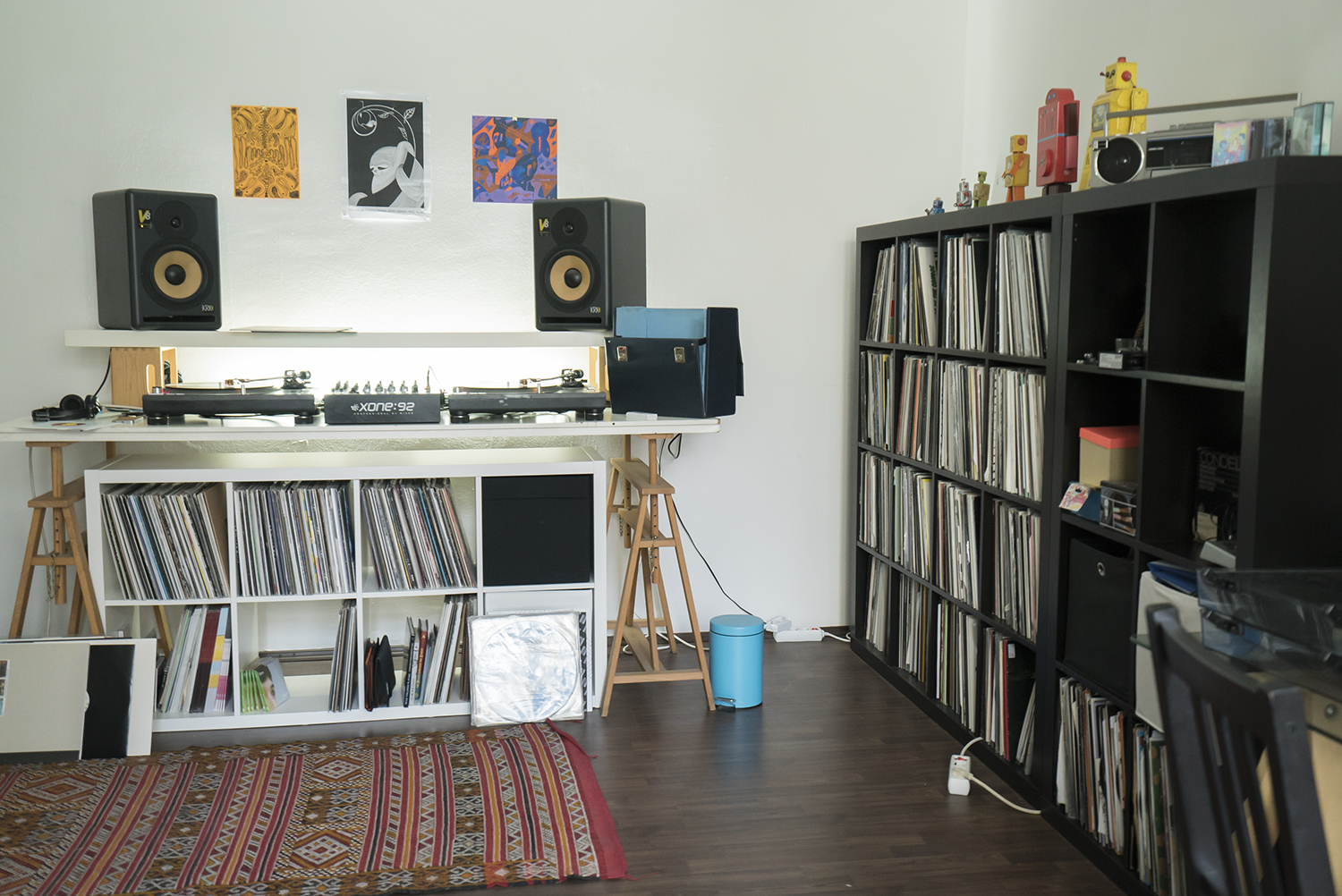 This room is quite obviously set up for DJ'ing but would you ever sit down in here and listen to an LP?
No. The acoustics are terrible. It's just a space where I can prepare for the weekend, mix some records.
Is your collection mostly DJ records then?
Basically yeah. Down here [under the decks], the way I've got it setup is kind of chronological according to when I last played the record. Broadly speaking – house, techno, electro [in three shelves]. It's a very functional record collection.
Considering that it's mostly dance records, do you have anything in here that is perhaps surprising or unexpected?
The stuff that isn't house or techno is quite a ramshackle collection. Let me have a look… I recently got this acoustic guitar music from Western Africa, it's called Les Filles De Illighadad by Fatou Seidi Ghali & Alamnou Akrouni. There's also this blues compilation I bought, Living Country Blues USA, Volume 1, which actually I do play sometimes because it's got a great a cappella. Have you heard the Call Super Fabric mix? He stuck it at the end.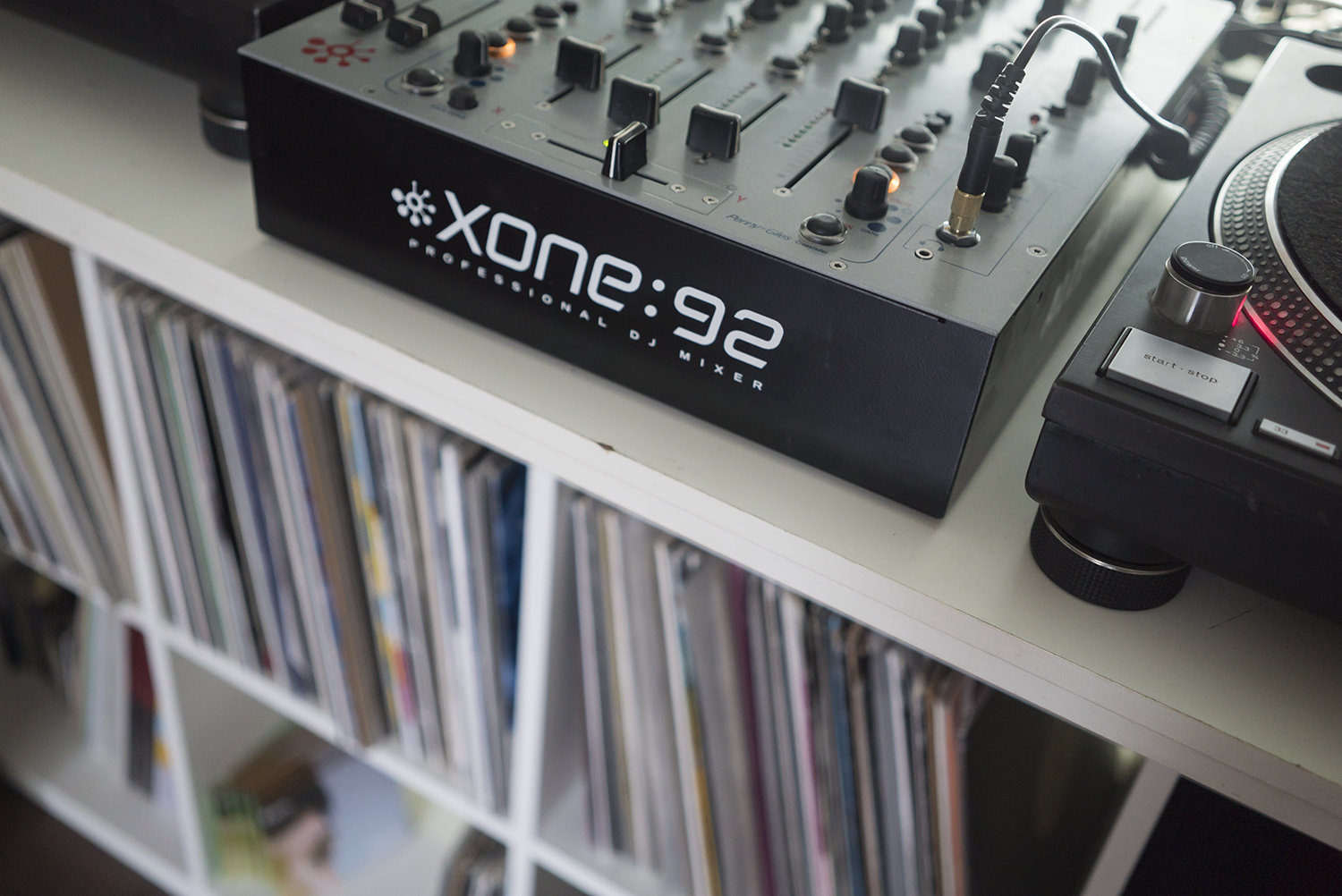 These are both very tasteful choices, have you not got any guilty pleasures?
I think the notion of a guilty pleasure as cheesy music that you should be embarrassed to like shouldn't really exist. I guess my interpretation of a legitimate guilty pleasure is music that I genuinely don't think is any good but I still get a kick out of. Probably the only kind of stuff that would fall into that category for me would be maybe some of the electro-clash that I might have been listening to at university that I still have some nostalgia for or maybe some fidget house from around that period, which I genuinely don't think is very good and I'll never play but I'll admit to having a bit of a soft spot for.
You studied at Oxford University, right? And ran a club night there?
It was called Eclectric, I took it over from people who had started it years before that. It was actually several nights. I ran the one in a little basement club that focused more on techno and there was also an electro night – I say electro, I mean Ed Banger kind of electro – which I was less involved with. It was everything that a crappy student-run small dance music night in a 150 cap club usually is but it was fun it gave me an outlet to play the kind of music that I wouldn't have got away with playing at other nights in the city.
You studied engineering there, I was wondering how systematic you are with your collection, and your interests, and discovery of new music?
I'm absolutely like that. I don't think it has to do with what I studied though. I think I have a bit of an OCD streak I guess. A lot of the time my methodology for digging for records is exhaustively exploring one label or one artist on Discogs and feeling quite uncomfortable if I skip entries in the discography and therefore don't know if I've actually properly explored the artist or not. In many ways that's crippling because it doesn't really lend itself to acquiring a broad knowledge of everything that's out there.
I've started getting into that approach too, I've become really anal about going through the works of an artist chronologically.
Yeah totally.
And you do end up listening to some stuff that's…
Just a bit crap? [Laughs] You just spend a lot of time listening to probably not the best records in someone's oeuvre.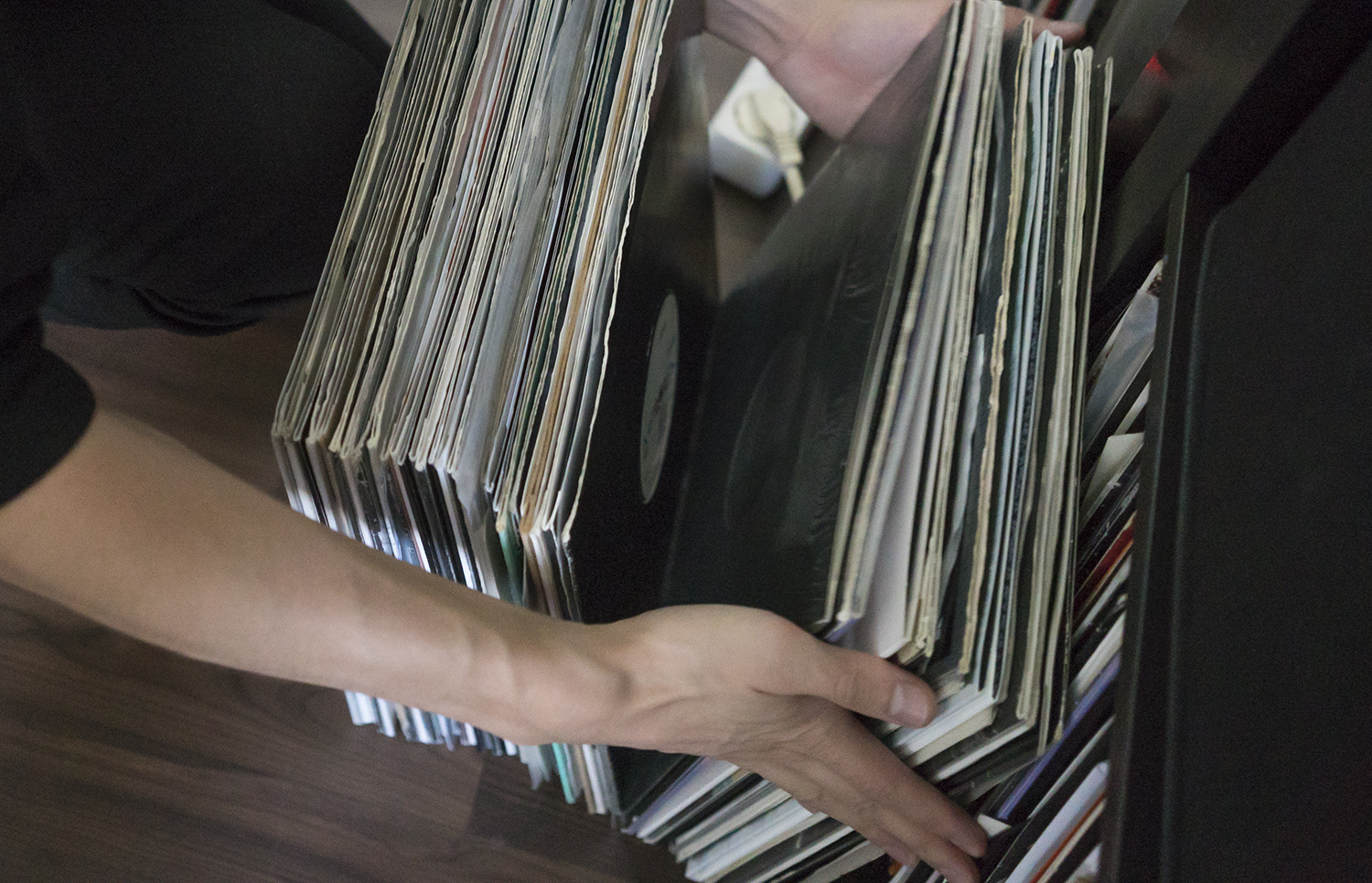 Let's rewind a bit, what are your earliest memories of music or records growing up? Was there vinyl around the house or was it tapes and CDs for you?
There was a bit of vinyl. My mum was a composer, she's not anymore actually, she's a therapist, but she was a professional composer earlier in her life so there were always instruments around her house. She had a home studio.
Did I read somewhere that you used to play around in there from quite an early age?
Yeah, I started doing that when I was eight or nine. She would set up some instruments for me. I guess my earliest musical memory – well I don't remember this but – I had a mobile over my cot that played 'I Could Have Danced All Night' from the musical My Fair Lady. So apparently I would hum along to this thing before I could talk.
What else? The stuff my parents were listening to at home as a kid was mostly stuff like Toto, that's a big early memory. Tears for Fears, Steely Dan, people like Al Jarreau, Dave Grusin, a lot of contemporary jazz fusion, home listening friendly stuff. I was really into Michael Jackson for a while.
Do you remember the first vinyl record you went out and bought?
Good question. I remember the first CD I went out and bought… it was the first Savage Garden album [laughs.] I think the second was a NOW compilation. I must have been about ten.
I've got a few NOW compilations in the attic too. Well, what age did you get into vinyl?
Not really until I was about nineteen or twenty I guess. Because when I started DJ'ing I was… well you've got to remember this was the blog house era so I was DJ'ing with 128kbps mp3s off blogs burnt onto CDs and played off some shitty Gemini CDJs that they might have had at whatever shithole I was playing at.
I wasn't really going out and buying vinyl at that time. I think some stuff was maybe given to me, some stuff maybe the student radio station had lying around that nobody wanted. I have a lot of crap from that era, it's on the bottom shelf for a reason and it's stuff I want to get rid of at some point. Some day when I have the time I'm going to go through it and establish what is actually worth selling and what I may as well just bring to the dump.
So you're not a hoarder?
No, not really. I can't really see myself wanting to fill up more than this shelf of records, at least not at this stage anyway. Because, even with the records I want to keep or even the records that are decent enough, I reckon there's a good 40% I can get rid of comfortably.
How many of you got? Maybe 700?
I guess one of those four by fours is about 1000 I think. I'd say 60 in each of these [squares] times 16 is about 1000 and then there's about another 200 around.
It never looks quite as big on the shelves does it but the second you're counting them up or packing them up it's a different story.
Where were we? First vinyl purchases… I don't know, I feel like the first record I bought wouldn't have been very memorable. It took me a while to realise that a lot of the records that the DJs I was admiring at the time were playing weren't available digitally. I gradually started browsing Juno at the time, around 2006-2007, but I think at the time I was quite intimidated by it because I hadn't come from a house and techno background and that section of a website like Juno is so exhaustive. If you don't what you're after you are lost.
I guess I had a stack of thirty or forty records by the time I finished university, a couple of which I still have. And then I moved to Berlin, got a full time job at Native Instruments, had enough disposable income that I could spend most of it on records and started shopping a lot more at Hardwax and Discogs, and that's when I started building my techno collection up.
Is Hardwax still your go-to? It's like the techno mecca here in Berlin.
It's my go-to because I have a nice relationship with them and it's not too far from here. I quite like their website for browsing because it is laid out compactly. I almost always order stuff online and then go and pick it up just because it got to the point where I got so tired of getting stuff home and listening to it on different speakers and deciding I didn't actually like it as much as I thought I did in the shop. Also, it's really handy to be able to find out what tempo it is, particularly if you're buying stuff over a bigger tempo range.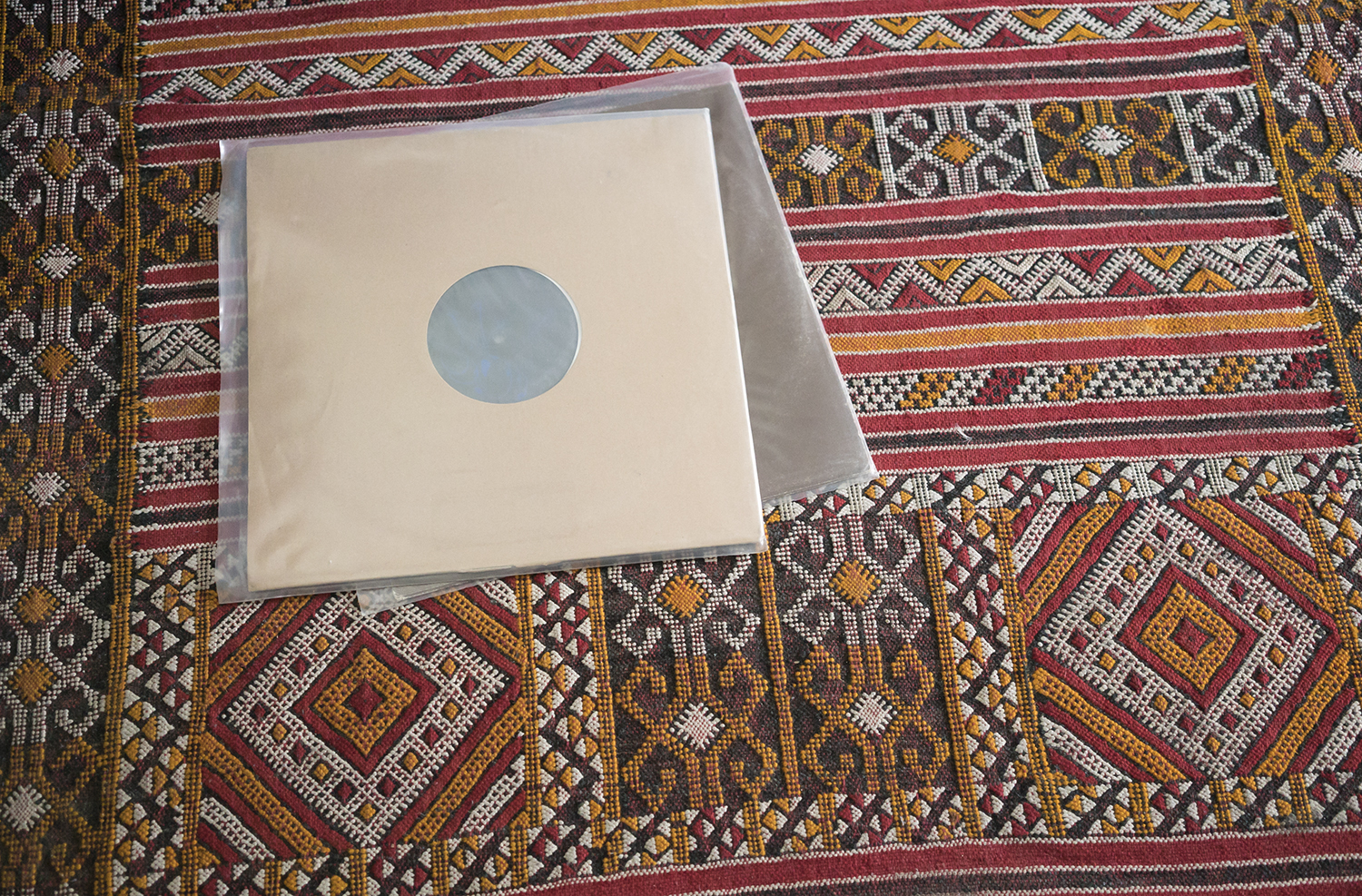 Can you remember a recent purchase?
I got this 7″ called 'Ghetto Rock' by Pampidoo. It was in the miscellaneous 2000s digi-dub section at Hard Wax. It's pretty fun and it's got this completely deranged vocal.
Have you tested it on a dancefloor?
No I bought it yesterday but I'm going to take it to Newcastle this weekend. What else? I've been getting into Scorn more and more recently, well I finally did the digging that I wanted to do for ages with Scorn. I picked up this thing he did on Hymen in the '90s, like really cool kind of heavy, illbient, kind-of proto-dubstep stuff. It has this kind of weird, hollow, metallic apocalyptic edge to it without it being so doom-y.
You released on Hessle Audio in the 2010s, have you got many records from that scene?
Yeah I got a bunch of that. There's a shelf down there that's UK stuff, breakbeats, jungle, dubstep, but it's really mish-mash. Actually this Millie & Andrea record is one of the ones I keep coming back to.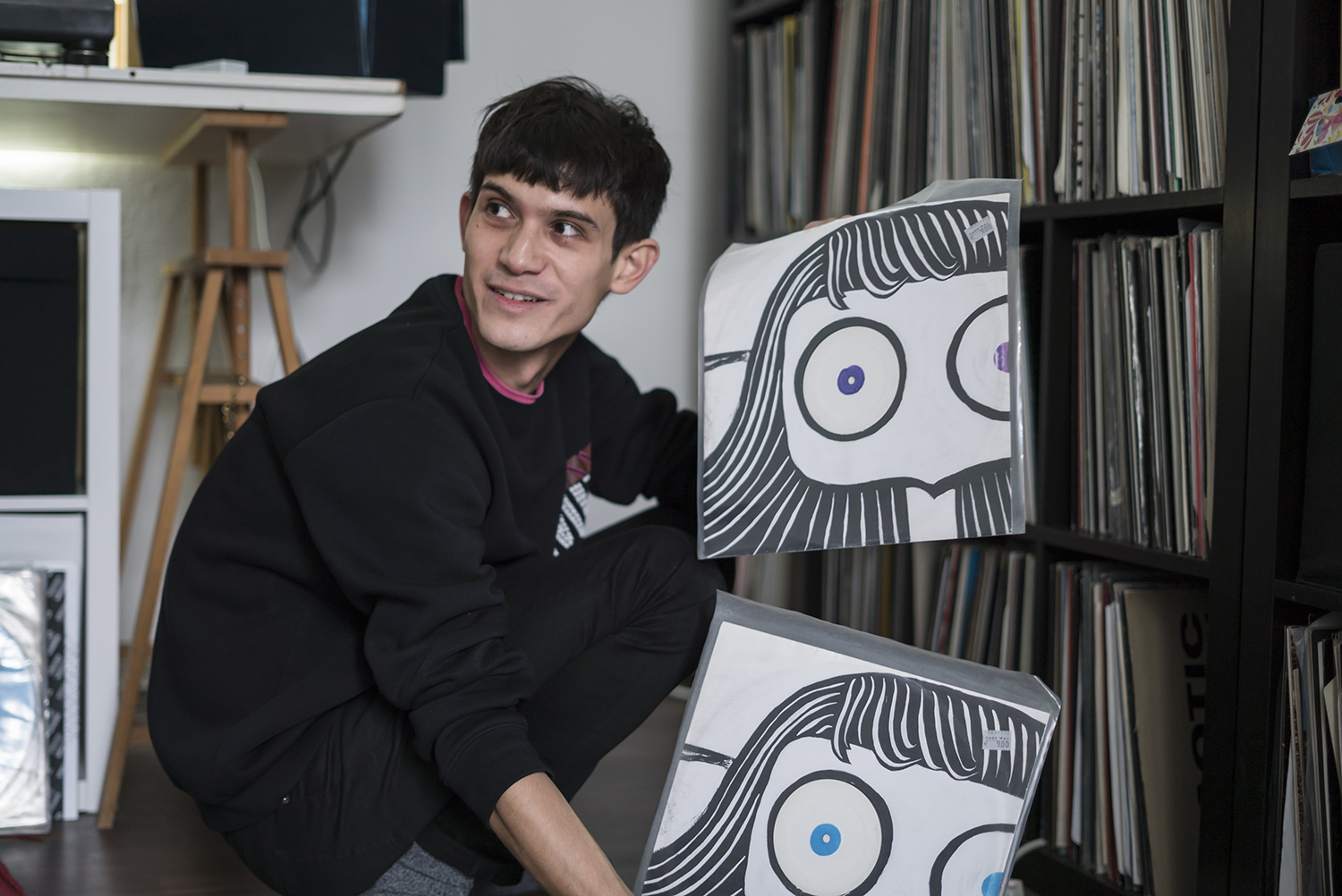 Cool cover art.
Yeah it's great they did a whole series with different coloured eyes. What else? I wish I could say I own 'Root' / 'The Goat' Stare [by Loefah] but I don't. That was quite formative although I only ever listened to it on YouTube.
Presumably you have your own release 'Cactus'?
Yeah somewhere. I think that might actually be in the techno section actually because I usually play 'Porcupine' (rather than 'Cactus.') Oh, and here's 'Objekt #1'. They were pressed up as five hundred and then we just kept repressing and it just goes and goes and goes. Every time we do a repress the Discogs price goes down a bit and then it goes back up to twenty five or thirty quid. I think we must have done about three thousands copies for number one. I'm astounded that people are still willing to spend £30 on a dubstep record in 2017.
Looking through your discography one of the really stand out releases is the split with Dopplereffekt. How much are Gerald Donald and James Stinson an influence on you?
Pretty significantly, I'd say. Around when I was starting to get into electro, I guess around 2012 or so, Drexicya were a pretty obvious starting point. It was just before Clone started reissuing a lot of the Drexciya back catalogue. Then the three Clone reissues came out and I just bought those and that was already probably 70% of the stuff they put out. I have a few things on top of that. There's this LAM record that's really fun, I can't remember if it's Donald or Stinson or both of them.
I think I read that what initially drew you to Drexicya was this aesthetic of impact without bass.
Yeah there was a period where I was really fascinated by that. This idea of keeping the low end completely clear apart from the occasional punch in the gut and everything set on top of that. I obviously see more to Drexicya than just that but that was one thing that peaked by interested at the time.
What are your other major influences? Do you have much from the IDM days on vinyl?
Not that much. I've got some in the electro section and I've picked up a few of the reissues as they've come out and I have a few Autechre records, and a few more contemporary records as they've come out. I haven't really built up a lifetime of listening on vinyl: it was always a DJ collection. As such there's a lot of stuff in there that's pretty functional. There's a few records that I do prize and cherish but more in a really good record sense rather than these are my babies. I think I have quite a pragmatic view towards my record collection and increasingly I buy more and more digital stuff and play more promos. I maintain a record collection and still take a lot of vinyl to every gig because I really like playing records but I am not in any way a purist about it.
So you'll play cross format, that's probably my favourite way to DJ too.
Yeah totally, maybe 50-50. I find when I do purely digital gigs, it's too easy. Or maybe that's the wrong way of putting it. I find it a bit too static somehow. I'm not moving around enough in the booth. I need to throw in a few records to make feel like I'm on my toes, to keep riding the pitch fader and having things slip a bit, and the push-pull of the equipment.
Lots of people have commented on how there was a phase when clubs stopped looking after their decks – you'd hear stories about DJs turning up only to find no earth cables or decks being used as holders for CDJs…
I've actually fared pretty well in respect. But it might just be that that period was probably at its worst at a time when I was already starting to play more established clubs that took better care of their equipment. That's definitely a far cry from saying I could just show up wherever and expect to play vinyl without sound-checking. It's still a super important part of my process to show up an hour before doors and test everything and have a very detailed tech rider that explains how to prevent feedback and how to set it up and then checking myself. but that being said, most of the time I'm able to make it work.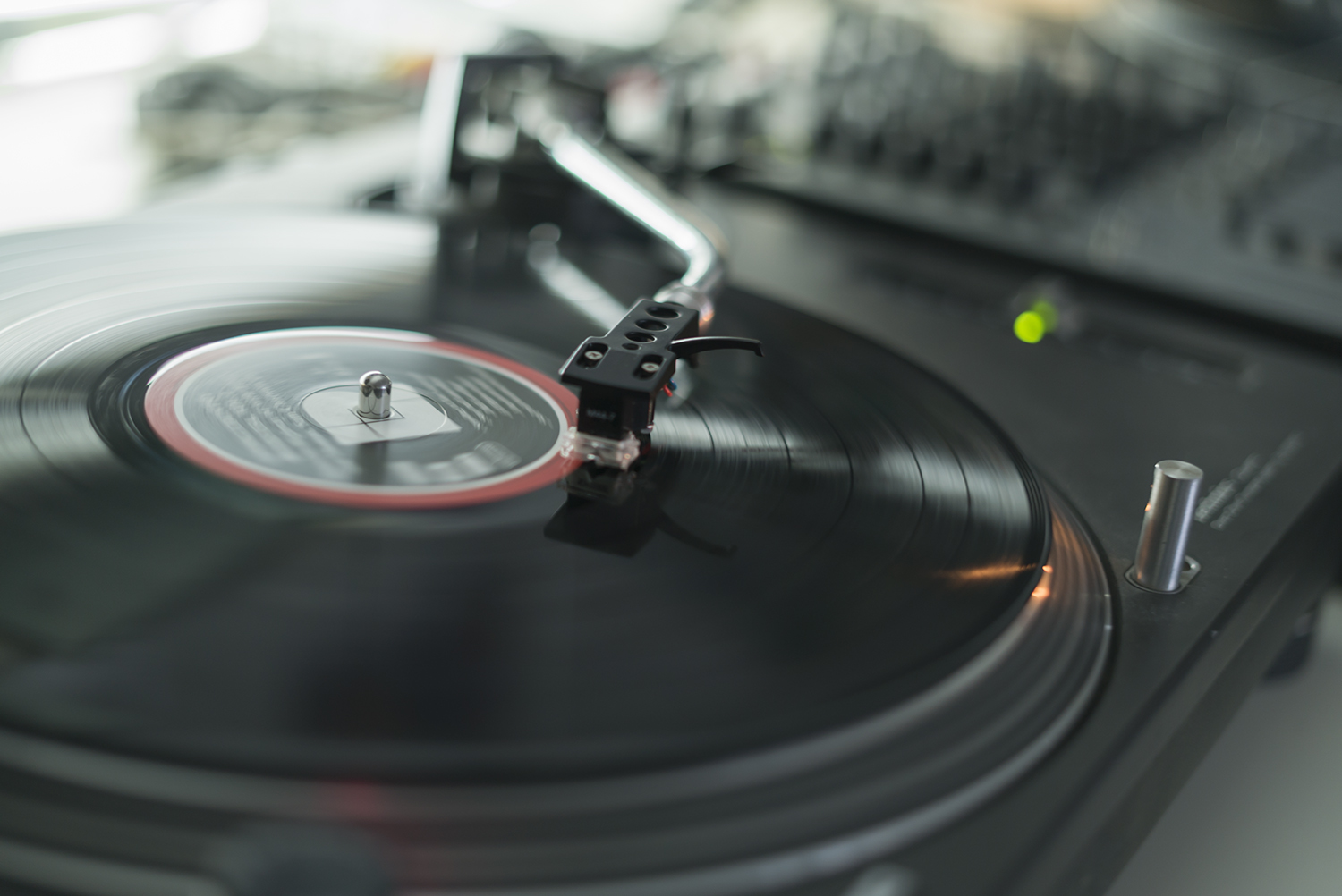 I guess festivals and temporary locations are especially troublesome.
Yeah. Festivals it depends who you are working with. The Dutch festivals are fine because they have such a solid festival tech infrastructure there that you can usually really on them having enough concrete and Isonoe feet and squash balls and whatever and be able to set it up properly. The ones I tend to worry about are the ones where there is no time for soundcheck and often in those cases I'll prepare to play just digital.
It's quite insane having a needle transfer sound to a massive audience.
It's nuts. You're talking about aiming a microphone at a record next to a huge stack of speakers with tens of thousands of watts of power jumping through them. But it's not actually that hard to isolate them, it's something a lot of people struggle with but if you know what you're doing.
So what are things that need to be in place?
You need some concrete. Put the concrete under the turntable and then you decouple the concrete from the vibrating surface from the tabletop and you do that by putting it on squash balls or something else that's a bit bouncy. Actually quite a good rule of thumb for whether you're going to have problems is if you show up and you can feel any vibrations on the surface that the turntable is sitting on then you're fucked.
I heard a really good tip from a sound engineer once, he said on big stages when they are running out of time and they don't have enough concrete blocks, you can actually strap a full crate of beer or water bottles to the bottom of the tables to dampen down the table itself and then put the concrete on top on that. I actually I ended up doing a similar thing at a festival where we stole stole some concrete blocks that the fence posts go in and put them on the table to weigh it down and then used the concrete and squash balls for the turntables. I take my own squash balls with me to gigs now because you can usually reliably count on promoters to supply concrete blocks. So precautions like this and then sound-checking, I'd say 90% of the time vinyl is okay.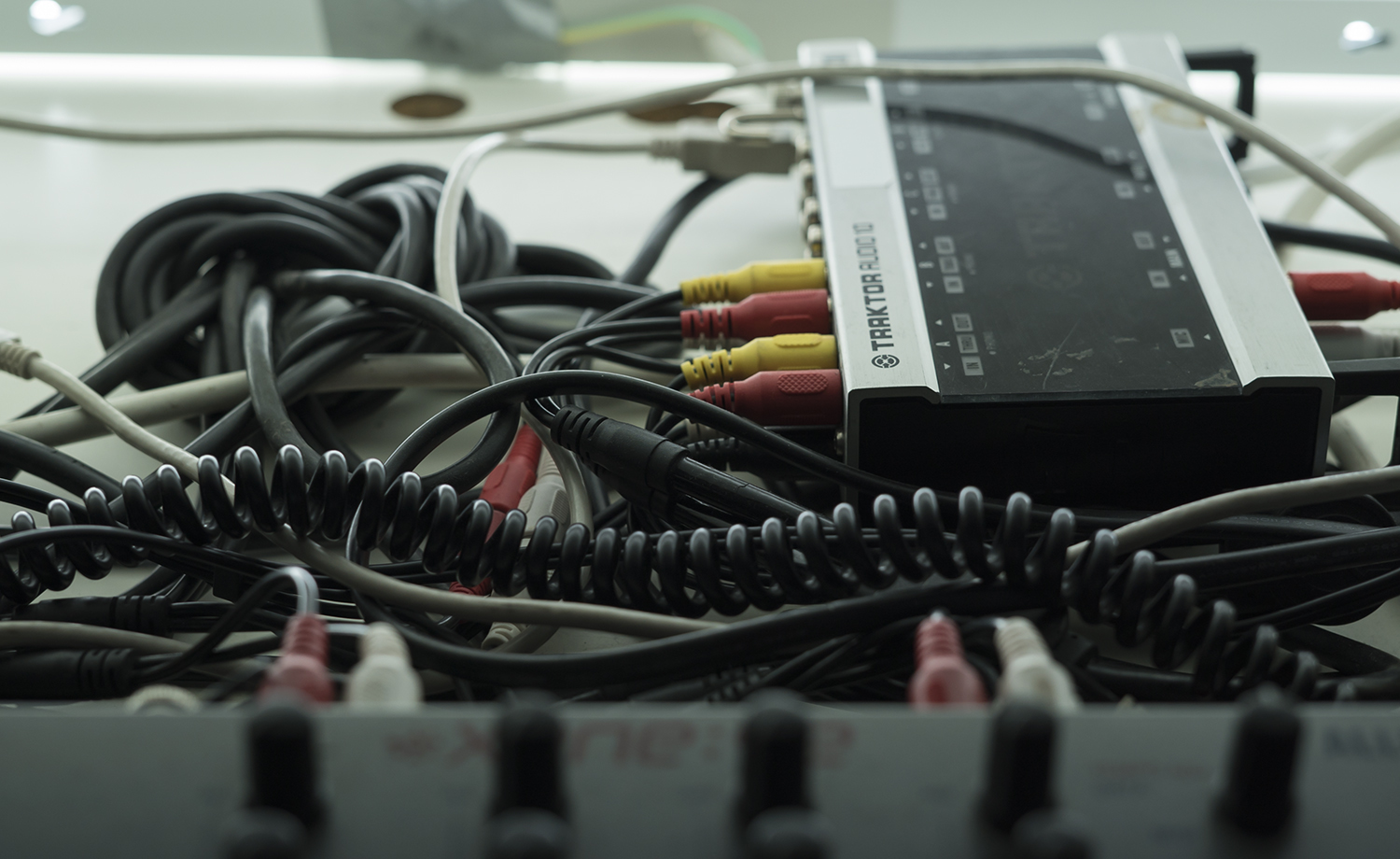 Are your sets and productions still tied together by a machine aesthetic?
No no, that was very much a place I was in three-four years ago when I was in the height of my Authechre worship phase. I still pick up on a lot of that stuff. I don't really know what the central theme is now. I guess like, rhythmic propulsion maybe? Or like a certain sense of urgency. I don't have that much dance music that sits back and grooves in a languid way. A lot of it is a little bit anxious somehow and where it doesn't do that, I try to make it do that with the mixing. Certain kinds of melodic signifiers run through my collection or at least the stuff I am playing too.
What sort of melodies?
It's really hard to describe… Ones that are a little bit odd, maybe a little bit haunting often quite naive, not too kitschy and have some element of suspense. The stuff that really turns me off are tracks where the chords and melodies work together in such a way that it's just so resolved already from the start. Like there's just a minor chord and it just sits on top of it and it doesn't pull you in one direction or another. Actually a lot of quite contemporary electro that's aping on classic electro is like that. It kinda does my head in.
What's the most expensive item in your collection?
It's not even that expensive… A €60 Simulant record on Scopex, 'Access Future Audio' from Out of The Ether, which is rare electro. There's also a Pollon record [Electratech] on Scopex, one of the tracks of which I reissued for the Tresor mix because there were two 12″s that came with the CD that were available separately.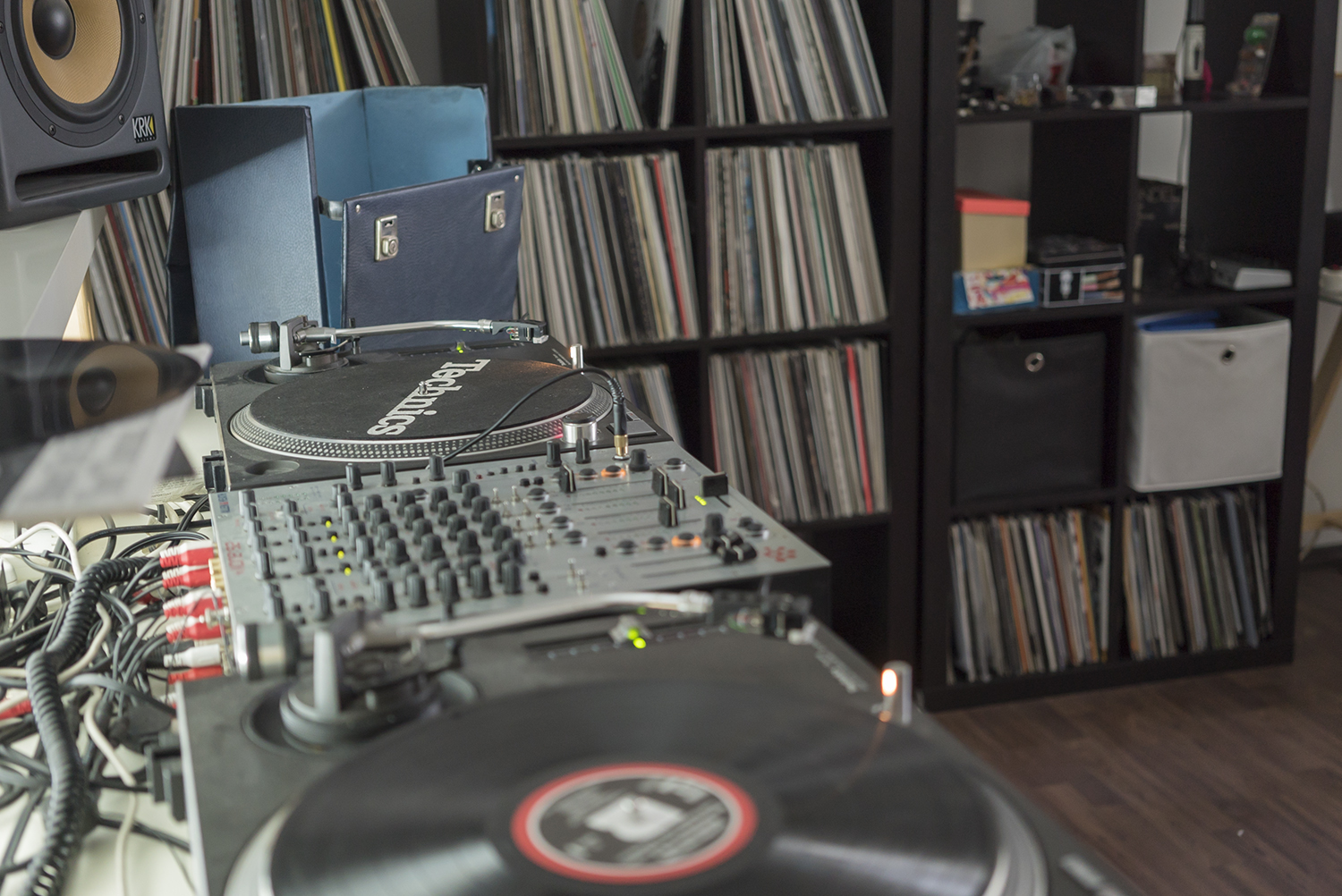 If your flat was burning down and you could only save one of these records, what would it be?
I was thinking about this last night…
Did it keep you up at night?
It actually kept me up till 4 in the morning [laughs.] I don't know, I could pull out a record like 'Transition' [by Underground Resitance] or something like that. I associate such strong memories with playing it at Freerotation which was in many ways like a real turning point in my life at the time just because I'd been going through quite a rough period and had quite an intense weekend with some really close friends that was just extremely euphoric from start to finish. Then I played the closing set which was the absolute peak of it and I came away just glowing profoundly. I think I'll always attach that kind of feeling to that record. But it's not even a record that I've played out that much over the years to be honest and it would feel a little bit disingenuous of me to pick out one of these and call it the one record I would save if my house burnt down.
Given the way you've described your collection, as a DJ collection, that does fit the bill. It's more like a body of sounds.
Yeah, I see my record collection less as a collection of objects that I prize and more as a set of knowledge that I've acquired. Here is a bunch of things that I've learnt. So it's maybe difficult or irrelevant even to pick out one of them as the most special. It's more about what I would do with it and how I would play it and things that it goes well with.
---
Photography by Martha Glenn