Published on
February 24, 2016
Category
Features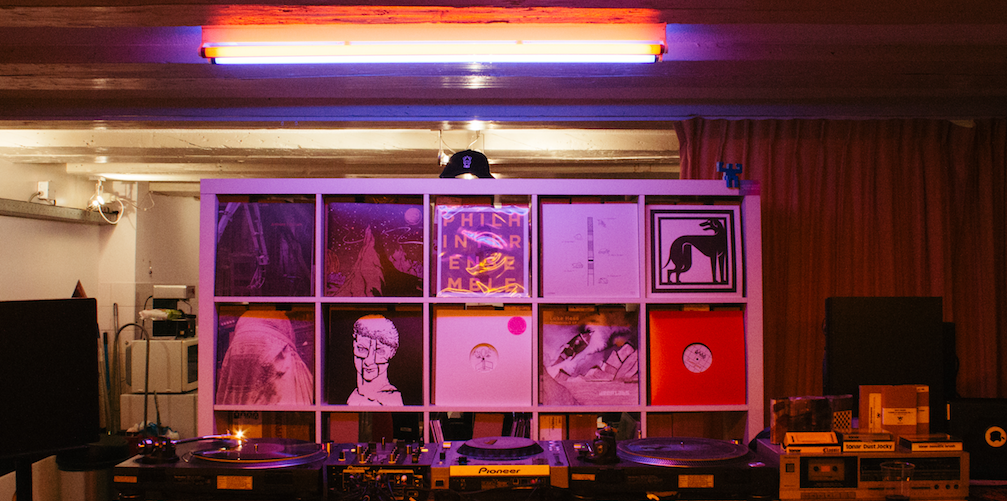 Skip the Heineken experience and get to know Amsterdam via its thriving record store scene.
Far too often, the real Amsterdam gets overshadowed by its seedy reputation. In recent years the government has tried to reclaim the Red Light District, also the oldest part of town, by encouraging local businesses to enter the area. Run out of former prostitution windows, Red Light Records and Vintage Voodoo are two relatively new record shops helping to inject culture into the strip.
Elsewhere, away from the Sodom and Gomorrah centre, the laps of canals, picture-perfect bridges and historic gabled buildings play host to an incredible wealth of record shops, bursting with personality and beauty, all within walking distance. Seriously, where else can you buy rare Italian soundtracks and organic pears from a wooden clog-wearing dude?
Whittling the list down to ten was not an easy task. Casualities of note include Violet Records, Mary Go Wild, In Deep'n'Dance and Record Friend, which boasts both a well-organised second hand shop and a dedicated new music shop. Second hand outlets Record Palace and Second Life didn't make the cut either but are great for a browse. The stalls at the Waterlooplein flea market are also well worth a visit if you have time.
Our top ten represents the cream of shops in Amsterdam, spanning mainstays like Concerto and Rush Hour as well as the more obscure specialist shops to be found in Jordaan's labyrinth of romantically lit alleyways. Let us know your favourite Amsterdam record shops and record shopping experiences in the comments below and we'll add them to our map.
---
Red Light
Location: Oudekerksplein 26, 1012 GZ Amsterdam, Netherlands
Go For: Obscurities from oddball Euro boogie to Japanese synth-pop.
What's the story? Forget the psychedelic truffles, the brothels and the super silver haze; this is the best thing in the 'hood. In an effort to encourage Amsterdammers to actually go to the Red Light District, the government has been encouraging local enterprises to open up in former brothel properties. After Orpheo De Jong setup a radio station in a red light window, diggers Tako Reyenga and Abel Nagengast turned a vacant spot in the building into Red Light Records.
Expertly curated with jaw-dropping originals, the shop stock is smaller but way better than your average. The focus is certainly on second hand but you'll also find a small selection of new releases, mostly from friends of the shop – so expect items on Music From Memory, Growing Bin and that guard of reissue label. You'll need to ring a buzzer for access and make sure you pop-in to Vintage Voudou next door.
---
Waxwell Records
Location: Gasthuismolensteeg 6, 1016 AN Amsterdam, Netherlands
Go for: Soulful new and second hand vinyl with a large hip hop section
What's the story? It may have only been around for just over ten years, but Waxwell is already well on the way to institution-status in Amsterdam. A large, light room behind a gorgeous, ornate shop front, with bins for second hand and new records and an enviable wall of rarer picks, it's a welcome refuge form the weed tourists in tracky bottoms that shuffle around the city's historic centre. A great combination of affordable classics, curated rarities, and enough deep crates to get digging for oddball gems, like L. Ron Hubbard's impossible to ignore Space Jazz record which we took away for a song.
---
Vintage Voudou
Location: Oudekerksplein 26, 1012 GZ Amsterdam, Netherlands
Go for: Expertly curated exotic vinyl from around the world
What's the story? Tucked away in the same courtyard as Red Light Records is Vintage Voudou, a pint-size treasure trove of individually hand-sourced tropical goodness from the Caribbean, Africa and beyond. We're talking psych from Surinam, cumbia from Caracas and Bollywood straight outta Mumbai like you've never seen before. If Edo and Alex aren't at home they're either cycling their stock to local record fairs on giant tricycles or on the other side of the world, making sure the city's DJs only play the rarest, freshest music.
---
Distortion Records
Location: Westerstraat 244, 1015 MT Amsterdam, Netherlands
Go for: Second hand dance music, independent labels and a proper dig
What's the story? There are very few record shops out there with as persistent aversion to chucking away boxes as Distortion Records. A large, dusty room, heaving with records (packed and unpacked), the floor strewn with cardboard like sawdust at the butchers, it's easy to lose yourself in here for hours. And yet, despite the rapidly eroding floor space and towers of precarious records, boxes and CDs that loom on all sides, there's a method to the madness. Music of all stripes is represented here, from punk to Latin, soundtracks to industrial, with an emphasis on the independent and the ground-breaking. There can't be many shops where you'll find a dedicated On-U Sound section… We approve.
---
Flesch Records
Location: Noorderkerkstraat 16, 1015 NB Amsterdam, Netherlands
Go For: Esoteric music and fresh fruit
What's the story? Tucked away in a Noorderkerk alley in the historic Jordaan neighbourhood, Flesch is a bit of an anomoly. Owner Harry set up the shop 17 years ago, focusing exclusively on classical records. He's since branched out into all kinds of strange records, including (but not limited to) library, soundtrack, literature and art. Vintage hi-fi gear as well as organic fruit hand-picked from his neighbour's farm are also part of the diversification strategy. There's even jam on sale.
The colourful display of apples and pears outside draws in a varied bunch. Inside, the collection is beautiful arranged with immaculate hand-made dividers and a grand total of 53 lights (Harry counted for us) illuminating even nook and cranny. You could easily spend hours in here, flicking through these wonderful records and chatting to Herman and his girlfriend who create a terrific environment. Visiting Flesch is by no means an experience you can find online.
---
Rush Hour
Location: Spuistraat 98
Go For: Dance, electronic, soul-jazz, global scenes
What's the story? Co-founded by respected selector Antal, Rush Hour launched as a record store and mail-order company in 1997. Initially importing obscurities from around the world then later exporting similar Dutch records overseas, a distribution wing and a burgeoning label evolved two years later.
The flawless shop stock spans the spectrum, but is especially alive with electronic 12"s and LPs as well funk, soul and jazz sounds, old and new, from around the world. With regular BYOB in-stores and plenty of listening decks, it's easy to get comfortable here. A new and larger shopfront is coming soon which can only be a good thing.
---
Back Beat
Location: Egelantiersstraat 19, 1015 PV Amsterdam, Netherlands
Go For: Jazz
What's the story? Venture down the back streets of Jordaan (a stones throw from Flesch) and after a few wrong turns you'll find Back Beat. Its jazz-era exterior is almost as arresting as the quirky, small-scale interior, which features a mezzanine balcony for acoustic gigs and open-plan split-level record rooms accessible via ladders and small steps.
Specialising in soul, jazz and rhythm and blues, the shop was opened in 1988 by American soul singer Arthur Conley (best known for 'Sweet Soul Music'). Now run by Dick, Jeannet, and Ed, the collection has grown in size (and includes a large CD section) but retains its jazz focus. After shopping at Back Beat, don't forget to visit neighbourhood favourite Jazzcafé 't Geveltje.
---
Concerto
Location: Utrechtsestraat 52-60
Go For: More than 1000m² of music
What's the story? Founded in 1955, Concerto is Amsterdam's oldest and biggest record shop. Spanning five shop fronts, the store and its catalogue is impressive. New releases and reissues are at the South Entrance (seriously) and into the backroom. Second hand vinyl, including a decent 7" single area, takes over the next section, with old and new CDs filling out the rest of the shop. It might have a bit of a high-street retailer feel, but there's quite literally something for everyone. The store also boasts a spacious cafe at it North Side, with comfy seating, coffee and books.
Eardrum Buzz
Location: Haarlemmerplein 9, 1013 HP Amsterdam, Netherlands
Go for: A trim selection of new wave and post-punk cuts
What's the story? It may share its space with a hairdresser, but not let that put you off. Eardrum Buzz is not a gimmick or a trendy add-on. To begin with it's the only record shop we've ever come across named after a Wire record. Inside, the selection is tight and affordable, spanning genres with a particular ear for post-punk, disco-not-disco and new wave. The 12"s are exciting – the kind of place you'll take a stack of punts to the listening decks – and there's a large selection of 7"s to flesh out your DJ box.
---
Zwart Goud
Location: Geldersekade 89ST, 1011 EL Amsterdam, Netherlands
Go for: New dance music and rare Turkish psych
What's the story? One of the newest dance music shops to open in Amsterdam, Zwart Goud, or Black Gold, has taken over a smart basement space on a canal front, picking out 12"s and LPs from scene labels like Lobster Theremin and Optimo Music. While Zwart Goud is undoubtedly plugged into the international dance community, the shop's character is best reflected in its owner Ilker, whose passion for Turkish psych sustains a collector's box of rare 45s at the counter. Amiable and approachable in a way so few dance music shops are, hang around long enough and he may even offer you a glass of wine.
---