Published on
August 22, 2014
Category
Features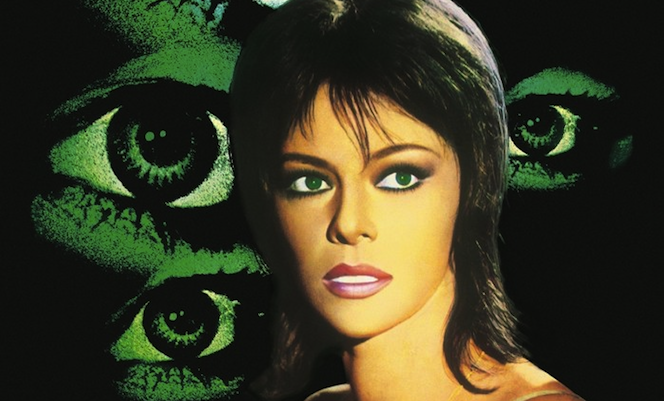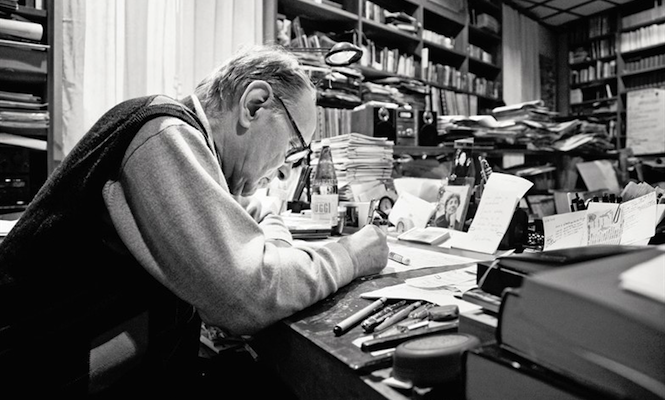 From Spaghetti Westerns to giallo thrillers, James Hammond introduces the 10 most important Ennio Morricone soundtracks on vinyl.
Ennio Morricone is one of the most inimitable composers in contemporary music- the trumpeter who broke with convention and mastered composition, the pop arranger who melded the wonders of non-instrumental sounds with airwave-ready song structure, the writer of concert hall symphonies, practitioner of the avant-garde, master of the melodic, and ultimately, the creator of some of the most innovative and memorable movie soundtracks of the 20th century. Recent counts suggest his works in this medium number well over the 400 mark, and whilst it's a number which assures a number of forgettable and unrealized releases, there's also an unusually large proportion of works which broke new ground that still retain their vivacity and oft surreal charms.
In compiling a list of these iconoclastic and key works, it's impossible not to leave out the readily whistled masterpieces that were forged for Sergio Leone's Italian Westerns, yet with a focus on innovation, Morricone's work extended far beyond the Italian West, and into the inner workings of the mob, the crime riddled sleaze of the giallo thrillers, the meeting of Viennese 12 tone with the folk music of the Amazon, and striking studies in suspense and horror. The list below focuses on his original soundtrack recordings on vinyl, of which several lovingly presented reissues have been on offer this year, but for the uninitiated there are also a couple of rather fine compilations out there for a more succinct glance at this vast body of work- particularly Crime and Dissonance (a selection hand picked by Alan Bishop of Sun City Girls and Sublime Frequencies), and A Fistful of Music, which presents a collection of his main themes.
You can listen to all ten records in this playlist as you read, or click on the links below to hear each track individually.
---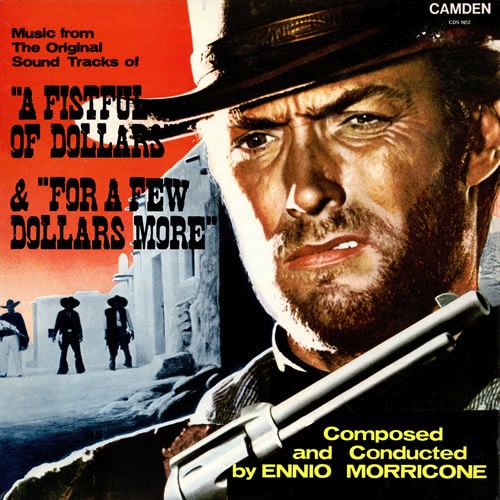 A Fistful of Dollars / For a Few Dollars More
(Camden 1968)
The aforementioned pairing of Morricone and Leone was one of the most fruitful since Hitchcock and Herrmann and these two features started it all; creating the genre of the Italian Western, and showing that as a genre the score was one of its most quintessential ingredients. Leone sought to do away with the convention of classical Westerns, soundtrack included and gave Morricone license to do as he pleased. What Morricone brought to the table, cracking whips, whistling, mariachi trumpets and electric guitar included is a world away from the musty pomp that preceded it, and truly set things anew.
There's a couple of particularly intriguing pieces here- the main theme in A Fistful of Dollars, which effectively marked Morricone's transition from arranger to film composer, as the theme is based on his pop arrangement of Woody Guthrie's 'Pastures of Plenty', and secondly the 'Watch Theme' from A Few Dollars More. The watch's surreal melody plays out to trigger and heighten the showdown, illustrating how intertwined Morricone's music became with the content of the film- the watch embodying the music, the music the psychological state of the protagonist. Visionary work from director and composer alike.
Listen HERE.
---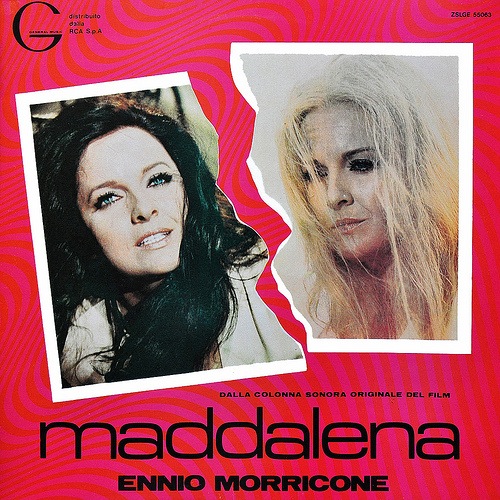 Maddalena
(General Music, 1971)
1971 was a vintage year for Morricone, with this neglected soundtrack being the pick of the bunch. Whilst the Jerry Kawalerowicz' art house effort it was scored for remains little seen, it features two of Morricone's finest pieces in 'Come Maddalena' and 'Chi Mai', both of which still find their way into his live concerts, and in the case of 'Chi Mai', have been continually reused in TV and film.
'Come Maddalena' is a slow building tour de force of melancholy and euphoria, and shows many of Morricone's collaborators at their most inspired- Vincezo Restuccia's drumming, the melodic and dissonant choral works of Edda Dell'Orso and Alessandro Alessandroni's Il Cantori Moderni, and the arrangements of Bruno Nicolai. A soundtrack that casts traditional elements of the orchestra in a surreal and erotic hue.
Listen HERE.
---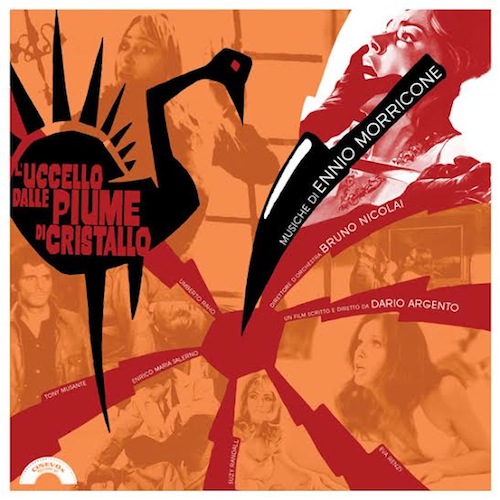 The Bird With The Crystal Plumage
(Cinevox 1970/ Reissue A&R 2014)
Not Morricone's first soundtrack for the Italian slasher-thrillers commonly known as giallo, but his most assured effort up to this point, and one which set a standard for what followed in both his and others works. Alluring, pop inflected vocal harmonies, avant improvisation, sleazy lounge music, all bubbling away to an erotic purr that veers between orgasm and strangulation-classic giallo.
Morricone's mix of the experimental and conventional, the atonal and tonal is the incisive element he brought to much of his film work, and its in full-bloom here. Alessandroni and Nicolai, who featured in the creation of this soundtrack, are also well worth investigating in their own right for works in this genre and beyond.
Listen HERE.
---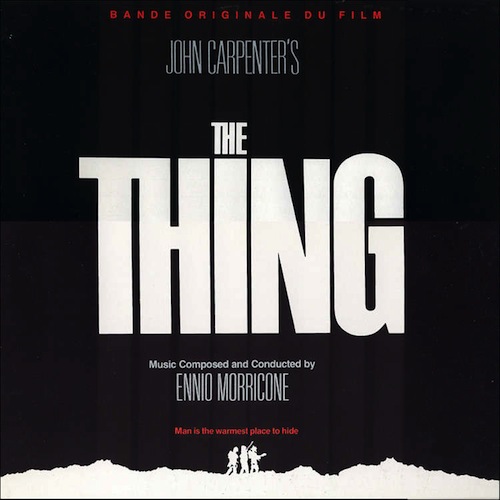 The Thing
(MCA Records 1982)
This is an unusual release in the soundtrack back-catalogue in it being a rare instance where John Carpenter chose not to score one of his own films, and where Morricone experiments with synth-tones in his composition, seemingly in acknowledgement of Carpenter's style.
There's a lot of muddied details that surround it, but as the story goes Carpenter was disappointed with what his musical hero (he got married to the music of Morricone) presented and embellished what appeared in the cinema with some of his own fills, leaving out a great deal of what Morricone had prepared. The LP however, includes tracks selected by Morricone and trumps his other works for horror in suspense and execution. Nominated for a razzie. Go figure.
Listen HERE.
---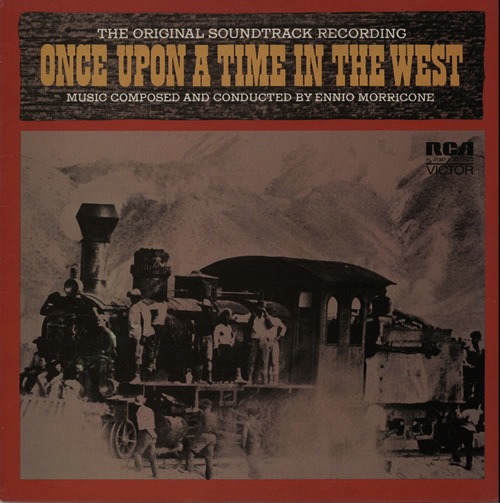 Once Upon A Time In The West
(RCA 1969)
Morricone's most accomplished and beautiful work for Leone, and the definitive statement of the Italian Western as opera. Morricone's music flourishes from the fabric of the film, and as with The Good The Bad and The Ugly, and A Few Dollars More it forms a core element of the narrative, being pre-recorded and played on set to heighten the action and emotional resonance of the film.
Indeed Edda Dell'Orso gives the performance of her career, and with her voice, string section and images combined this is pathos on a par with Greek tragedy. 'The Man With The Harmonica' theme is a classic of innovation and subversion, the combination of the historical West with the anachronism of a distorted Fender Stratocaster, and Franco de Gemini's haunted harmonica notes, all tied to the onscreen representation of the instrument in Charles Bronson's possession.
Listen HERE.
---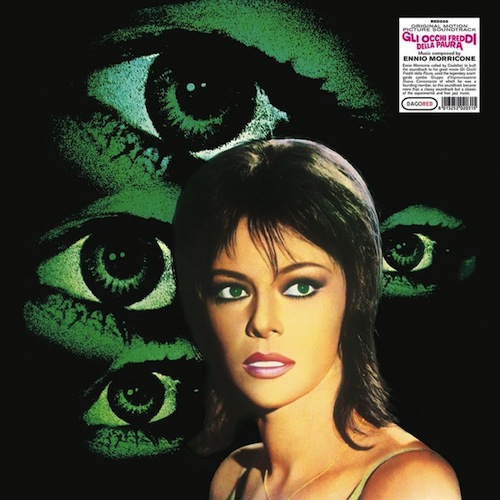 The Cold Eyes of Fear
(Dagored 2000/2014)
The avant-garde being a fundament of the Morricone style (with debts particularly to Scelsi and Ligeti), it never again made it onto the soundtrack in as full and unfettered manner as it did here and indeed paychecks seem to have actively dissuaded this inclination. Morricone was a member of the revered group of improvisers known as Gruppo di Improvizzaione Nuova Consonanza and the group comes together here to full effect, blurring the line between composition and improvisation, creating a tense atmosphere of curious sounds. Whilst this mode of experimentation disappeared from Morricone's later film works, it still surfaced in other mediums and those looking for further proof should investigate 1982's similarly sublime 'Gestazione'.
Listen HERE.
---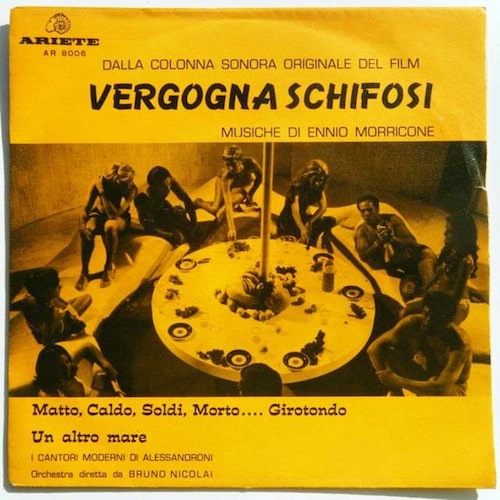 Dirty Angels
(Ariete 1969)
Try not allowing the refrain from this one to get stuck in your head. An absolute rarity from the late 60s, and the object of desire for many a Morricone record collector, with prices typically at the £300 mark. Morricone's ear being tuned to a great many styles and sound effects, this one has a pop sensibility in the midst of the dream-like and otherworldly. Another stunning performance from Dell'Orso, and Gianna Spagnulo – a frequently overlooked mainstay in Il Cantori Moderni. Matto, giro, giro, girotondo.
Listen HERE.
---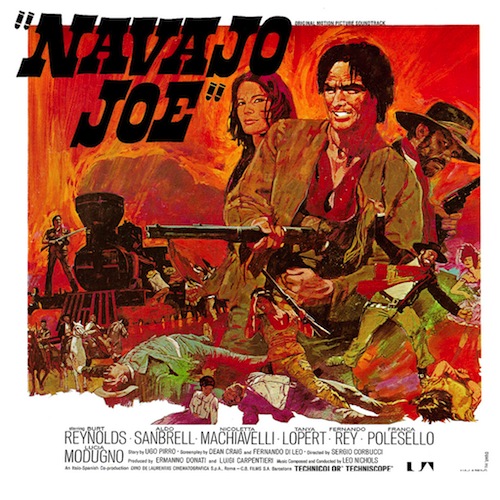 Navajo Joe
(United Artists Records 1974)
Whilst all of Morricone's work for Sergio Leone could make such a list, his contributions to the work of the other Sergio, Sergio Corbucci, shouldn't be overlooked – The Great Silence, What Am I Doing In The Middle of the Revolution and Navajo Joe forming a trilogy of particularly worthwhile listens. Navajo Joe was recorded under the pseudonym Leo Nichols, and has one of Morricone's most bombastic and exhilarating vocal experiments as a main theme. From there its pan pipes mixed with the sultry, and the gently lilting guitar and explosive climax of 'The Demise of Barbara', which may be familiar as one of several pieces to be reappropriated by Quentin Tarrantino in his Kill Bill movies.
Listen HERE.
---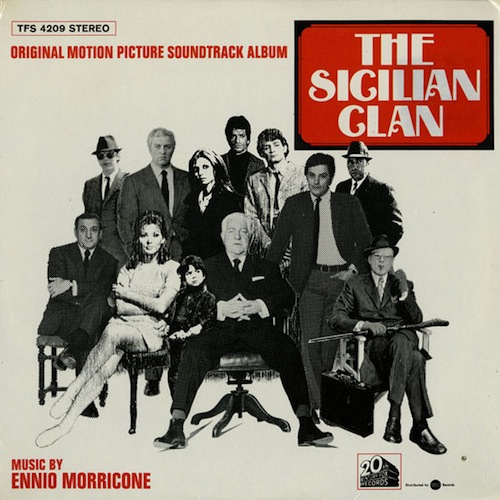 The Sicilian Clan
(20th Century Fox Records, 1970)
The gangster movie has been another consistent theme In Morricone's soundtrack career, stretching from this 1970 release onto his widely heard successes for The Untouchables and Once Upon A Time In The America. The Sicilian Clan set the precedent, and the main theme is one of his most iconic, be it played surf guitar style, or on the vibraphone. Alessandro Alessandroni was a central tenet of Morricone's box of sound effects, providing the distinctive howl for The Good The Bad and The Ugly, and he again shows his importance here as whistler and jaw harpist. John Zorn having taken influence from many of Morricone's works gave a nod to this particular soundtrack with a cover on 'Naked City'.
Listen HERE.
---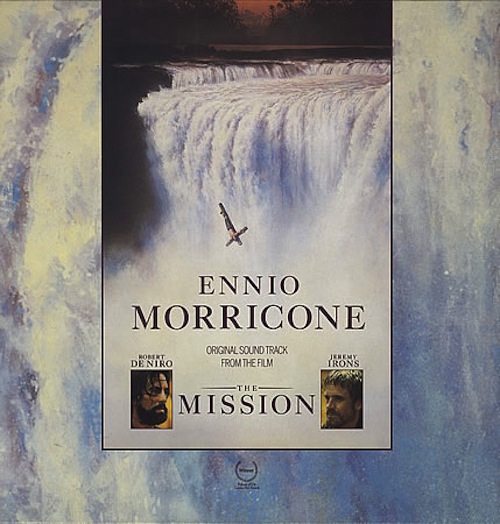 The Mission
(Virgin, 1986)
Morricone missed out on an Academy Award for original scores such as Days of Heaven, and Malena, but it was the nomination and subsequent turndown in favour of Herbie Hancock's non-original score for Round Midnight, which was the utter shocker. A further development to his techniques of marrying plot to music, onscreen the music acts as the bridge through which the Jesuits and indigenous populations commune – a daunting and sensitive subject to broach – and at times the film is clearly ethnocentric, but Morricone's work is still conveyed with sincerity. The honorary Oscar bestowed upon Morricone in 2007 definitely had its roots here.
Listen HERE.
---
Ennio Morricone will be in the UK for a trio of rare performances in London, Birmingham and Manchester this December.