Published on
November 20, 2023
Category
Features
With The Records That Made Me, VF uncovers the vinyl releases that have influenced and shaped our favourite musicians, DJs and artists.
Artist and polymath Es Devlin is best known for her genre-defying large-scale installations, sculptures and stage designs. Over the past 30 years, she's designed concert tours for Beyoncé, The Weeknd, U2, Rosalía, Dr Dre, Kendrick Lamar and more, and had her work showcased at the Tate Modern, Serpentine, V&A, Barbican, Imperial War Museum and Lincoln Centre.
Read more: VF Artist Julianknxx on The Notorious B.I.G., Bob Marley and more
With music and sound playing such an important role within her visual work, Devlin has released her first-ever vinyl record via The Vinyl Factory to coincide with her new book An Atlas of Es Devlin. The 20 soundscapes feature voiceovers, poetry and personal stories, alongside music produced by her long-time collaborators Polyphonia, aka Jade Pybus and Andy Theakstone.
An Atlas of Es Devlin accounts for her "last 30 years of work and 50 years of life" by telling her story as if 12 objects from her life could speak, with one of those being her family's record player–a red and white Bakelite turntable. Though her childhood collection was small, it's always been the "act of intention" around vinyl that draws her to it and reignited that interest more recently with her work with The Vinyl Factory. 
"There's an act of reverence," she explains of the process one goes through when listening to a record. "It's a beautiful object that you have to handle with care at every point from taking it out of its case to putting the needle down. And when it runs out, it's not going to stream another thing or recommend something that someone else thinks you might want. It's up to you to intentionally take that needle off and choose the next one."
The act of listening repetitively throws Devlin back to her youth when she listened to The Cure's "The Caterpillar" on repeat all summer. "It was a song I had to hear. There was no other song for that day" she laughs about shutting her door to the world. "That reverence towards music as a ritual and something we share with intention with each other, not as background but as an offering–the physical object encapsulates that intention."
Releasing a record was a long time coming, with the idea stemming from 2016 with her work Mirror Maze–an exploration of finding your way through scent. An aspect of the immersive installation was a film that required a voiceover, and friend and mentor Bunny Kinney suggested Devlin read the piece herself. She was initially uneasy at the sound of her own voice but with direction from Kinney and storytime with her children, she made the recording and has gone on to feature a voiceover in nearly every artwork since. 
"It turned out there was this body of work across seven years of voiceovers," she says. "I started working with Polyphonia in 2017 with The Singing Tree at the V&A, and we've made music ever since. They made underscores to my voice and I thought it'd be a beautiful thing to collect into an album." 
From a feature by her brother Bass in "Becoming animal" to Devlin's calming spoken word that guides the listener through her career to date–An Atlas of Es Devlin encapsulates what it means to create community through sonic intimacy.
Read on to discover the records that made Es Devlin.

David Bowie with the Philadelphia Orchestra
David Bowie Narrates Prokofiev's Peter and the Wolf
(RCA)
When I was growing up in the 1970s, my parents had a red and white Bakelite record player that was our only source of music apart from the radio. We didn't have many records, maybe six, and mainly listened to Radio 4 so I got used to the sound of conversation and talking word. Quite a few of our records, including Peter and the Wolf were spoken word too, like Richard Burton reading Dylan Thomas' "Under Milk Wood".
It was the Tchaikovsky piece of music, that would be seen as programme music in the way that every single thread, phase and motif had been written purposefully to represent characters in a story. What makes the David Bowie narration so beautiful is how he narrates what each instrument means and how it'll be used. So you hear an extract from the piece you're about to hear at the beginning.
You might hear a little phrase from the oboe, violin or timpani, and then in the narration, Bowie will explain what that piece is going to mean and what it refers to, emotionally and narratively. I was only seven years old but it helped me understand the translation of words into music and music into words. Also, how music could also make you feel things in quite a concrete way and could tell you a story. 
I associated this red and white Bakelite box with this turning black shiny, plastic vinyl object. So that conjunction of a circular and cube object, just visually, while I'm listening to this David Bowie narrative, all of those things in my seven-year-old mind got conjoined, so there's an association with things that turn, things that are boxes and things that are circular, and our voice and music. What I make now is that because I make revolving boxes and spheres, and I make sculptures that are musical instruments–it is definitely an influence.
---

Paul Tortelier
The Bach Cello Suites (Suite 1 in G Major)
(EMI)
This was a record that my sister had as she learnt the cello. In my family, I learnt the violin and I have two brothers who learnt trumpet and flute. We worked hard as kids on our practice, and my mum was also musical and wanted us to have that skill of learning music. It wasn't that we had to be particularly good she just thought it was a good thing for us to learn the skill. I think the most important thing we all learned was what the word practice means. 
The First Cello Suites in G Major was one that my sister played and practised a lot. I remember listening to her practice in her room, and I always followed my sister as she's a year and a half older than me so I modelled a lot of my behaviours on hers. She played this one particularly beautifully
There are a lot of different interpretations of the Bach Cello Suites, and I think some purists would disapprove of the Paul Tortelier version because it's quite romantic. There's the Yo-Yo Ma version which might be more approved of because it's perhaps more in the spirit that Bach meant while being really moving. But, I got used to the Tortelier version. I believe it had a red cover with a photograph inside, so to me, there was a progression from the red music box of this record player.
What I learnt from this record is the rhythm and routine of practice and what would happen if you practice every day. I would hear her playing and I would hear what happened when she went wrong. She'd just go back and do it again, patiently, again, and again and again. Sometimes in a session of practice, it wouldn't get better, it would get worse and you'd hear her slam it down. But most of the time, eventually, there'd be this miracle where the next day she'd just play it. 
I adopted that routine and method of practice. In my life now, I don't play the instruments I learned very often but I do feel that rhythm and routine are something I've translated into different means of expression. Whether it be drawing, painting, conversing, reading, thinking, trying to shape my thoughts in conversation, and even in interviews like this.
After each one, I listen back or look at it and go, 'That's like where you practice a scale and that bit was out of tune, maybe I can be more fluid and articulate next time'. So treating everything as repetition, rehearsal, practice, reiteration, constantly failing to get it exactly how you want it. Constantly knowing that if you keep practicing you will learn, improve, develop and grow.
---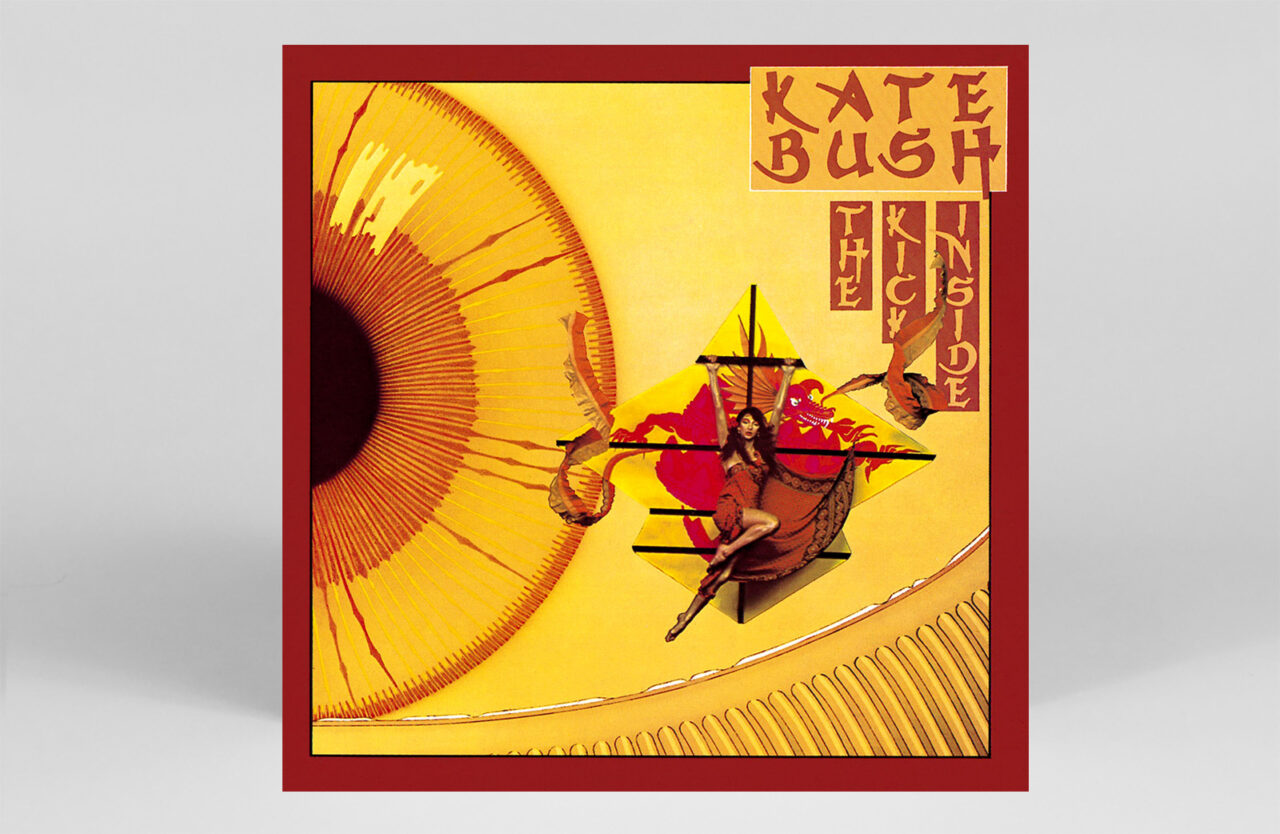 Kate Bush
The Kick Inside
(EMI)
I discovered The Kick Inside when I was around 12 or 13. My family had just moved house and I'd been given a new room that I was allowed to paint the walls of. At the same time, I'd just bought this Kate Bush record and the cover was this kitsch version of Japanese writing, and to me it looked so exotic. I'd became really interested in Japanese art just because of that album cover, and luckily at the same time there was a big Japanese art exhibition at the Barbican.
I went to visit it with my mum when we went to London and she bought me the catalogue afterwards. What she didn't know was that the book had a big focus on Japanese erotic art, but I wanted it to paint a mural. I'd seen Hokusai's Great Wave off Kanagawa, and for me, it was a convergence–I was listening to the whale sounds of "Moving" in the opening strands of The Kick Inside, and I was looking at the cover, which was Japanese, and I was looking at the Great Wave. For me, visually, the Great Wave is one of the most important works of art–that feeling of being overwhelmed by a medium that's not your own. 
My earliest memory is nearly drowning when I fell into the River Thames. It wasn't for very long and my dad scooped me up pretty quickly but there's something about that critical time when you're 13. You're going through puberty, you're discovering yourself sexually, to have that record at that time with the metaphor of what it is to lose the edges of yourself in someone else, and in a feeling that's entirely new to you of communion with another person. To me, that's what I think the record's about, as well as in a broader sense of communion with the whole of the biosphere; the whales, waves, evocation of water. It all conspires to make me who I am and who I wouldn't be if I hadn't heard that record at that specific time.
I tried to paint the room in a way that others would feel how I felt when I was listening to that music. I had a little Japanese parasol, I painted figures that I'd copied out of my Japanese books around the walls. Now I had this room, a big box, to try and be a voice–it wasn't just going to be a chamber of my voice and my lungs. It's common in many teenagers that the room becomes the voice.
I'm so in admiration of the choices that Kate Bush has made of when to work and when to stop, when to go and be a mother, and the double album Arial was really important to me. I was becoming a mother and learning from how she'd approached motherhood, going to see the shows at Hammersmith Apollo, and how she approached her son within her own work and introduced his work into hers. All of those things are really important to me.
---

Le Mystere des Voix Bulgares
"Pilentze Pee"
(4AD)
I discovered the Bulgarian State Television Choir in the mid-1990s through Kate Bush and Peter Gabriel's work with Trio Bulgarka. When I first heard "Pilentze Pee", which means the Nightingale Song, I'd never heard a sound like that before. I was always drawn to choral music as by then I'd heard big choirs in opera from when my mum would take me, but I'd never heard these qualities of harmonies with the open throat.
There are quite a lot of technical descriptions of why we find this music so moving and it's to do with the open-throat method of singing. The parallel progressive chords and harmonies are unusual to our ears, and there's also the range of ages within the choir. It's all-female and of all ages, and to me, sounds like a whole community. The level of empathy I feel towards those singing is very broad, because it's not personal empathy towards a singular person of a certain age–it's empathy towards a whole community of women across all ages. And it feels very timeless despite it being so specific and only being able to come from that place.
I made a piece at the Tate Modern last year where I invited the London Bulgarian Choir who sing the same repertoire of folk songs, and they sounded so similar to this beautiful recording I had gotten used to. They sang along with Tenebrae, the South African Cultural Gospel Choir and others. I drew 243 of London's most endangered species and had the London Bulgarian Choir singing the song of the nightingale within all these drawings of birds, with birds singing along with them.
I was changed by the experience of drawing the animals because it took four months and I was doing it 18 hours a day some days. Practising observing the lines and structures of animals that aren't human, then practising what it felt like to listen to these modes of singing that aren't what I grew up with–it's through a lens of a different culture and through the lens of more than human species. It changed my sensitivity and attitude towards my own identity and my own intention to work.
---

Beyoncé and Kendrick Lamar
"Freedom"
(Parkwood/Columbia)
With this final record, I wanted to sum up the extent to which working with artists on tours has made me. There are many I could choose, but this song itself is transformative of many lives. A lot of people would refer to "Freedom" as being expressive of their own joy and how music can liberate them from pain and oppressive experiences. I feel honoured to be part of the many groups of people who've helped stage this particular song and that I'm invited to be a part of telling these stories.
One performance of this encapsulates this part of my life of making concerts, which began in 2004 and has been a 20-year moment of making me. In New York at the MetLife Stadium, both Beyoncé and Kendrick Lamar were present, and we had a particular area of the stage was filled with water. I brought everything I knew about dancing on water because I'm obsessed with Pina Bausch as a choreographer and various other performers dancing on water in this way, and they'd seen it as well and were excited about it.
They brought their own choreographers, culture, experience and storytelling to my line of inquiry. It was a meeting point of everything I'd learnt and everything they lived. It all converged on this small area of water within a huge stadium, with a group of dancers echoing the resonance of the words and music. Every movement of a dancer's limb was echoed by a non-human movement within the water. It was a beautiful convergence of water and human, and music and rhythm with 100,000 people watching.
In a way, I'm celebrating the record but I'm also celebrating this particular moment of these two historically, culturally, musically, poetically and politically important artists. I wanted to end with this one because so much of the future of our culture and our storytelling has been defined by these two extraordinary artists, and they've really helped make me and help me understand where I can be a part of telling stories. It's such a privilege. 
An Atlas Of Es Devlin is available to order now on 180g heavyweight white vinyl via The Vinyl Factory.
Read more of The Records That Made Me series here.