Published on
March 11, 2013
Category
Artists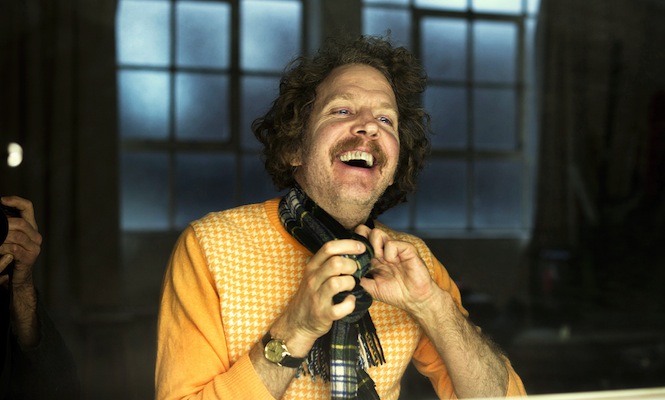 Martin Creed (born 1968) is a British artist and musician. He won the Turner Prize in 2001 for Work No. 227: the lights going on and off, which was an empty room in which the lights went on and off.
Martin Creed was born in Wakefield, England, and brought up in Glasgow, Scotland. He studied art at the Slade School of Art at University College London from 1986 to 1990.
Since 1987, Creed has numbered each of his works, and most of his titles are deadpan and descriptive. Work No. 79: some Blu-tack kneaded, rolled into a ball and depressed against a wall (1993), for example, is just what it sounds like, as is Work No. 88, a sheet of A4 paper crumpled into a ball (1994).
Creed is perhaps best known for his submission for the 2001 Turner Prize show at the Tate Gallery, Work No. 227, the lights going on and off, which won that year's prize.
His work has often excited controversy: a visitor threw eggs at the walls of Creed's empty room as a protest against the prize, declaring that Creed's presentations were not real art. In the decade since the Turner Prize he has exhibited extensively throughout the world.
Sound has also featured in his gallery-based work, with pieces using doorbells and metronomes. In 2000, he published a recording of his songs under his own name with the arts publisher Art Metropole, in Toronto. He started his own label, Telephone Records, and released the single "Thinking/ Not Thinking" in early 2011, following it up with the single "Where You Go" in 2012.
Releases accelerated in 2012, with the Double A Side single "Fuck Off" and "Die" coming out on Moshi Moshi Records in May 2012, in advance of the album "Love To You", released on Moshi Moshi in July 2012.
The Vinyl Factory have worked with Creed in order to produce a limited edition of the release, a series of which has been hand-painted by Creed himself. The album is produced by David Cunningham, Martin Creed and The Nice Nice Boys (Andrew Knowles of Johnny Marr & The Healers and Nick McCarthy of Franz Ferdinand).
The Vinyl Factory have also worked with Creed on a series of other projects, not least the 2011 work Box Codax, also produced with Nick McCarthy, and Chicago, Creed's Work No. 1370, which feature four new songs and a series of bespoke watercolours.
For Creed there is no difference between making music and making art. Like his Work No. 850, in which runners ran through the Tate Gallery, his music is disarmingly simple but makes an immediate impact. Work No. 1197 "All the bells in the country rung as quickly and as loudly as possible for three minutes" was commissioned to herald the start of the London Olympics.
Creed continues to exhibit work internationally and regularly does talks and plays live with his band.
Click HERE for more info.