Published on
January 13, 2020
Category
News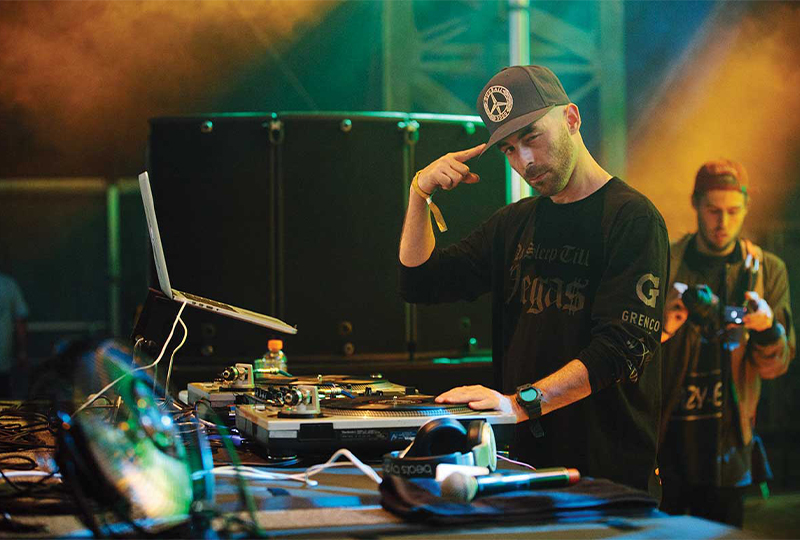 With cameos from Action Bronson, Mobb Deep, Roc Marciano and more.
Producer The Alchemist, aka Daniel Alan Maman, is releasing his tracks from The Good Book collaborative albums with Budgie, on vinyl for the first time, this January via ALC Records.
Read more: How gospel is reborn in hip-hop's search for the spiritual
A two-part, double album series between The Alchemist and Budgie, The Good Book Volume 1 was originally released in 2014, followed by The Good Book Volume 2 in 2017 – both of which were packaged as limited edition CD box sets that were designed to resemble a bible.
Channeling "the near religious experience many of us draw from hip-hop," The Alchemist used gospel and sermon recording samples to create his tracks, mixed alongside contributions from Action Bronson, Roc Marciano, Domo Genesis, and more.
Starting out his music career in 1991 as one half of hip-hop duo The Whooliganz, The Alchemist began working with Mobb Deep and Dilated Peoples, and has since gone on to produce for Nas, Ghostface Killah and Snoop Dogg, alongside his own records.
The Good Book Volume 1: Joyful Noise and The Good Book Volume 2: God's Work will be released here on the 10th of January.
Check out the cover artwork and tracklists below.
Tracklist:
Joyful Noise
Side A
1. Joyful Noise Intro
2. The Spirit Of God
3. Lord Pity Us All
4. I Make My Own Decisions
5. Holy Ghost Broom
6. The G Code (Featuring – Action Bronson & Blu, Domo Genesis)
7. Ball Of Clay
8. Thru The Eyes Of Christ
9. Lucifer
10. Praise Him
11. Telling Folk
12. In Heaven's Home (Featuring Prodigy, Roc Marciano)
13. We Expect You
Side B
14. The Good Deacon
15. Who Is He? (I Believe)
16. Little Guy, Not A Midget
17. Everything
18. My God Is
19. Judgement Day
20. To Me
21. Beyond The Years
22. Going Home
23. Thank Jesus
24. Bonus Beats Pt. 1
25. Bonus Beats Pt. 2
God's Work
1. Morning Prayer (Intro)
2. Looking for a Blessing
3. Pray for You (feat. Royce da 5'9″)
4. On a Solid Rock
5. A Thousand Birds (feat. Conway & Westside Gunn)
6. Church Organ Needs Maintenance
7. Floor Seats (feat. Mach Hommy)
8. No Mystery God (feat. Meyhem Lauren)
9. You Better Listen
10. Message for the People (feat. Durag Dynasty)
11. Try My Hand (feat. Mobb Deep)
Side B
12. Crisis
13. Find a Way (feat. Big Twins)
14. Forgive Me
15. God Loves You
16. Brother Jedidiah (feat. Action Bronson & Big Body Bes)
17. Something You Can't Buy
18. Stuck in a Box (feat. Oliver The 2nd & Jeremiah Jae)
19. Storm Coming
20. Troubles (feat. Your Old Droog)
21. Forever
22. Ascention (Outro)