Published on
August 28, 2018
Category
News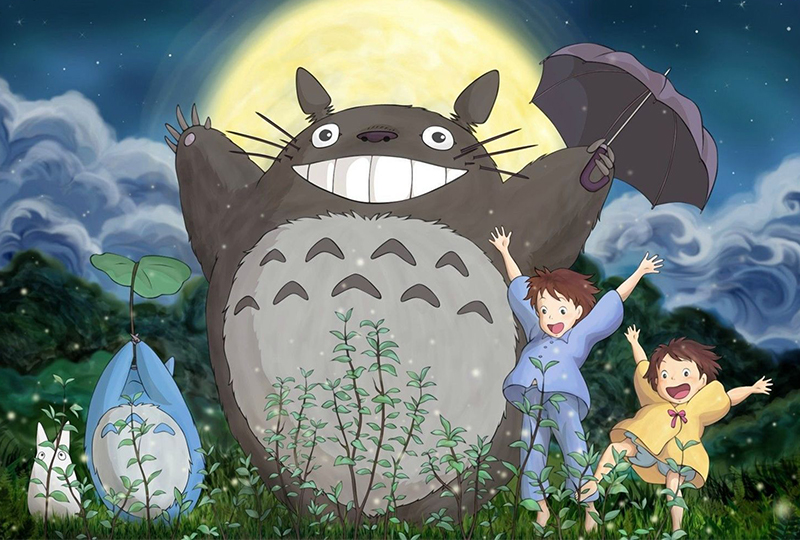 With character image albums, song books and symphony versions.
Nine albums from legendary Japanese animation studio Studio Ghibli are being reissued on vinyl for the first time, this November via Tokuma.
Read more: Geisha Boogie: 10 essential Japanese records that no one is looking for
All of the LPs were created by longtime Studio Ghibli composer Joe Hisaishi, including the first scores he ever made for the animation house, for Nausicaä of the Valley of Wind in 1983.
Hisaishi is one of Japan's most prolific and celebrated composers, creating over 100 film scores and albums to date, including every Hayao Miyazaki animation since they first crossed paths, with the exception of Whisper of the Heart, which Miyazaki didn't direct.
Hisaishi first caught the attention of Ghibli founder Hayao Miyazaki in the early '80s, when he was hired to compose an "image album" for the film Nausicaä of the Valley of Wind while it was being made.
After hearing the image album, Miyazaki requested that Hisaishi replace the original composer hired to create the music for Nausicaä of the Valley of Wind.
An "image album" is an LP created specifically for Japanese animations, to give a sense of characters' personalities.
In Japan, sound is as important as visuals. Characters in every film and animation, even inanimate objects or feelings, have their own songs created for them. Protagonists have entire albums created for them. These audio impressions are equally as important as visual and tangible physical elements. What results is a multi-sensory experience.
The Studio Ghibli reissues feature 3 albums of music from Nausicaä Of The Valley Of Wind (1983), Castle in the Sky (1986), My Neighbour Totoro (1987), and will be available on Japan's Record Day, 3rd of November.
Earlier this year, Joe Hisaishi's cult manga score for Kissho Tenyo – one of our favourite reissues of 2018 so far – was rereleased via LAG Records.
Pre-order the albums here ahead of their 3rd November release, listen to 'The Wind Forest' and check out the track lists plus more information about each LP below. NB: Google Japanese to English translation accuracy rather suspect on various song names.
1. My Neighbour Totoro soundtrack: "A soundtrack board that can enjoy the music of Joe Hisaishi who can feel warmth as a warm heartedness to your heart's content. "Sanpo" "My Neighbor Totoro" is also included.
2. My Neighbour Totoro soundbook: "Newly recorded music of "My Neighbor Totoro" based on violin, guitar, flute. A picture book of music that Totoro and children's contacts are transmitted warmly. Violin: Shinozaki Masatsugu / Flute: Rie Akagi / Guitar: Hiroki Miyano."
3. My Neighbour Totoro Image Song Collection: "An image album made with the concept that "children really want, the mouth is opened and the voice is lifted and made a song that can sing. Includes 10 songs + 1 instrumental musical. Song / Azumi Inoue, Joe Hisaishi, Kimiko Mori, Taku Kitahara, Suginami Children's Choir."
4. Castle in the Sky Laputa Symphony Hen Taiki: "Symphony album which recorded the song of the image album "The girl who came down from the sky" as a symphony composed of 60 orchestras in total. Performance: Tokyo City Philharmonic Orchestra / Conductor: Katsuaki Nakatani."
5. Castle in the Sky Laputa Soundtrack Flying Stone's Mystery: "Soundtrack that contains songs used in the main part of the movie. Also included is an inserted song "Putting you down".
The jacket illustration is a mother ship of the air pirate Dora family, "Tiger Moss" where "Laputa" appears. Double jacket with duplicate cell picture of Pazu and Theta."
6. Castle in the Sky Laputa Girls Descending from the SkyImage Album: "Based on the image of Laputa directed by Hayao Miyazaki and producer Isao Takahata to Joe Hisaishi, this album was made in front of a soundtrack board. The jacket is designed by cutting out the protagonist Puzzu and theta from the theater poster."
7. Nausicaä the Winds Legend of the Wind: "Nausicaä's masterpieces are reproduced in about 50 orchestras. Joe Hisashi composer himself is in charge of full arrangement and production. The jacket illustration depicts the appearance of a departing Nausicaä."
8. Nausicaä of the Valley of the Wind Natural Soundtrack to the far place: Based on the image album, collection of soundtracks for movies. Jacket is a watercolour painting drawn down for the cover of original comic. "Despite saving the morning parrot children, Nausicaä is drawn to take a gun in hand so that you can not handle it already and release it from suffering."
9. Nausicaä of the Valley of the Wind Image Album of the Bird: "A work collection which can be said as the origin of Nausicaa's film music which was created based on the image of the original cartoon in film production. Jacket illustration is an illustration of director Miyazaki Hayao drawn for Animage's appendix poster Tolumekia Campaign."
Tracklists
My Neighbour Totoro soundtrack
Side A
1. Sanpo – Opening Theme Song (Inoue Azumi)
2. May village
3. Okake!
4. Suddenly with May
5. Twilight Wind
6. not scared
7. Let's go ahead
8. Mom
9. Small Obake
10. Totoro
11. Taka Mori's big tree
12. Welcome
Side B
13. Wind Street
14. Soaked okeba
15. Flight of the moonlit
16. There is no May
17. Cat bus
18. good for you
19. My Neighbor Totoro – Ending Theme Song (Inoue Azumi)
20. Sanpo (with chorus / Azumi Inoue / Suginami Children's Choir)
My Neighbour Totoro sound book
Side A
1. Wind Street
2. Mom
3. May village
4. Walk
5. My Neighbor Totoro
Side B
6. Welcome
7. To be in a hurry
8. Cat bus
9. Small photo
10. Wind Street
My Neighbour Totoro Song Collection
Side A
1. My Neighbor Totoro (Inoue Azumi)
2. Road of the Wind (Suginami Children's Choir)
3. Sanpo (Inoue Azumi · Suginami Children's Choir)
4. My name (Inoue Azumi)
5. Susumi (Suginami Children's Choir)
6. Cat bus (Kitahara Taku)
Side B
7. Wonderful little shitata (Momori Kumiko)
8. Mom (Inoue Azumi)
9. A small photo (Joe Hisaishi)
10. Dondo Festival (Azumi Inoue)
11. Road of the Wind (Instrumental)
Castle in the Sky Laputa Symphony Hen Taiki
Side A
1. Prologue – Encounter
2. Gran'ma Dola
3. Aerial walk
4. Gondoa (embraced by my mother)
Side B
5. Great Legend
6. Great act
7. Mining town
8. Time (when) castle
Castle in the Sky Laputa Soundtrack Flying Stone's Mystery
Side A
1. Girl who fell from the sky
2. Morning of Slag Valley
3. Funny fight (~ pursuit)
4. Memories of Gondoor
5. Passo of disappointment
6. Robot army (resurrection ~ rescue)
7. Picking up the choir (Chorus / Suginami Children's Choir)
Side B
8. Theta's determination
9. At the Tiger Moss issue
10. A sign of ruin
11. Moonlight sea of ​​clouds
12. Castle in the Sky
13. Collapse of Laputa (Chorus / Suginami Children's Choir)
14. Pointing you (singing / Annie Inoue)
Castle in the Sky Laputa Image Album Girls Descending from the Sky
Side A
1. Castle in the Sky
2. Pigeons and boys
3. Miner
4. Flying stone
5. Dora
6. Theta and Paso
Side B
7. Big tree
8. Flapter
9. Dragon's hole
10. Fortress of Tidis
11. Theta and Paso
12. Lost paradise
Nausicaä of the Valley of the Wind Legends of the Wind
Side A
1. Wind legend
2. combat
3. To a far place …
4. Corroded sea
Side B
5. Meve
6. Majin soldier – Torumecian army – His Highness
7. Nausicaä of the Valley of the Wind
8. Distant days
9. The way to the valley
Nausicaä of the Valley of the Wind Natural Soundtrack to the far place…
Side A
1. "Nausicaä of the Valley of the Wind" ~ Opening ~
2. Runaway of the royal bullock
3. Valley of the Wind
4. Insect love shining princess
5. Kushana's invasion
6. combat
Side B
7. Interaction with the royal bullock
8. In a corrupt sea
9. Annihilation of Petite
10. Battle of Maube and Corvette
11. Reviving gigantic soldier
12. Nausicaä · Requiem
13. "Bird Man" ~ Ending ~
Nausicaä of the Valley of the Wind Image Album of the Bird
Side A
1. Wind legend
2. To the far place … (~ Nausicaa's theme ~)
3. Meve
4. Majin soldier – Torumecian army – His Highness
5. Corroded sea
Side B
6. Royal mortal
7. Return of the Demon Army
8. combat
9. The way to the valley
10. Distant days (~ Nausicaä's theme ~)
11. Bird people (~ Nausicaä's theme ~)