Published on
November 25, 2019
Category
News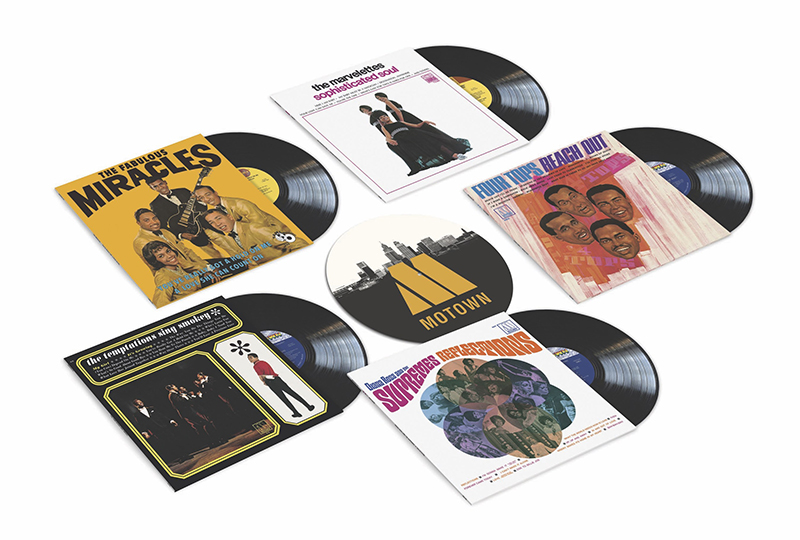 Featuring Diana Ross & The Supremes, The Four Tops, The Miracles, The Temptations and The Marvelettes.
Motown has remastered 5 of their classic releases in mono for a new series, called Motown in Mono.
Read more: Missing Hitsville – 10 ultra-rare Motown records
The new collection includes The Four Tops' 1967 Reach Out, The Marvelettes' Sophisticated Soul, The Miracles' 1963 You've Really Got A Hold On Me , Diana Ross & The Supremes' 1968 Reflections – which has never been commercially released in mono – and The Temptations' 1965 The Temptations Sing Smokey.
"Motown's hits were engineered to leap out of the radio. Their mono mixes imparted power, presence, and immediacy to certain sonic ingredients – especially bass and vocals", writes the label.
The 5xLP collection has been remastered from the original analog master tapes by Kevin Gray, and includes a custom slipmat.
It follows Motown's recent collaboration with Carhartt WIP on a new collection featuring clothes and gear.
Head here for more info and check out the tracklists below.
Tracklist:
Diana Ross & The Supremes – Reflections
1. Reflections
2. I'm Gonna Make It (I Will Wait For You)
3. Forever Came Today
4. I Can't Make It Alone
5. In And Out Of Love
6. Bah-Bah-Bah
7. What The World Needs Now
8. Up, Up And Away
9. Love (Makes Me Do Foolish Things)
10. Then
11. Misery Makes Its Home In My Heart
12. Ode To Billie Joe
The Four Tops – Reach Out
1. Reach Out I'll Be There
2. Walk Away Renee
3. 7 Rooms Of Gloom
4. If I Were A Carpenter
5. Last Train To Clarksville
6. I'll Turn To Stone
7. I'm A Believer
8. Standing In The Shadows Of Love
9. Bernadette
10. Cherish
11. Wonderful Baby
12. What Else Is There To Do (But Think About You)
The Marvelettes – Sophisticated Soul
1. My Baby Must Be A Magician
2. Destination: Anywhere
3. I'm Gonna Hold On As Long As I Can
4. Here I Am Baby
5. You're The One For Me Bobby
6. Reachin' For Something I Can't Have
7. Your Love Can Save Me
8. You're The One
9. Don't Make Hurting Me A Habit
10. What's Easy For Two Is Hard For One
11. The Stranger
12. Someway, Somehow
The Miracles – You've Really Got A Hold On Me
1. You've Really Got A Hold On Me
2. I've Been Good To You
3. Such Is Love, Such Is Life
4. I Can Take A Hint
5. Won't You Take Me Back
6. A Love She Can Count On
7. Whatever Makes You Happy
8. Heartbreak Road
9. Happy Landing
10. Your Love
The Temptations – The Temptations Sing Smokey
1. The Way You Do The Things You Do
2. Baby, Baby I Need You
3. My Girl
4. What Love Has Joined Together
5. You'll Lose A Precious Love
6. It's Growing
7. Who's Lovin' You
8. What's So Good About Goodbye
9. You Beat Me To The Punch
10. Way Over There
11. You've Really Got A Hold On Me
12. (You Can) Depend On Me