Published on
December 14, 2020
Category
News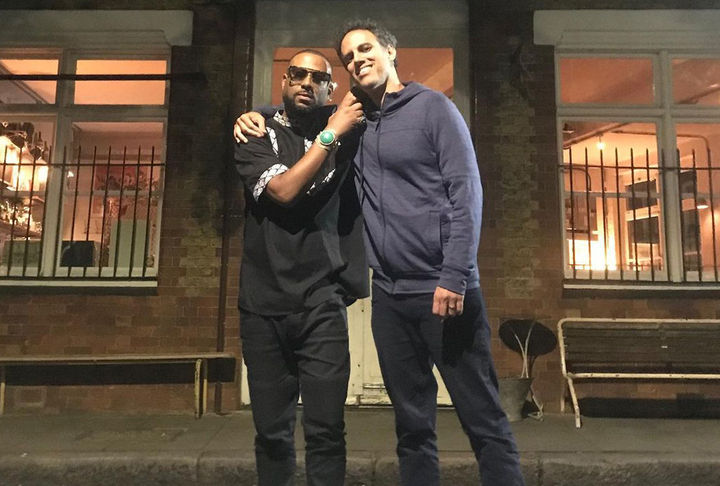 Two greats unite.
Madlib is releasing a new album in collaboration with Four Tet, called Sound Ancestors, via his own Madlib Invazion label in January 2021.
Read more: An introduction to Madlib in 10 records
The album has been in development for "the last few years", according to Four Tet, with Madlib sending him "tracks, loops, ideas and experiments" to work with. Four Tet continues:
"A few months ago I completed work on an album with my friend Madlib that we'd been making for the last few years. He is always making loads of music in all sorts of styles and I was listening to some of his new beats and studio sessions when I had the idea that it would be great to hear some of these ideas made into a Madlib solo album. Not made into beats for vocalists to use, but instead arranged into tracks that could all flow together in an album designed to be listened to start to finish.
I put this concept to him when we were hanging out eating some nice food one day and we decided to work on this together with him sending me tracks, loops, ideas and experiments that I would arrange, edit, manipulate and combine. I was sent hundreds of pieces of music over a couple of years stretch and during that time I put together this album with all the parts that fit with my vision.
Ahead of its release, Madlib has also shared two singles, 'Road Of The Lonely Ones' and 'Hopprock'.
Eothan Alapatt (of Now Again) worked with us on the whole project guiding and advising and has now prepared the album for release. He's had Bernie Grundman cut the vinyl and everything is in production and will be ready soon."
"Gil Evans to Miles Davis…. Holger Czukay to the ensemble known as Can….Jean Claude Vannier to Serge Gainsbourg on 'Histoire de Melody Nelson,'" shares Alapatt. "That's the only way to explain the specificity of Four Tet and Madlib's collaboration, in this special album that showcases a two-decade long friendship that follows the path started with Quasimoto's 'The Unseen,' Madvillain and his 'Piñata' and 'Bandana'albums with Freddie Gibbs."
The album is available in three special edition colourways limited to 400 copies each, as well as a standard black variant.
Pre-order Sound Ancestors here in advance of its 29th January release.
Check out the cover artwork, and tracklist below.
Tracklist:
1. There Is No Time (Prelude)
2. The Call
3. Theme De Crabtree
4. Road of the Lonely Ones
5. Loose Goose
6. Dirtknock
7. Hopprock
8. Riddim Chant
9. Sound Ancestors
10. One for Quartabê/Right Now
11. Hang Out (Phone Off)
12. Two for 2 -For Dilla
13. Latino Negro
14. The New Normal
15. Chino
16. Duumbiyay