Published on
November 5, 2018
Category
News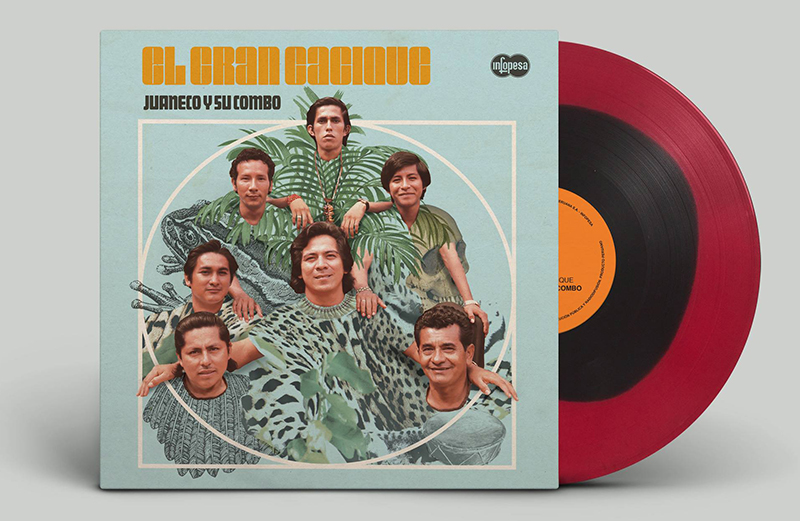 A percussive Cumbian classic.
Juaneco y Su Combo's El Gran Cacique is being reissued for the first time, this November via Infopesa.
Read more: 20 essential Cumbia records
Originally recorded and released in the Peruvian city Pucallpa during 1972, the album is titled after the band leader's nickname.
It contains the group's hit 'Mulher Rendeira' featuring Wilindiro Caciqueas, well as 'Vacilando con Ayahuasca' an instrumental cumbia by Noe Fachín which includes vocals by Infopesa's secretary.
El Gran Cacique has been remastered from the original tapes for this first ever reissue, with new artwork by Peruvian collage-master Yerko Zlatar, which reinterprets the original cover.
Pre-order a copy of the album here ahead of its 28th November release, listen to 'La Marcha del Sapo' and check out the track list below.
Tracklist
Side 1
1. Me Robaron Mi Runa Mula
2. Agüita de Sachachorro
3. La Marcha del Sapo
4. La Sirenita Enamorada
5. El Pajarito Pajero
6. El Capullito
Side 2
1. Vacilando Con Ayahuasca
2. Mujer Hilandera
3. Cumbia Pa' La Sierra
4. Volando
5. Bolero Para Ti
6. La Incógnita