Published on
October 29, 2018
Category
News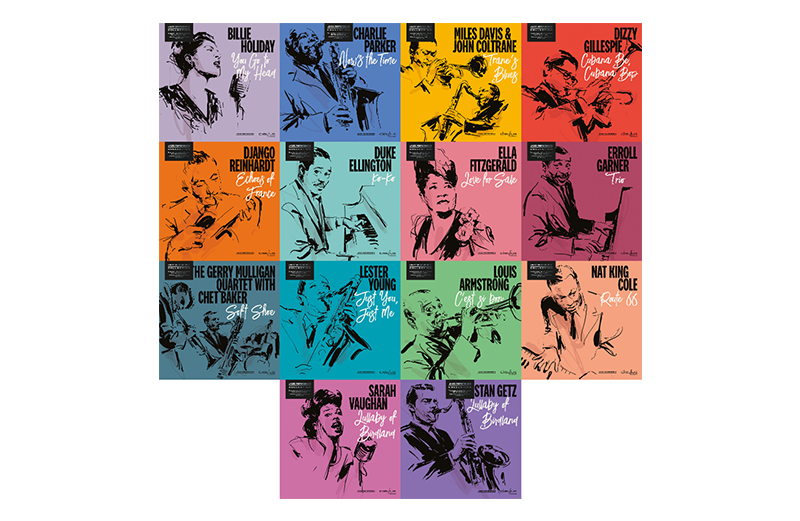 With records by Miles Davis, John Coltrane, Ella Fitzgerald and more.
14 compilations from Francis Dreyfus's Jazz Reference series have been released on vinyl for the first time.
Read more: How Roy DeCarava's jazz photographs captured the soul of Harlem and influenced a generation
The Jazz Reference series was started by music publisher and producer Francis Dreyfus in 2000.
Dreyfus stated that Jazz Reference is "a collection of the most beautiful tracks ever recorded before 1960 by the biggest and most renowned creators of the lively and flawless language of jazz."
Restored and remastered by Dreyfus and sound engineer Rene Ameline, Jazz Reference is known for its excellent sound quality of some of the genre's finest recordings.
Each LP features new original artwork from Seb Jarnot.
Head here to order a copy and check out the full list of 14 titles below.
Tracklist
Billie Holiday – You Go To My Head
Charlie Parker – Now's The Time
Miles Davis & John Coltrane – Trane's Blues
Dizzy Gillespie – Cubana Be, Cubana Pop
Django Reinhardt – Echoes of France
Duke Ellington – Ko-Ko
Louis Armstrong – C'est Si Bon
Nat King Cole – Route 66
Stan Getz – Lullaby Of Birdland
Sarah Vaughan – Lullaby Of Birdland
Ella Fitzgerald – Love For Sale
Erroll Garner – Trio
The Gerry Milligan Quintet with Chet Baker – Soft Shoe
Lester Young – Just You, Just Me