Published on
May 24, 2018
Category
News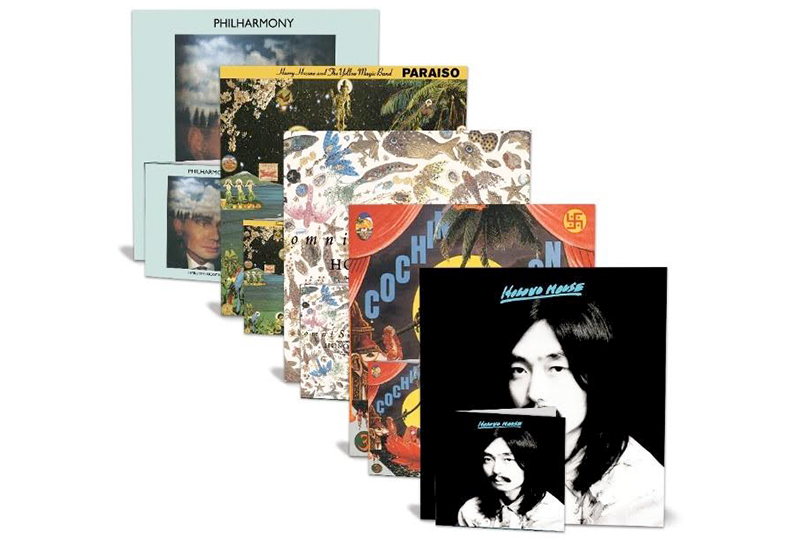 Essentials from the pioneering Japanese multi-instrumentalist and YMO member.
Light in the Attic has announced the latest releases in its Japan Archival Series will feature the work of seminal multi-instrumentalist and producer Haruomi Hosono.
Listen next: VF Mix 81: Haruomi Hosono by Joakim
Five of Hosono's albums will be reissued, four of which are being released for the first time outside of Japan: Cochin Moon, Hosono House, Paraiso, Philharmony, as well as omni Sight Seeing which is being released on vinyl for the first time.
The albums have been remastered from their original tapes, and include translated interviews with Haruomi Hosono.
Limited to 1500 copies each and out on 8th August, Paraiso, omni Sight Seeing and Philharmoy will be released on 3xLP in standard black variants.
Out on 28th September, Cochin Moon is available on 2xLP, in standard black, mustard yellow and transparent red variants, and Hosono House is available on 2xLP in standard black, haze/marbled clear and transparent purple variants.
Head here for more info and pre-orders, and check out the tracklists below.
Cochin Moon
1. Malabar Hotel Ground Floor ··· Triangle Circuit on the Sea-Forest
2. Malabar Hotel Upper Floor ··· Moving Triangle
3. Malabar Hotel Roof Garden ··· Revel Attack
4. Hepatitis
5. Hum Ghar Sajan
6. Madam Consul General of Madras
Hosono House
1. Rock-A-Bye My Baby
2. Boku Wa Chotto
3. Choo Choo Gatagoto
4. Owari No Kisetsu
5. Fuyu Goe
6. Party
7. Fuku Wa Uchi One Wa Soto
8. Jusho Futei Mushoku Tei Shunyu
9. Koi Wa Momoiro
10. Bara To Yaju
11. Ai Ai Gasa
Paraiso
1. Tokio Rush
2. Shimendoka
3. Japanese Rhumba
4. Asatoya Yunta
5. Fujiyama Mama
6. Femme Fatale
7. Shambhala Signal
8. Worry Beads
9. Paraiso (Haraiso)
omni Sight Seeing
1. Esashi
2. Andadura
3. Orgone Box
4. Ohenro-San
5. Caravan
6. Retort
7. Laugh-Gas
8. Korendor
9. Pleocene
Philharmony
1. Picnic
2. Funiculi Funicura
3. Luminescent / Hotaru
4. Platonic
5. In Limbo
6. Living-Dining-Kitchen
7. Birthday Party
8. Sports Men
9. Philharmony
10. Air-Condition