Published on
January 22, 2019
Category
News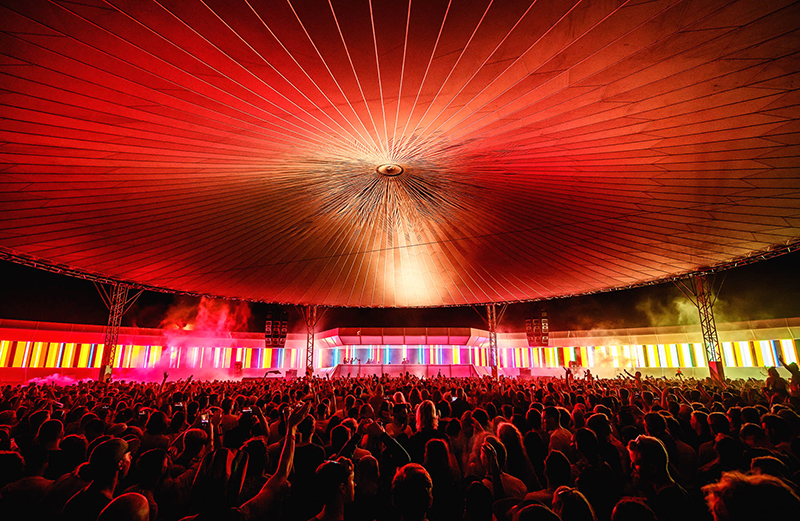 With DJs, live acts and some spicy b2bs.
Dekmantel has announced the initial line-up for its 2019 edition – spanning iconic acts, new artists, as well as some more unexpected names.
Read more: Sounds of the summer: Our favourite sets from Dekmantel 2018
Teasing out the news in single instagram posts earlier this week, Dekmantel has now shared the full list with us, which features more than a few of the artists who released some of our favourite albums and our favourite EPs last year.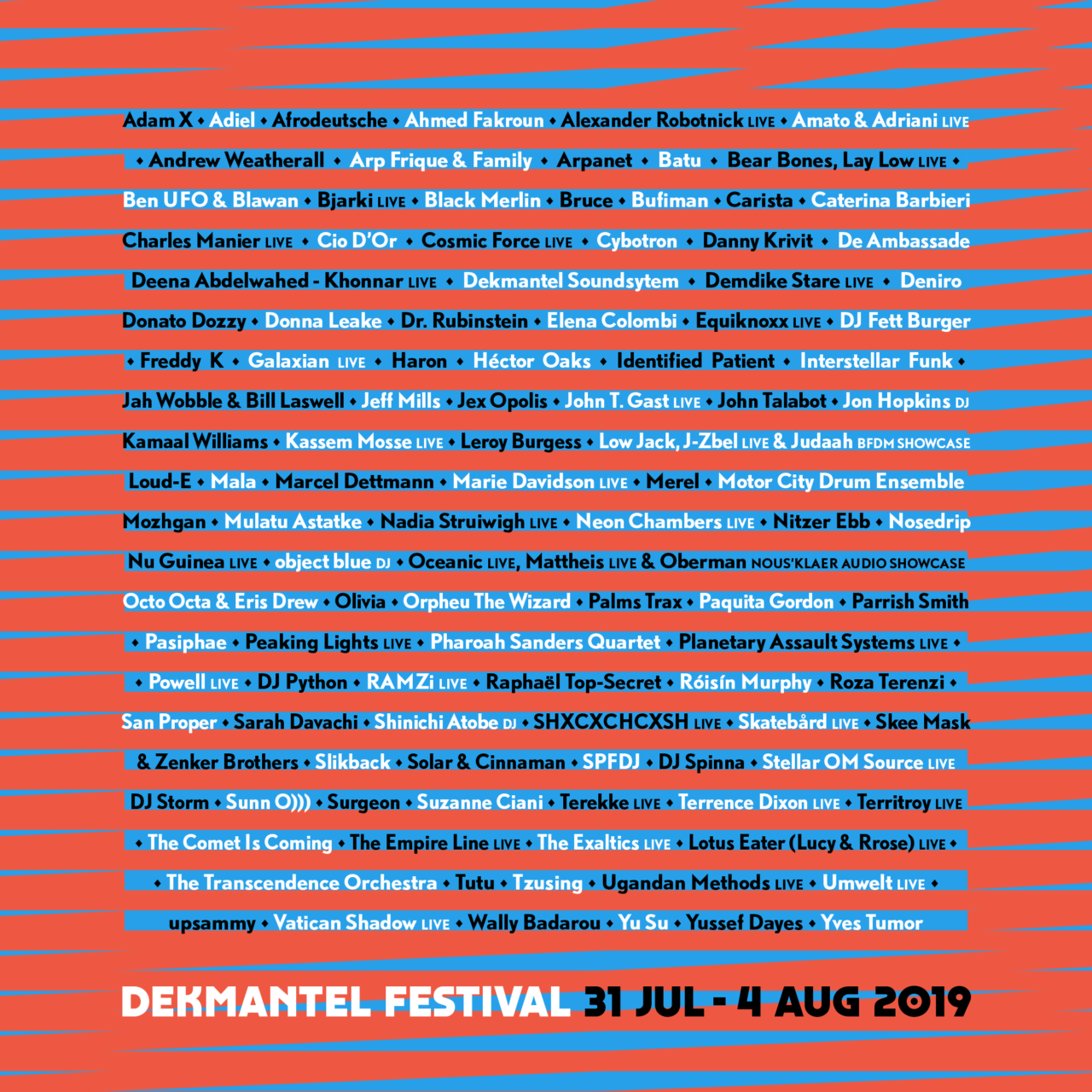 Highlights amongst the 91 names on the initial announce include, but are not limited to: Jeff Mills, Object Blue, Yu Su, Ben UFO & Blawan, Deena Abdelwahed with a Khonnar live show, Skee Mask, Sunn O))), Roisin Murphy, RAMZi, Shinichi Atobe, Pharoah Sanders Quartet, Suzanne Ciani, Octo Octa & Eris Drew, Roza Terenzi, Kamaal Williams, Bruce, Tzusing, Identified Patient and Mulate Astatke.
Head here for more info, and check out the list in full below.
---
Dekmantel 2019 line-up
(In alphabetical order)
Adam X
Adiel
Afrodeutsche
Ahmed Fakroun Alexander Robotnick (live) Amato & Adriani (live) Andrew Weatherall
Arp Frique & Family Arpanet
Batu
Bear Bones, Lay Low (live) Ben UFO & Blawan
Bjarki (live)
Black Merlin
Bruce
Bufiman
Carista
Caterina Barbieri Charles Manier (live) Cio D'or
Cosmic Force (live)
Cybotron
Danny Krivit
De Ambassade
Deena Abdelwahed – Khonnar (live)
Dekmantel Soundsytem Demdike Stare (live) Deniro
Donato Dozzy
Donna Leake
Dr. Rubinstein
Elena Colombi
Equiknoxx ft. ShaniqueMarie (live)
DJ Fett Burger Freddy K Galaxian (live) Haron
Héctor Oaks
Identified Patient
Interstellar Funk
Jah Wobble & Bill Laswell
Jeff Mills
Jex Opolis
John T. Gast (live)
John Talabot
Jon Hopkins (dj)
Kamaal Williams
Kassem Mosse (live)
Leroy Burgess
Lotus Eater (Lucy & Rrose) (live)
Loud-E
Low Jack, J-Zbel (live) & Judaah (BFDM Showcase)
Mala
Marcel Dettmann
Marie Davidson (live)
Merel
Motor City Drum Ensemble
Mozhgan
Mulatu Astatke
Nadia Struiwigh (live)
Neon Chambers (live)
Nitzer Ebb
Nosedrip
Nu Guinea (live)
object blue (dj)
Oceanic (live), Mattheis (live) & Oberman (Nous'Klaer Audio Showcase)
Octo Octa & Eris Drew
Olivia
Orpheu The Wizard
Palms Trax
Paquita Gordon
Parrish Smith
Pasiphae
Peaking Lights (live)
Pharoah Sanders Quartet
Planetary Assault Systems (live)
Powell (live)
DJ Python
RAMZi (live)
Raphaël T op-Secret
Róisín Murphy
Roza Terenzi
San Proper
Sarah Davachi
Shinichi Atobe (dj)
SHXCXCHCXSH (live)
Skatebård (live)
Skee Mask & Zenker Brothers
Slikback
Solar & Cinnaman
SPFDJ
DJ Spinna
Stellar OM Source (live)
DJ Storm
Sunn O)))
Surgeon
Suzanne Ciani
Terekke (live)
Terrence Dixon (live)
Territroy (live)
The Comet Is Coming
The Empire Line (live)
The Exaltics (live)
The Transcendence Orchestra Tutu
Tzusing
Ugandan Methods (live)
Umwelt (live)
upsammy
Vatican Shadow (live)
Wally Badarou
Yu Su
Yussef Dayes
Yves Tumor
Photo by Bart Heemserk.