Published on
November 26, 2019
Category
News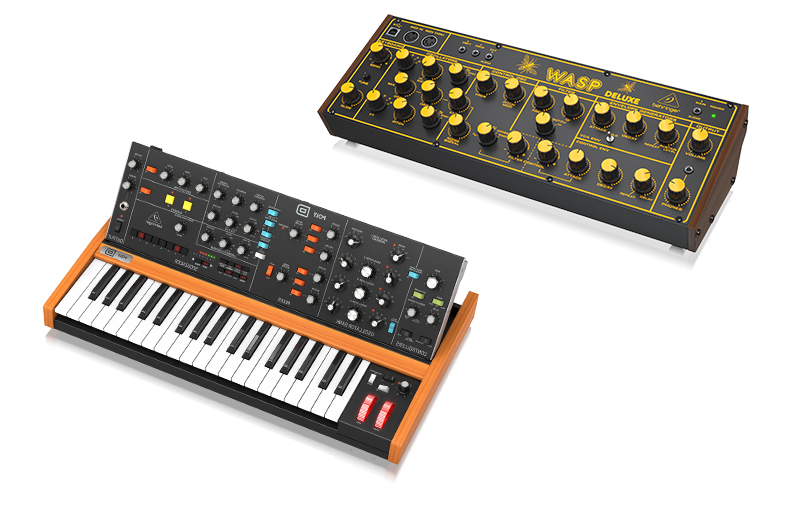 Iconic keys and synths on a budget.
Behringer has unveiled an unofficial polyphonic keyboard version of Moog's Model D, and a new version of EDP's 1978 instrument, the Wasp.
Read more: Behringer unveils budget clone of Roland's classic TB-303
Behringer's new polyphonic keyboard version of Moog's Model D, called Poly D, follows 2017's Behringer D, a monophonic, Eurorack compatible take on the classic Model D. Unlike that version, which arrived as a standalone module, the Poly D has a keyboard and design much closer to Moog's original.
However, the key difference between the Poly D and Moog's Model D is that Behringer's synth has a four-voice polyphonic mode. The original didn't have that feature, and if you want to buy a modern Moog synth with polyphony, you'll have to spend $5,999 on a Moog One.
Other features of the Poly D include a chorus section inspired by Roland's Juno-60, a distortion section based on Boss's DS-1 pedal and a 32-step polyphonic sequencer and arpeggiator. Behringer hasn't announced a price or release date yet, but if it's anything like its ARP Odyssey clone, it could be around $500.
Behringer is also continuing its line of synth clones with a $299 version of EDP's 1978 instrument, the Wasp. The new synth is described as a "faithful reproduction" of the '70s original, which was one of the first commercial synths to use digital technology. The synth – designed by UK engineer Chris Huggett – was used by artists like Vince Clarke and 808 State.
While Behringer's remake can fit into Eurorack cases, it doesn't include CV or gate controls for using it with other analog gear. Another key difference is the addition of MIDI, which didn't feature on the original.
Check out the design below.