Published on
August 10, 2023
Category
Features
Featuring Strategy, Todd Terry and Boiling Point.
Octo Octa is one of the most respected names in contemporary vinyl DJing. The house producer and DJ has been active since 2011, wowing dancefloors across the world with her eclectic, high-energy sets and accomplished productions.
Read more: billy woods on MF DOOM, Kool Keith and Cannibal Ox
It's the most obvious news possible that Octo Octa is a vinyl devotee. Alongside her partner Eris Drew, she launched the label T4T LUV NRG in 2019, issuing vinyl from both themselves and other rising producers. The label has brought out a set of great releases from the likes of Bored Lord and Gynoid 74 but also indispensable guides from Octo Octa and Eris Drew on topics including DJing and setting up a home studio.
We caught up with Octo Octa ahead of her upcoming EP, Dreams Of A Dancefloor, to discuss the records that informed her early music taste, all the way from discovering drum and bass to falling in love with house music.
---

LTJ Bukem
Logical Progression
(Good Looking Records)
When I was 13, I was just getting into electronic music and had borrowed a couple of CDs from some friends and then I got the internet for the first time. iTunes had just come out and had an internet radio tab and there was a little electronic section. One entry said '24/7 drum and bass' and I was like, "I like drums and I like bass" so I clicked on it and my mind blew.
From 13 to 18 years old, drum and bass, jungle and hardcore were my favourite things. Then, I was listening to a show out of Philadelphia and they played a track off Logical Progression. That compilation is the most formative and important piece of music I had and that's gone through to today. I loved experimental music for a long time and didn't listen to house music until like 13 years ago or so. When I started putting out music, my basslines were inspired by the compilation. I wasn't making jungle or drum and bass, but the tonality of all of it very much influenced everything I ever made.
I got a vinyl copy of Chameleon's "Links", one of my favourite tracks off the compilation, in London last year and it's up on the walls–a pristine copy. I can't bring myself to play it because it's just such a beautifully preserved holy grail record.
---

Strategy
Drumsolo's Delight
(Audio Dregs)
Strategy has been a Pacific Northwest artist for a very long time and has done an enormous amount of music. When I was in college, at school full time and working full time, I would have like 20 or 30 bucks at the end of the month to go buy something and started to buy records.
I was going to school in New Hampshire and had access to better record stores, but they didn't have the electronic music that I wanted, mostly like pop and rock. Buying directly from labels online was an option for me for the first time. That's how I got Drumsolo's Delight. It's another album that's just held with me forever. First, the cover is great. It's really beautiful–green and white screen printing on cardboard. They did a really small run of them and the music itself is–I hate the word lo-fi–it's like laptop music. There's a graininess and warmth to it because of the long pads.
This record has probably been played more than anything else in my studio. It's a marker for me because it came around a time when I was in college and I was in a band called Horny Vampire with a friend. It was a disco-punk band, but all synthesisers. We played house parties and kitchen shows and stuff like that with music off a laptop. After seeing [Oregon dance-pop act] Yacht play with just a laptop and a microphone, I was like, "Wait, I could just go plug in a laptop and then go just play the music out". That made me start playing out more and more and around that time I started using Octo Octa for my solo music.
---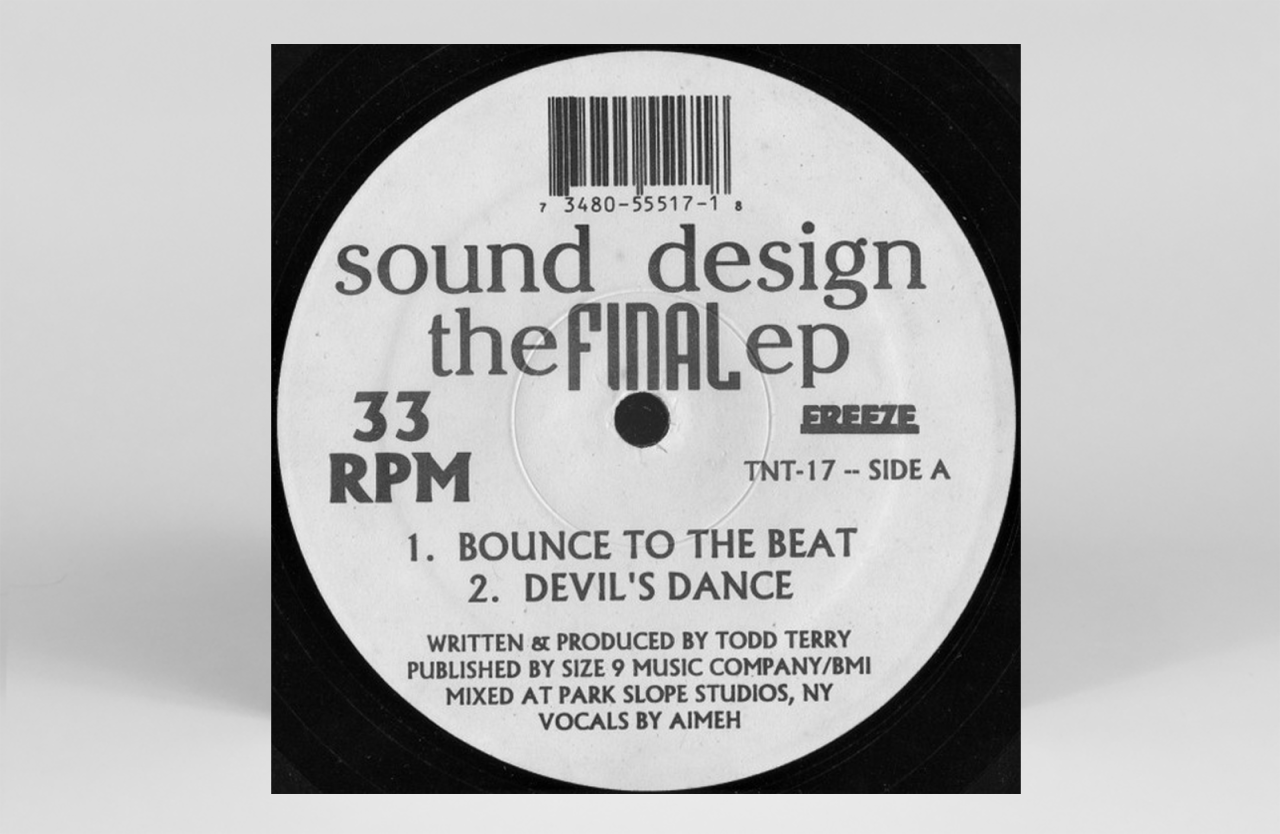 Sound Design / Todd Terry
The Final EP
(Freeze Records)
Just before I got to New York I fell in love with house music, ideal because there's so much house music there. Eris [Drew, DJ and producer] and myself like to talk about how house is highly experimental music, and no one is a better marker for that than Todd Terry.
None of it should work together, but it's in the most beautiful way ever. The Final EP is the Todd Terry record I have played the most and I have like 90 of his records in my collection. I have bought multiple copies over the years because I have just destroyed that record playing "Bounce to the Beat" over and over again.
It's at the edges of what someone would consider house music. I love to say I'm just a house DJ but if you listen to my sets and want to be specific about subgenres, it's not true. I play tonnes of trance and breaks and progressive–things are all over the place. But the core heart of it is always house, and when you listen to Todd Terry's records, it expands what that word even means.
---

Boiling Point / Grant Nelson
I Am
(Nice 'N' Ripe)
I started playing UK garage and house because of Grant Nelson's records. I love messaging in a record and Boiling Point's "I Am" is that.
DJing to me is one of the few moments I have some control in my life. Meaning that it's my time to go play these records and I'm going to play them for you. You can, of course, stay here or decide to leave, but I'm here for two or eight hours and I get to do what I want to do in this space now.
Part of that is always I'm playing some records that I love and I love playing vocal house–if I'm playing a set and there aren't some vocal tracks in it, something's wrong. I love lyrics about empowerment, the body, freedom and about just being who you want to be. That track "I Am" is maybe one of the most overt records I play because of the lyrical content about positivity and being the person you are and not letting negativity get you down. It so beautifully encapsulates everything, and it's also just a slammer.
I'm on my third copy of that record. Absolutely thrashed it. It's something I would definitely point people to when they're frustrated. As you get older, you get more jaded and upset and wish things were different and playing those tracks is a moment where I can see my values are still right here.
---

Juan Maclean
DJ-Kicks
(!K7 Records)
When I was growing up I loved drum and bass, jungle, IBM and breakcore and I didn't understand house music at all. For me, especially as a teenager, it was way too boring. I saw house music as the same thing over and over, which is, of course, not true. Drum and bass and all that stuff was my punk phase. 
During this crossover time of falling in love with laptop music and BPMs slowing down in what I'm interested in, I really liked Juan Maclean's 2009 album The Future Will Come. Something was changing at the time for me. I was playing shows alongside doing my own IDM breakcore. Shows with my friend were the most fun with people dancing hard. The music I was making was fast and visceral but people would stand around watching what you're doing. There wasn't as much of a community feeling.
In 2010, Juan puts out his DJ Kicks house mix with Rick Wilhite, 6th Burough Project and DFA affiliate stuff. Listening to that mix, everything finally clicked for me. The dance music stuff that I was doing with my friend wasn't exactly this, but I feel moved the same way listening to this as I did playing that music. I thought "Maybe I do like house music". 
House music is my heart and drum and bass, all that stuff, that's my body music. I thought I should just try to make some house music so I make my first track like that called "Let Me See You" which is on my first 12-inch that I put out with 100% Silk. Then, I was playing a show and saved that track for the end of my set. I played "Let Me See You" and everyone started dancing. It was not a huge show, maybe 40 or 50 people, but everyone got it. That was a light bulb when I thought, this is what I want to do. 
I made the music that was really kind of moving me at the time and it was all because of that release. It was a catalyst for everything that came after that. I wrote four tracks because of that release and they became my first two EPs. 
Dreams Of A Dancefloor is out via T4T LUV NRG on September 15. Pre-order it now.
Photo credit: Jason Myers