Published on
October 25, 2023
Category
Features
The LA-based experimentalist has captivated viewers with his nature-inspired soundscapes.
There's an irresistible appeal in watching an expert show their process. Nobody knows this better than Alexey Seliverstov.
The Moscow-born, LA-based composer and experimentalist has found a social media following through videos of his soundscape creations. Posting under the handle grayskiesforever across Instagram and TikTok, Seliverstov has amassed millions of viewers, all tuning in to watch him loop and manipulate sound on the fly.
View this post on Instagram
His performance videos, usually shot with a bird's-eye view, show an out-of-frame Seliverstov tenderly conducting an orchestra of tape decks, turntables and occasionally unrecognisable machines. The result is a surprisingly soothing cacophony, a meeting point between found nature sounds and the composer's trademark artificial birdsongs.
For music gear aficionados, it's an experimental look at the unpredictability and fluidity of working with analogue equipment. To the untrained eye, it's an enthralling window into a fringe process of music creation. As one TikTok commenter succinctly put it, "Idk what's going on but I'm invested".
To learn more about his practice, we caught up with Seliverstov and discussed his inspirations, gear set-up and essential tools.
---
How did you start working with soundscapes?
I used to work as a musician in a more classical way. I did synth music and my music was released on a label called Imprfct Records, run by Voicedrone [founder of the London club Fold]. 
Eventually, I met Anna Wall (Fabric, Rinse FM) and we released one of my tracks on Dream Theory. At that time, I'd also done several film scores. In late 2019, I decided to create an experimental project dedicated to an abandoned Japanese hotel on a semitropical island in the Pacific. I went there in November 2018 and recorded everything with a pocket field recorder–sounds of scratching on the walls and weird things I found. 
I also had a five-day session of sampling a really pristine upright Yahama piano. I decided to build a library of my recordings when I got home and planned to return to the hotel afterwards to build the soundscapes there.
It didn't end up happening because of the pandemic and everything being cancelled. I was at a really good point when the pandemic came. I had a lot of libraries and sound and material to work with, so I just put my creative flow into making something I could create in a room.
Then, I found a really beautiful recording of night birds singing that I did in LA in 2018 using a small microphone with an iPhone.  When I found that recording during the pandemic, I built a soundscape using that and other field recordings and atmospheres. Using [Ableton tool] Max For Live, I built my own device and programmed the birdsongs in different ways. 
Once I had that, I recorded it on different tape players and dictaphones, played with it and posted it on Instagram. It was a huge success, and I realised that people really love this type of art.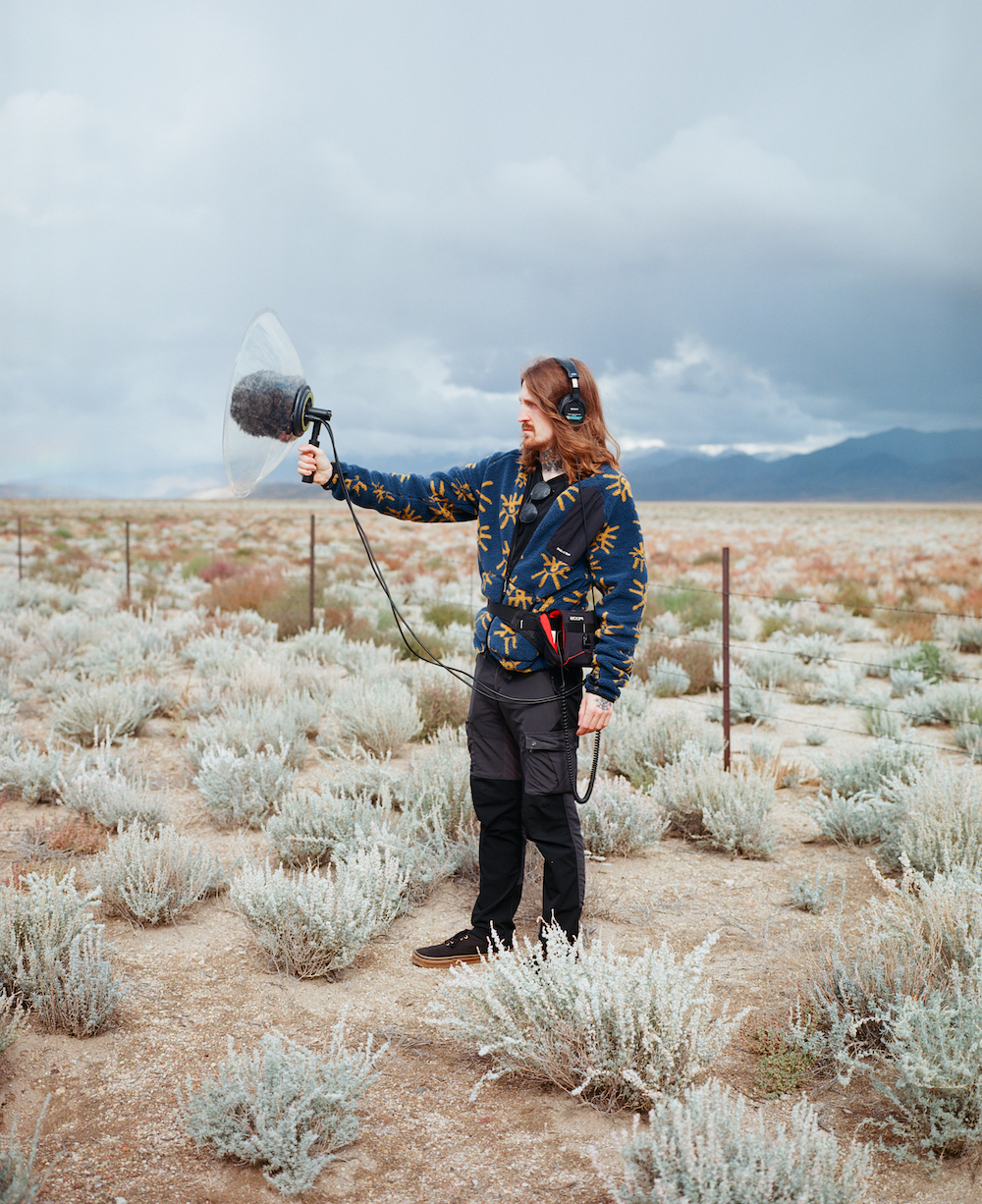 What informs your work? It feels like research plays a big role in your process. 
I get inspiration from real soundscapes that I hear. I'm aware of everything happening around me sonically and try to focus and analyse so I end up with an idea to build something. We have huge environmental diversity here in California, so I can drive around the desert and find sounds. When I hear something I think "Wow, I can add something on top of this to extend it". I take from real birds, real noises, freeways, everything here in LA. Maybe it's too noisy here for a lot of people, but not for me.
At one point, I started to build my own artificial birds and tape manipulators. My inspiration for that arose from musique concrète.
What do you think draws people to your work? A lot of the viewers might not know much about tape looping but are still hooked. 
I believe it's because it's engaging. It's more like a live performance rather than a nerdy video. There are a lot of great bloggers who explain what they're doing and how it works, but I prefer to stay as an artist and give people something they can enjoy and get into.
I don't know why in particular it works, but it does. A lot of people who aren't musicians or are musicians but don't know anything about tape looping or the techniques I use enjoy it. I think it's because I always try to have a real performance–I play it like I would in real life. There's an element of a show that is enjoyable for the audience.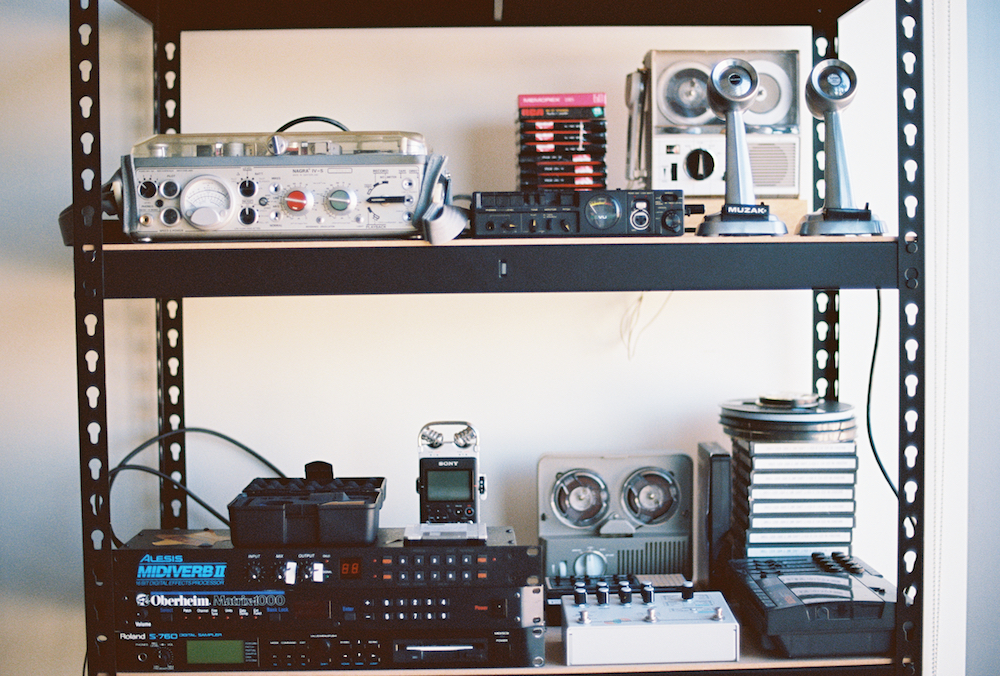 How extensive is your current set-up?
I'm originally from Moscow, Russia, born and raised, but I moved to Los Angeles two years ago because of the war and the Russian invasion. I'm a big supporter of Ukraine and have given certain interviews about my position–because of things linked to me, I don't think I could go home to Russia because I would most likely be punished. I had a lot of interesting synths and acoustic resonators back in Russia. It's difficult now because of sanctions to try to ship things here. I only have my essential equipment with me. 
---
Alexey Seliverstov's essential tools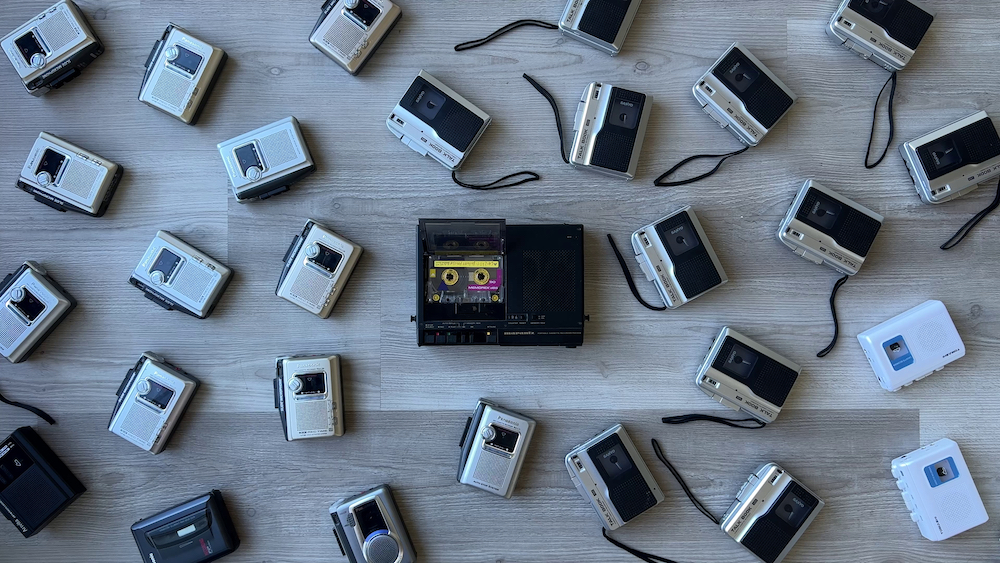 Dictaphones
The most important thing for my process is my dictaphone. I started collecting when I lived in Moscow. I was lucky to buy a bunch of them for cheap in the local market and I still collect them in the US. I'm always happy to find something that works because it's cheaper to buy a new one rather than fix it. For me, dictaphones are like an orchestra. Each time you build a soundscape, you don't know what result you will end up with. It's a new world with new rules every time. I build intuitively and the dictaphones are essential to everything.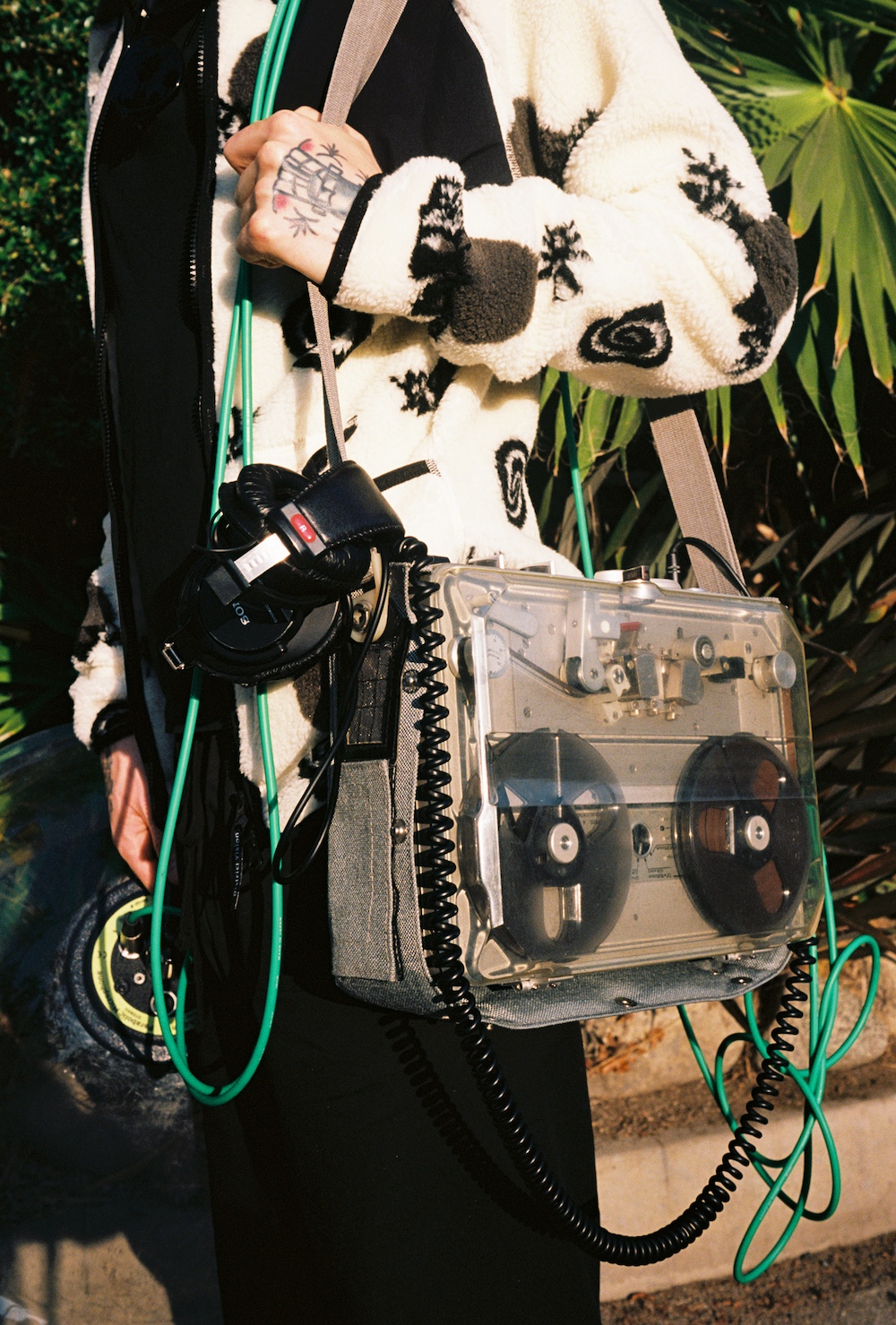 Nagra Recorder
My Nagra is a reel-to-reel recorder. It was the standard for Hollywood movies in the '70s and you could buy one in Moscow for quite a cheap price. Now, the price has skyrocketed because it's rare, but it still works and is just a perfectly built device. I have a situation where my device can just inspire me. Looking at the Nagra, this fascinating piece of art inspires me. Mine is a stereo Nagra, and it creates crazy stereo effects when you loop and change the loop's tension. It's opened a new world of creative purpose.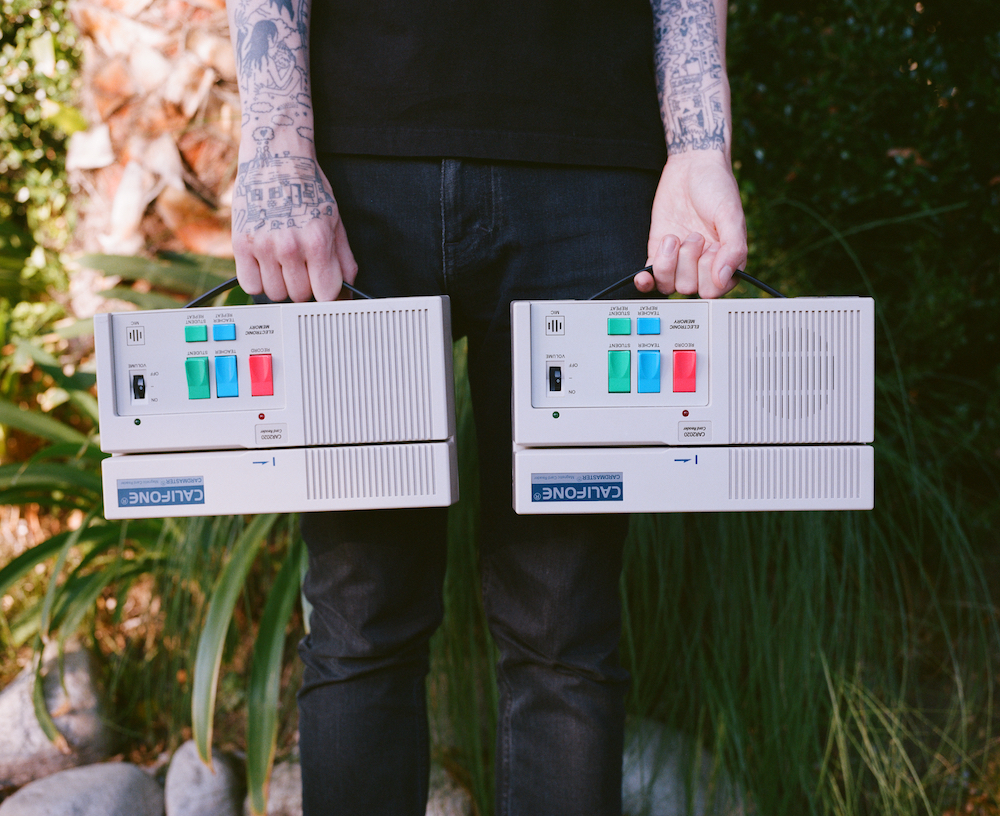 Card Readers 
I've started using card readers, which weren't originally professional pieces of music equipment. A lot of people leave comments like, "Oh, I remember using that in school". Here in the US, they were commonly used but this is the first time I have ever experienced it. It's opened me up to experimentation with tapes and scratching. 
I built my own cards using VHS tape. It's extremely difficult to find original cards for this card reader–they're unbelievably expensive and rare. It works like the original cards but sounds a bit different–more lo-fi but it works for me. I've collaborated with my wife [Tata Vislevskaya], who is a great visual artist and director, to make sound using Polaroids and the card reader by glueing tape onto Polaroids and playing them. It's done well on Instagram, maybe because of the visual interaction for many people.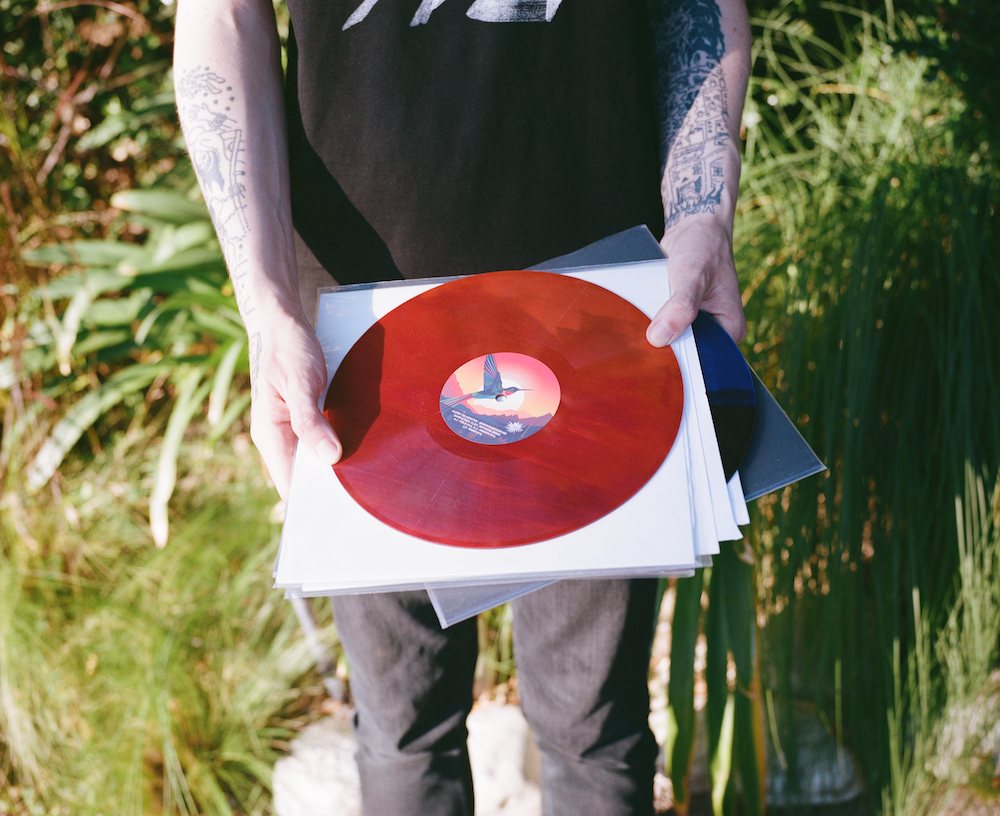 Vinyl
A year ago or so I released some videos using vinyl. When I record bird songs, each cassette has a unique bird song generated by my tape manipulators. I did it with vinyl too–I had a friend cut me some field recordings and birdsongs on vinyl. I manipulate and scratch them manually. It inspires me a lot because it's so different to cassette. It's great to play with, especially during performances.
Keep up to date with Alexey Seliverstov's videos on Instagram and TikTok.