Published on
August 31, 2023
Category
Features
Thomas Maucéri and Sébastian Piquet discuss In Search of Gil Scott-Heron.
Any music lover knows the deep-rooted desire to connect with an artist that's changed their lives. For documentarian Thomas Maucéri, his hero Gil Scott Heron was always just a few steps away.
Read more: Dave Okumu on the music of Gil Scott-Heron
Maucéri spent the best part of a decade seeking an interview with Heron before the latter died in 2011. Aiming to shoot a documentary on the Godfather of Rap, Maucéri interacted with friends and figures from his life yet was repeatedly thwarted by Heron's elusiveness, unforeseen events and, ultimately, his death.
In a new graphic novel, illustrated by Sébastian Piquet, Maucéri finally documents the relationship between Heron's life and modern US political history, albeit through the lens of his endless hunt for Heron. Realised through detailed panels and intimate story-telling, In Search of Gil Scott-Heron traces the legacy of Heron's work, the challenges of his personal life and the unshakeable connection between Maucéri and Heron's art.
Originally released in French last May, In Search of Gil Scott-Heron has now been published in English by Titan Comics to celebrate 50 years of hip-hop. We sat down with Maucéri and Piquet to discuss their collaboration on the project and the documentary that is yet to exist.
---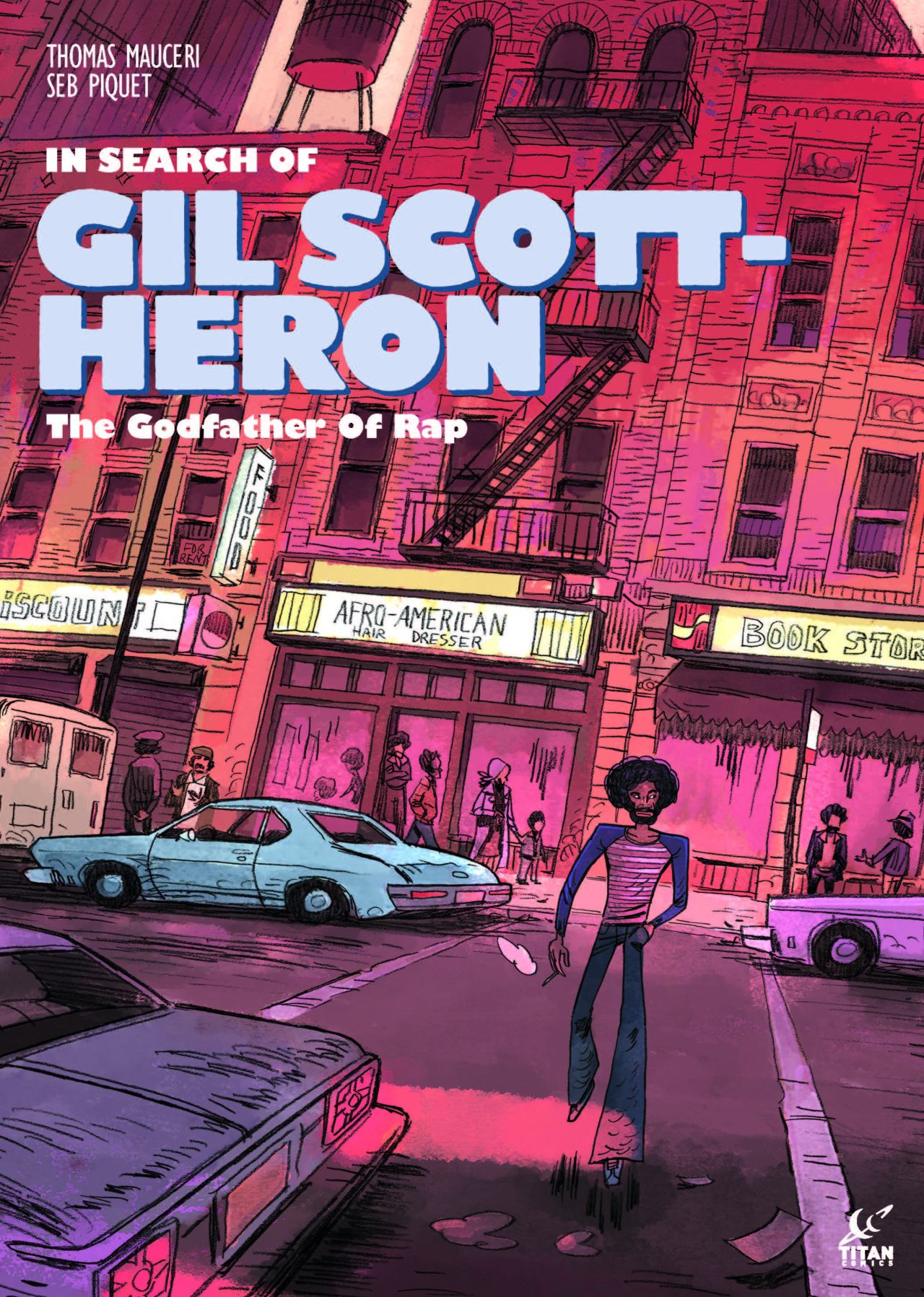 How did the graphic novel come about as a project in the first place?
Thomas: At first, we didn't have the idea of making a graphic novel. We had no idea that we were going to make a book out of the story. Sébastian had done his first graphic novel and then called me to ask if I had any stories about Gil Scott Heron because he knew the project I had been working on for years.
I told him that I had no stories to tell about Gil and went to bed. The day after I was like, "I'm so stupid" because if someone has to say something about Gil, it's me through this whole story. I called him back and said okay. At first, we wanted to publish a 20-page story in a French magazine called 21. We emailed the chief editor and, one month later, a publisher called us and asked if we could make a graphic novel with 200 pages in it. That was a huge surprise for us.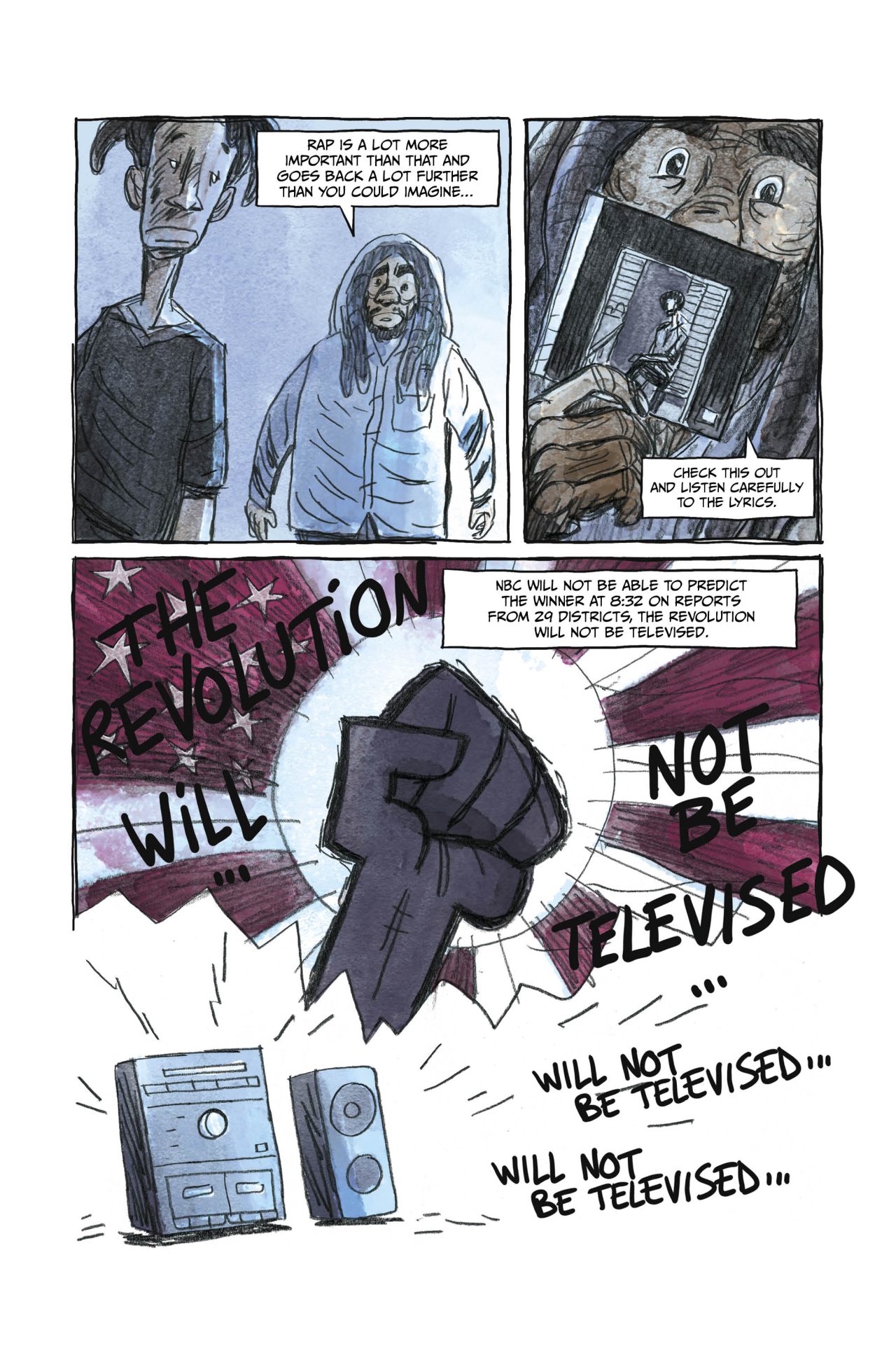 How did you know each other? Have you worked together on projects before this?
T: We're friends from high school. We met around 1990 and remained friends for years, but had never worked together before.
Thomas, your background is in documentary making and filmmaking. How different was it for you to work with such a new medium?
T: Yeah, I had to learn everything because I had never worked on this type of project. The thing is that I felt free writing this because when you do a documentary, or make a film, it costs a lot of money, so you are limited in what you can or can't do. For instance, in the book, we go back and forth between the past and the present. In a documentary, it would be too expensive to do that. There's a lot of freedom with a graphic novel. In a comic book, you can draw a tiny Kanye West and it's exactly the same cost.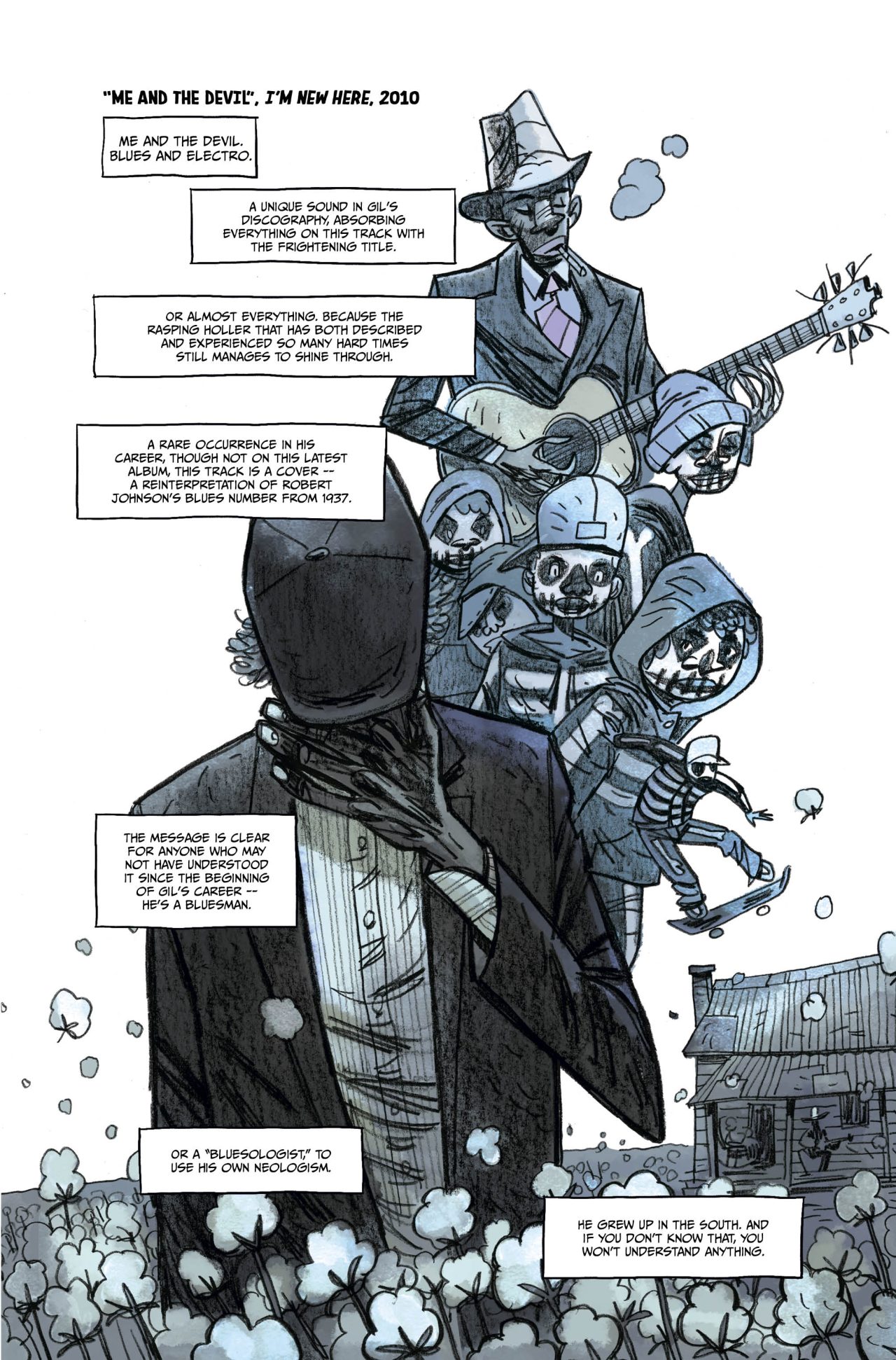 What informed how you approached the illustration of the book?
Sébastian: For most of the story, it's people talking on the phone or in the car. The challenge for me was to talk about the mindset or the feelings of the characters. I tried to find an alternative way to tell the story where we push the emotions for the readers. 
Obviously, through the book, we learn about Thomas's relationship with Gil Scott Heron, How would you describe your own relationship with his music, Sébastian?
S: I didn't know him before I started to work on the book. I discovered his music and work from the last album when he was already dead. I really discovered the music, the poet and the man while I was working on the book. It's sad to say it but I wasn't sad about his death before I did the book, but I was so sad by the time I finished it. 
T: Sébastian told me something interesting. When he was drawing the book, he was living in Los Angeles during the Black Lives Matter riots in America, so it was very strange for him to discover Gil's music and lyrics while he was experiencing the riots in the United States. There was a peculiar connection.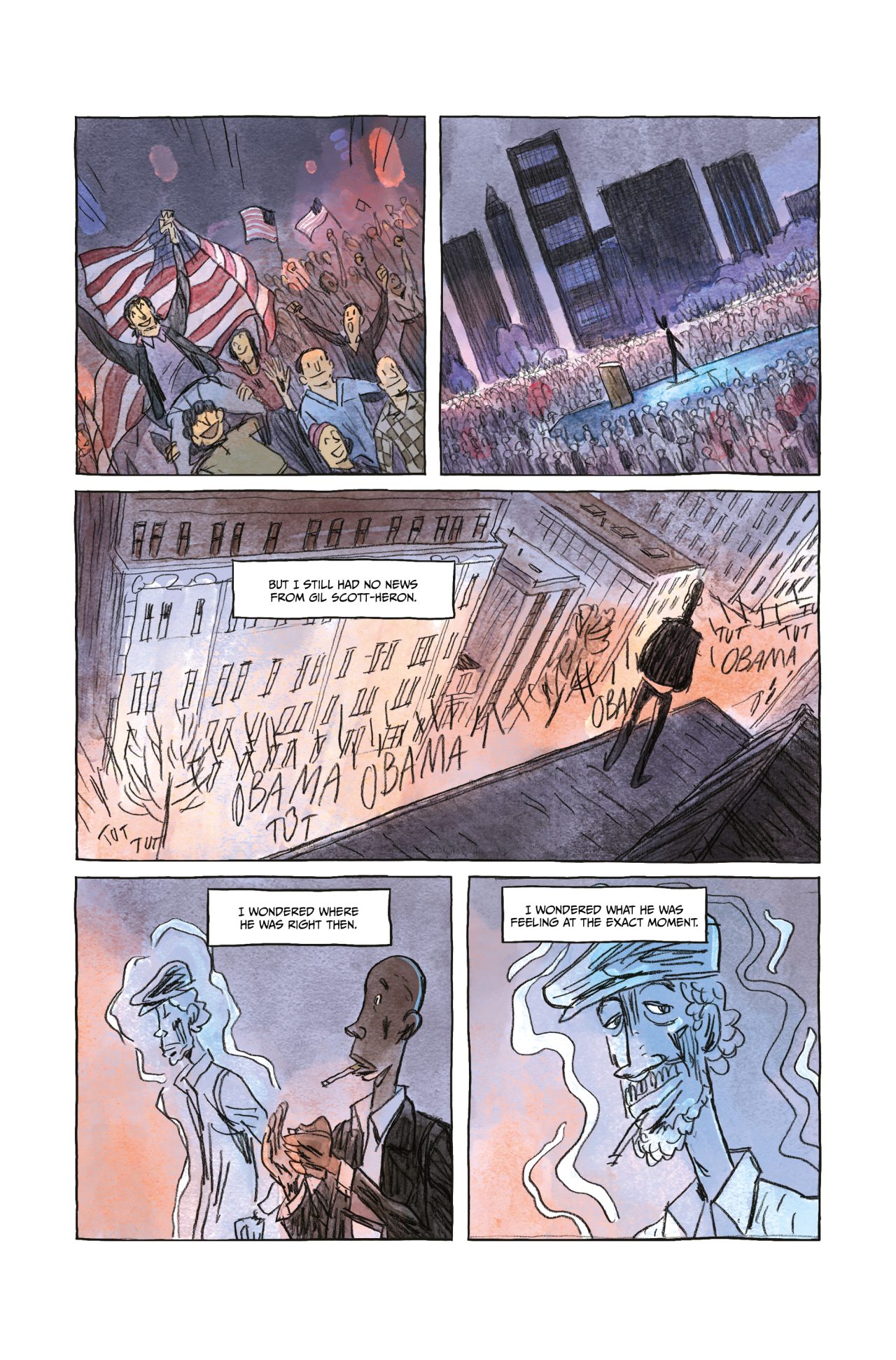 What was the collaborative process between the two of you like? Was there ever a conflict between your vision, Thomas, and the direction the illustration took?
T: I was very surprised when I saw the first storyboard because suddenly, the story I wrote had a totally different meaning. It was such a different experience to see the storyboarding–it was exciting. Some parts of the book are the way I imagined it. In other parts, it's Sébastian who came up with wonderful ideas. 
Sébastian did amazing work to come up with fresh and brilliant ideas. A few times, I remember he was furious at me because when you write a story, it's not a film. You can say, "Oh, we have thousands of horses running through a field". You don't think about all the work the illustrator will have to do to draw that scene. In the Barack Obama scene in the book, there are lots of people everywhere. I didn't realise how much work that would take.
S: The worst was the last sequence of the book–the Trump elections. There's a traffic jam and riots and really tall buildings and so many things.
T: To me, it wasn't a big deal, but after something like that [scene] you realise [the work]. I'm sorry, I apologise, but he did a great job.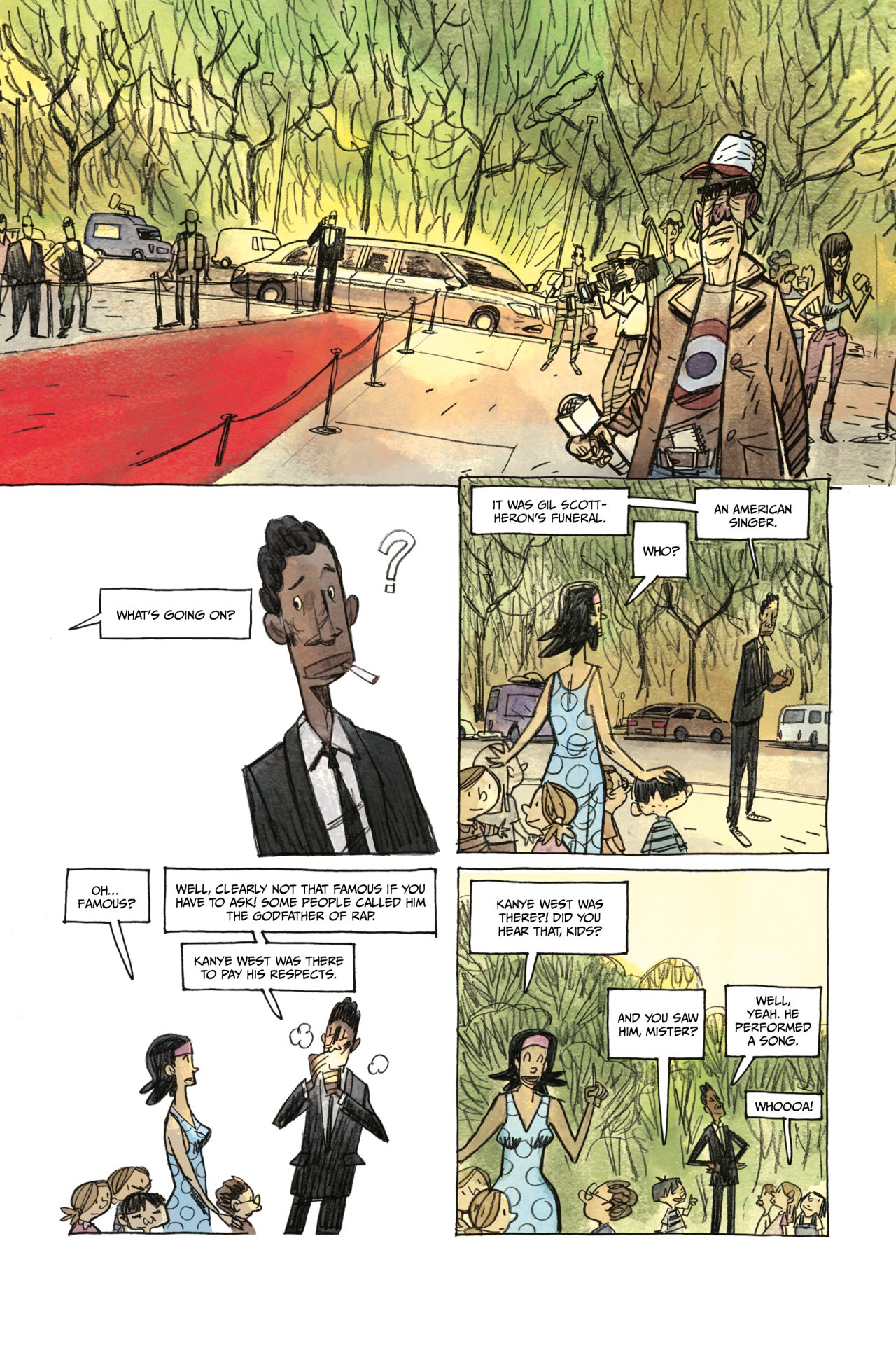 Was it more appealing to you to tell a story from your perspective rather than writing just a direct history of Heron?
T: I didn't want to make a classic biography. I thought it would be more interesting to explain my relationship to Gil's music and how I discovered him rather than telling his story like, "He was born in 1949, and he did this and he did that". I mean, you can open a Wikipedia page and find all that information.
The idea also was to mix the past and the present to show that his work is very modern, and still says a lot about society. That is something that would have been more complicated to make in a documentary.
Did you feel vulnerable sharing your personal details with an audience that might read the book primarily because they're fans of Heron?
T: I didn't really think about it when I was writing. To me, it was a relief to tell the story and what I've been through trying to make this documentary. I needed to spit it out. You know, it was very selfish, in a way. I didn't think about the fact that I was telling private things about myself. It didn't occur to me. It was just when the book got published that I was like, "Oh, shit, you know, it's part of my life. Does it make sense? Is it really interesting?" It was when the book came out that I actually asked myself those questions.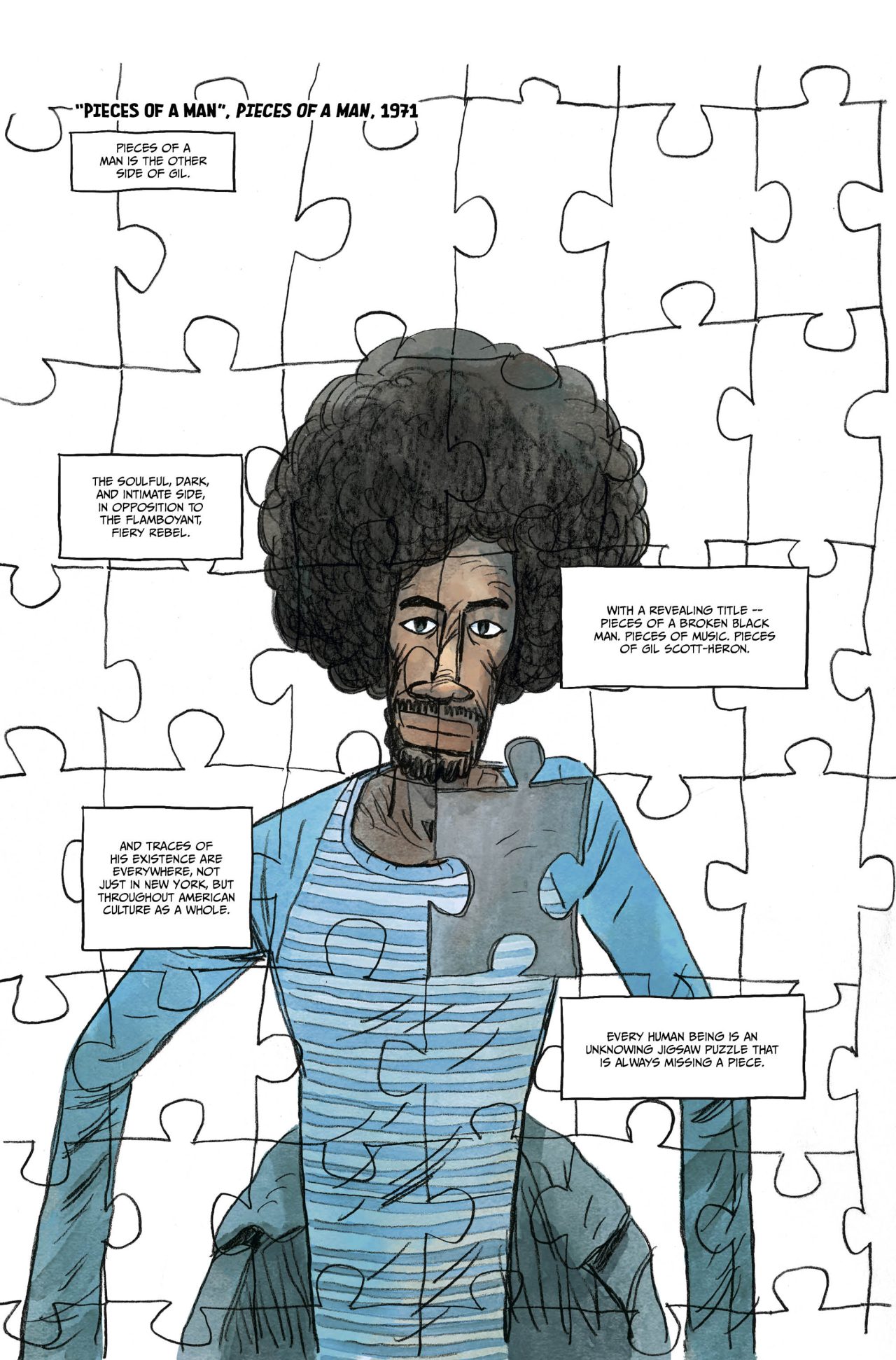 Have you shown the novel to many of the people you met on your search for Heron?
T: Not yet. The book is just coming out in the United States and most of the people in the book are Americans. The only person who has actually read it is Dorothée Nolan, who is in it. She was very moved because obviously; we were together in this. She was both sad and very happy that the book exists. I didn't want to betray what we went through because she was very close friends with Gil. It was important to me she could be proud of the work we've done together.
Does the creation of this novel feel like a bit of a closure for the documentary? 
T: Well, I always say that it's the making of the movie that doesn't exist, but I'm still working on the documentary. I have a producer in Paris, and we are looking for some money to shoot the movie. I hope we can make it this time. 
In Search of Gil Scott-Heron is available from Titan Comics now.