Joakim
The Studio Venezia Sessions
The Vinyl Factory
In stock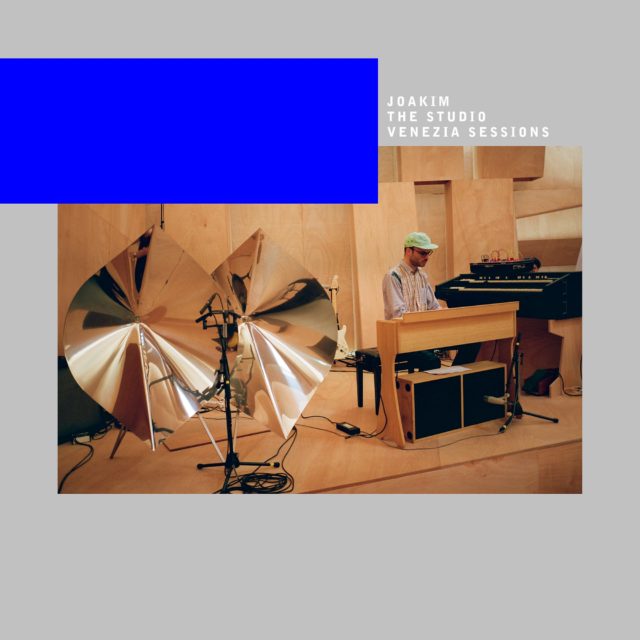 * New album from Joakim recorded inside Xavier Veilhan's installation, 'Studio Venezia' in the French Pavilion at the 2017 Venice Art Biennale
* 2 x 180g heavyweight vinyl
* Includes linear notes from Dan Fox
* Artwork by Studio Pensom
* Edition of 500
* Release Date: June/July 2018
As the title suggests, Joakim recorded this new album last year at Studio Venezia, the installation/sculptural ensemble/recording studio created by Xavier Veilhan for the prestigious 2017 Venice Art Biennale. Built inside the French Pavilion & inspired by the grotto-like Merzbau by Kurt Schwitters, Studio Venezia had dozens of artists create and record there over the 6 months of the Biennale (from Chassol to Brian Eno, from Joakim to Sebastien Tellier), invited by Xavier Veilhan himself with the help of co-curator Christian Marclay.
With an impressive collection of rare instruments from medieval horns to rare modular synths (Baschet crystals and percussions, a Buchla, a clavinet…), Studio Venezia was an amazing creative playground for the adventurous musician. Those instruments were captured by a team of sound engineers in the best possible way thanks to Nigel Godrich's (Beck, Radiohead…) mobile studio loaded with state of the art vintage recording gear.
Before going there in May 2017, Joakim examined the instrument list and the specific context of a studio open to the public within an international contemporary art exhibition to anticipate his creative process. Instead of drafting compositions and demos ahead of the recording session, he decided to have an "in-situ" approach by creating a system involving the visitors of the Studio in the composition phase. Joakim asked random visitors of the pavilion to pick a word, a letter (between A and G), tap a tempo and sometimes choose the instruments that he would play for each piece. The word was translated into a chord using a transcription table Joakim invented. Hence the song titles made of the given word plus the name and origin of the contributor. The music was then mostly improvised, based on those chords, scales and tempi. The recordings were then taken back to New York where Joakim made some light editing and mixed the pieces.
In terms of influences, Joakim tried to channel the spirit of proto-ambient German heroes Cluster, 60s and 70s modal jazz, Japanese evocative minimalism and drone composers' hypnotic transcendence.
One can hear the studio through these recordings, which was the point, to use the studio as an instrument, like the kraut rock pioneers did. You may hear the floor cracking, people talking or coughing, and the peculiar quality of music recorded in a large space with its acoustic properties, a rare occurrence when everyone is now working from small home studios and major large studios are closing down. This album also marks a return for Joakim to his musical education as a classically trained pianist as you can hear him improvise on the piano ("Arms", "Air", "Dream"), Fender Rhodes ("Trust") or harpsichord ("Absense").
Tracklist:
A1. ORANGE (Katie, USA)
A2. TRUST (Perry, USA)
A3. INNUENDO (Francisco, Spain)
B1. DEAD (Aimee, Mexico)
B2. AIR (Bernard, France)
C1. COMES (Armand, France)
C2. ARMS (Ralf, Germany)
D1. DREAM (Roberta, Italy)
D2. ABSENCE (Johansson, Sweden)