BILL VIOLA
The Talking Drum
THE VINYL FACTORY
SOLD OUT
Out of stock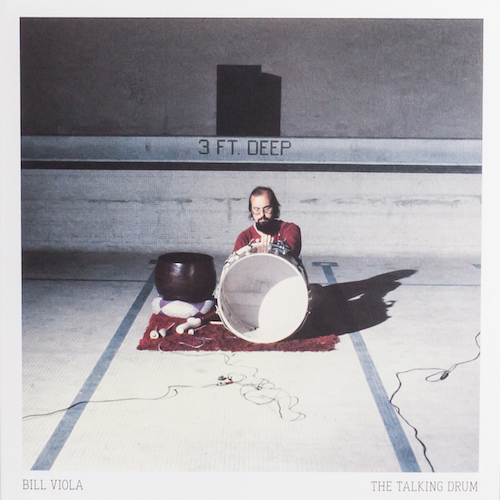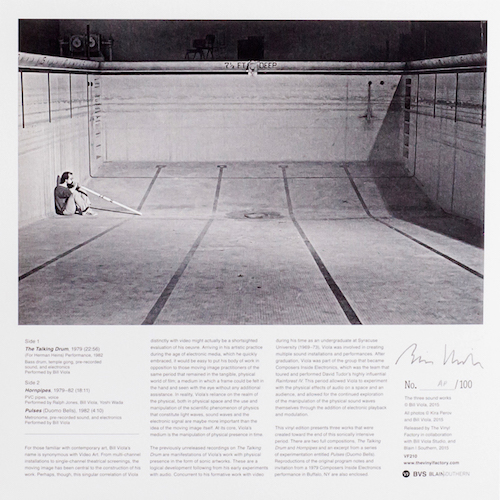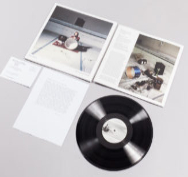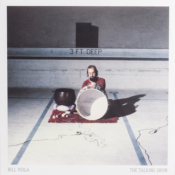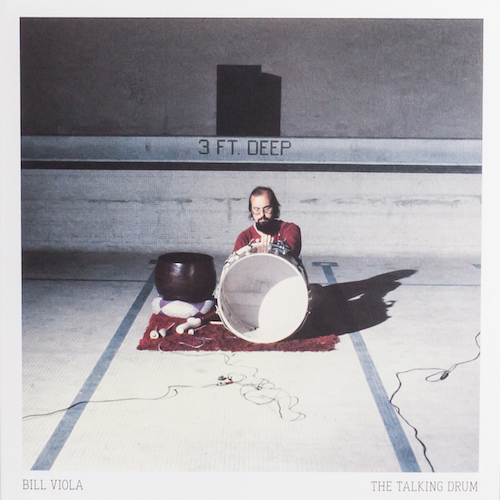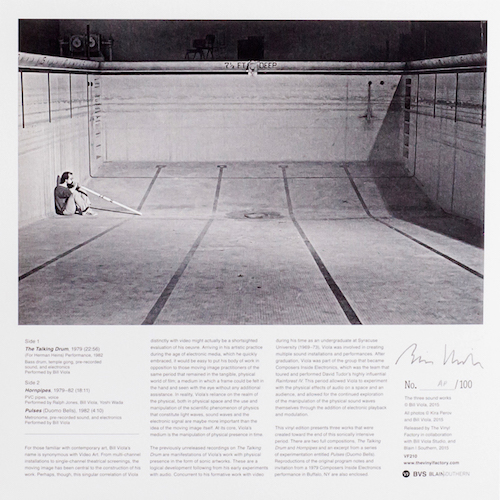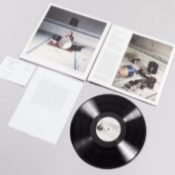 * Three extraordinary sonic compositions by Bill Viola
* Restored from tape by the artist's studio
* Pressed on 180-gram heavyweight vinyl
* Housed in bespoke Colorplan outer and inner sleeves
* Featuring original archive photography
* Essay by Astra Price, Cal Institure of Arts
* Reproductions of original program notes & invitation
* Limited to 100 copies worldwide
* Hand signed and numbered by Bill Viola
For those familiar with contemporary art, Bill Viola's name is synonymous with Video Art. From multi-channel installations to single-channel theatrical screenings, the moving image has been central to the construction of his work. Perhaps, though, this singular correlation of Viola distinctly with video might actually be a short- sighted evaluation of his oeuvre. Arriving in his artistic practice during the age of electronic media, which he quickly embraced, it would be easy to put his body of work in opposition to those moving image practitioners of the same period that remained in the tangible, physical world of film; a medium in which a frame could be felt in the hand and seen with the eye without any additional assistance.
In reality, Viola's reliance on the realm of the physical, both in physical space and the use and manipulation of the scientific phenomenon of physics that constitute light waves, sound waves and the electronic signal are maybe more important than the idea of the moving image itself. At its core, Viola's medium is the manipulation of physical presence in time.
The previously unreleased recordings on The Talking Drum are manifestations of Viola's work with physical presence in the form of sonic artworks. These are a logical development following from his early experiments with audio.
Concurrent to his formative work with video during his time as an undergraduate at Syracuse University (1969-73), Viola was involved in creating multiple sound installations and performances. After graduation, Viola was part of the group that became Composers inside Electronics, which was the team that toured and performed David Tudor's highly influential Rainforest IV. This period allowed for the continued exploration of the manipulation of the physical sound waves themselves through the addition of electronic playback and modulation.
Featuring three early sound compositions from the iconic artist, this limited edition record has been created in celebration of Bill Viola's site-specific installation of the same name presented by The Vinyl Factory at Brewer Street Car Park.
'The Talking Drum' showcases Viola's experimental Dry Pool Sounding recordings from the late '70s, which have been restored by the artist's studio and are now pressed onto vinyl and housed in bespoke sleeve with archive photography.
Tracklist:
Side A
The Talking Drum, 1979 (22:56)
(For Herman Heins) Performance, 1982
Bass Drum, temple gong, pre-recorded sound, and electronics
Performed by Bill Viola
Side B
Hornpipes, 1979-82 (18:11)
PVC pipes, voice
Performed by Ralph Jones, Bill Viola, Yoshi Wada
Pulses (Duomo Bells), 1982 (4:10)
Metronome, pre-recorded sound, and electronics
Performed by Bill Viola