Published on
June 19, 2017
Category
News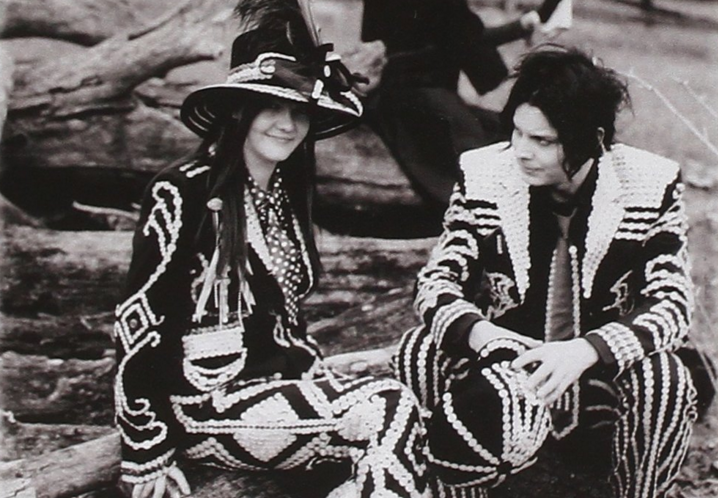 Featuring B-sides, unreleased material, art prints and more.
Jack White and Third Man records are to celebrate the tenth anniversary of the release of The White Stripes' final album Icky Thump with an expansive deluxe vinyl reissue.
Read next: 10 essential Third Man records – in their own words
Pressed to "contained explosion" coloured vinyl – the first time the album has appeared beyond the standard black wax (and indeed the first Third Man Vault title to be pressed at its new pressing plant in Detroit) – the complete package also features b-sides, recording session outtakes, a polaroid photo book, art prints, and more.
As ever, Third Man have gone to town on the packaging, creating a soft-touch coated telescoping box using the St. Andrew Cross motif of the original album artwork.
You can preview a previously unreleased demo from the accompanying Red Demos 12″ here.
Released as part of Third Man's Vault subscription service, Icky Thump X is available to members and those signing up before 31st July. Find out more here.
See more details and a tracklist breakdown below: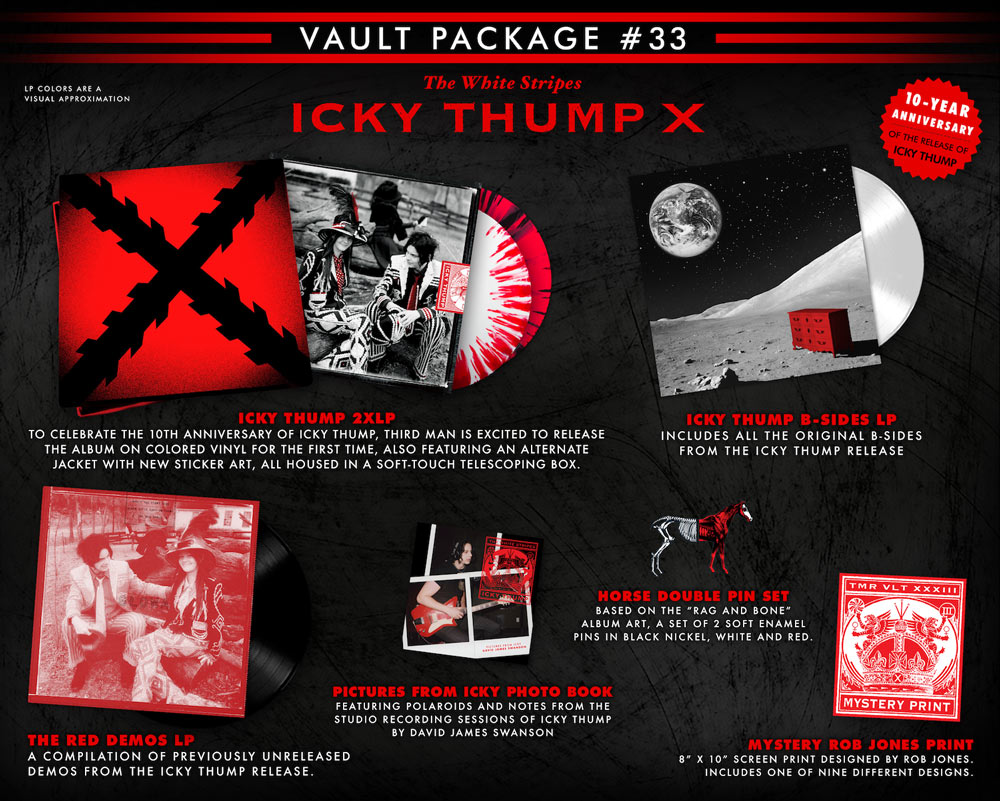 Deluxe Vinyl:
01. Icky Thump
02. You Don't Know What Love is (You Just Do as You're Told)
03. 300 M.P.H. Torrential Outpour Blues
04. Conquest
05. Bone Broke
06. Prickly Thorn, But Sweetly Worn
07. St. Andrew (This Battle is in the Air)
08. Little Cream Soda
09. Rag and Bone
10. I'm Slowly Turning Into You
11. A Martyr for My Love for You
12. Catch Hell Blues
13. Effect and Cause
Icky Thump Extras:
01. Tennessee Border (originally by Hank Williams)
02. Baby Brother (originally by Bill Carter and the Rovin Gamblers)
03. You Don't Know What Love Is (You Just Do As You're Told) (Frat rock version)
04. A Martyr For My Love For You (Acoustic version)
05. It's My Fault For Being Famous (prod. Beck)
06. Cash Grab Complications On The Matter (prod. Beck)
07. Honey, We Can't Afford To Look This Cheap (prod. Beck)
08. Conquest (Acoustic mariachi version) (prod. Beck)
09. Conquista (Spanish language version) (prod. Beck)
The Red Demos:
01. You Don't Know What Love Is (You Just Do As You're Told)
02. A Martyr For My Love For You
03. Rag and Bone
04. Catch Hell Blues
05. Little Cream Soda
06. Prickly Thorn, But Sweetly Worn
07. Monkeys Have It Easy (Previously unreleased)
08. Bone Broke
09. Icky Thump
10. Conquest
11. 300 MPH Torrential Outpour Blues