Published on
October 11, 2017
Category
News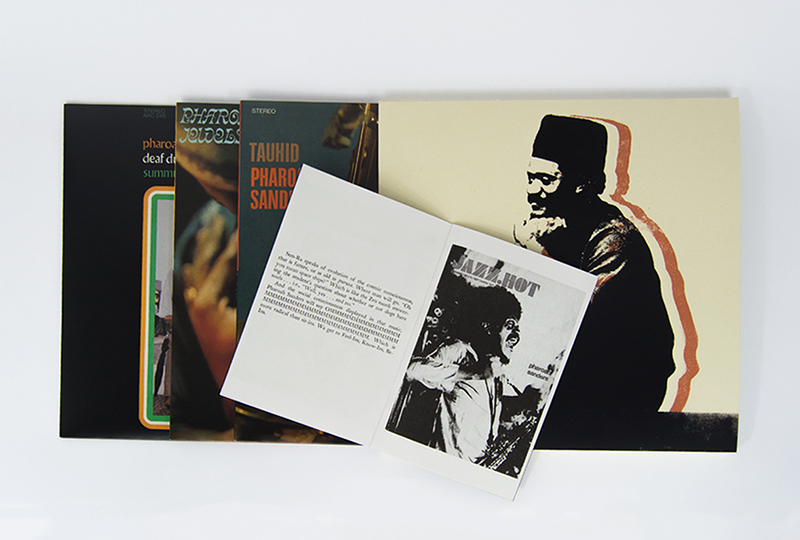 An essential trio from the legendary jazz saxophonist.
A series of three Pharaoh Sanders LPs are being released by Anthology Recordings this November.
Read more: Celestial impulses: The sound of Pharoah Sanders in 10 records
The deluxe package includes all three LPs – Tauhid, Jewels Of Thought, and
Summun Bukmun Umyun – Deaf Dumb Blind – along with a "16-page zine housed in O-Card hand-assembled and screen-printed by Keegan Cooke."
The records are also available individually, and features commentary from Dublab's Carlos Niño, Mark "Frosty" and Mark Maxwell.
"Of Pharoahs 11 albums on Impulse! as a leader, the ones in front of you are Tauhid (#1 from 1967), Jewels Of Thought (#3 from 1969) and Summun Bukmun Umyun – Deaf Dumb Blind (#4 from 1970)," says Niño. "It was John Coltrane's influence on music and the recording Industry that opened the door for Pharoah Sanders, and through that door Pharoah would fly, soar and inspire!"
Pre-order the LPs and box set here ahead of the 10th November 2017 release, watch a cosmic Sanders performance from 1968 and checkout the track lists below.
Tauhid
A1. Upper Egypt & Lower Egypt
B1. Japan
B2. Aum / Venus / Capricorn Rising
Jewels of Thought
A1. Hum-Allah-Hum-Allah-Hum-Allah
A2. Sun In Aquarius (Part 1)
B1. Sun In Aquarius (Part 2)
Summun, Bukmun, Umyun – Deaf, Dumb, Blind
A1. Summun, Bukmun, Umyun
B1. Let Us Go Into The House Of The Lord