Published on
November 10, 2017
Category
News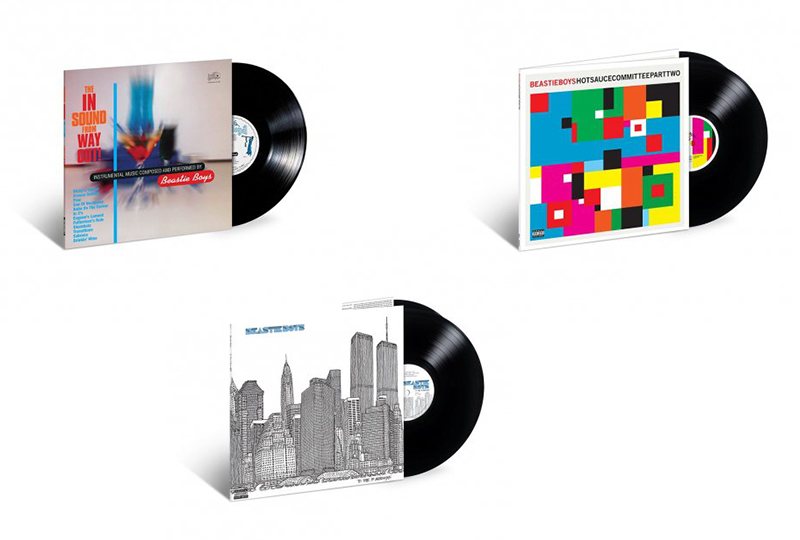 Including an unreleased 1996 French fan club compilation of instrumentals.
Three albums from iconic NYC hip-hop crew Beastie Boys are being reissued on vinyl, this December via Capitol Records.
Read more: The records behind Beastie Boys' sample masterpiece Paul's Boutique
Originally released via the group's French fan club, The In Sound From Way Out! is a 1996 collection of Beastie Boys instrumentals from Check Your Head and Ill Communication, along with four additional tracks.
To The 5 Boroughs (2004), available on 2xLP, is Beastie Boys' follow-up to Hello Nasty, and features lead single 'Ch-Check It Out'.
Hotsaucecommitteeparttwo (2011), available on 2xLP, is the group's eighth (and final studio) album.
In 2012, the Beastie Boys were inducted into the Rock and Roll Hall of Fame. At the time they were just the third hip-hop group to enter the Hall of Fame.
One month later founding member MCA died of cancer; Ad-Rock and Mike D announced the group would be disbanded out of respect for MCA.
The In Sound From Way Out!, Hotsaucecommitteepart2, and To The 5 Boroughs are available 8th December.
Head here to pre-order a copy, watch the video for 'Ch-Check It Out' and peep the track lists below.
Tracklists:
The In Sound From Way Out! (1996)
Side A
Ricky's Theme
Groove Holmes
Pow
Son Of Neckbone
Bobo On The Corner
In 3's
Eugene's Lament
Side B
Futterman's Rule
Shambala
Transitions
Sabrosa
Drinkin' Wine
To The 5 Boroughs (2004)
Side A
Ch-Check It Out
Right Right Now Now
3 The Hard Way
It Takes Time To Build
Side B
Rhyme The Rhyme Well
Triple Trouble
Hey Fuck You
Oh Word?
Side C
That's It That's All
All Lifestyles
Shazam!
An Open Letter To NYC
Side D
Crawlspace
The Brouhaha
We Got The
Hotsaucecommitteeparttwo (2011)
Side A
Make Some Noise
Nonstop Disco Powerpack
Ok
Side B
Too Many Rappers featuring – NASW
Say It
The Bill Harper Collection
Don't Play No Game That I Can't Win Featuring – Santigold
Side C
Long Burn The Fire
Funky Donkey
The Larry Routine
Tadlock's Glasses
Lee Majors Come Again
Side D
Multilateral Nuclear Disarmament
Here's A Little Something For Ya
Crazy Ass Shit
The Lisa Lisa/Full Force Routine