Published on
October 13, 2014
Category
News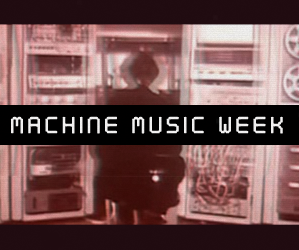 With a trio of releases and events launching this week, we're turning The Vinyl Factory website into a hub of content focussed around the theme 'machine music'.
From the very first notes spluttered by a mechanical instrument to the vinyl 12″s that rolled off the pressed at EMI to the sound of contemporary music as defined by the gear that was used to make it, modern music has been inextricably linked with the evolution of machines. With our three releases and their accompanying events this week touching in some way on this relationship, we're celebrating man and machine on The Vinyl Factory website with a week of content that traces this evolution from the earliest experimental electronic music to the irrefutable influence of Kraftwerk and ultimately the birth of house and techno.
---
Contents:
Watch our short film on the first ever computer music compilation Cybernetic Serendipity Music
Listen to a Conrad Shawcross podcast on music and machines for his dancing robot installation The Ada Project
It's a woman's world: Ada's top 10 techno records
The pioneering women of electronic music – An interactive timeline
Listen to the sound of the internet
Computer World: Why Cybernetic Serendipity Music is the most important and neglected compilation in electronic music
Watch the trailer for the new documentary on the Roland TR-808 due in 2015
This is Yello-ism: Boris Blank's 10 favourite electronic albums
Listen to all four tracks spawned by Conrad Shawcross' dancing robot – The Ada Project
Kraftwerk Changed My Life: 20 artists pick their favourite Kraftwerk records of all time
Inside Jonas Burgert's studio with Berlin producer rRoxymore
Radical Silence: 10 essential John Cage records
Drum patterns and memories: 12 artists reflect on iconic drum machines
Eight pieces of gear for the ultimate luxury studio
---
The first of our releases concerns Conrad Shawcross' Ada Project, an installation built around his robot Ada whose movement is defined by notes made by Ada Lovelace as she worked on Charles Babbage's ultimately flawed Victorian proto-computer the Analytical Engine. Open for the next month at The Vinyl Factory's Brewer Street car Park space, Shawcross has collaborated with four sets of musicians, including Holly Herndon and Mira Calix, to commission four pieces of music that respond to the robot in different ways, all of which have been released on vinyl this week.
Now, had Shawcross been operating in the 60's, the chances are his robot would have ended up taking pride of place at the ICA's landmark robotics exhibition Cybernetic Serendipity, the accompanying compilation to which we're very excited to be faithfully reissuing on vinyl with the ICA for the very first time since it was released in 1968.
The first survey of computer music ever released, Cybernetic Serendipity Music saw luminaries like John Cage and Iannis Xenakis jostle with the likes of Peter Zinovieff – the man behind the iconic VCS3 synthesizer and who is responsible for the first piece of music ever composed and performed by a computer. And all this a good six years before Kraftwerk's Autobahn changed the course of modern music forever.
Our third release is that of German artist Jonas Burgert, who has hand-painted one hundred sleeves in order to release the music of his father, the experimental classical composer and contemporary of Stockhausen Achim Burg, for the first time. Had Burg chosen to make his work more widely available he too could have taken his place alongside messrs Cage, Xenakis and Zinovieff on Cybernetic Serendipity Music.
With each cover forming one hundredth of a complete painting, Burgert's limited art edition zeit später also features a remix from producer and occasional Berghain DJ rRoxymore, who has brought Burg's piece into the 21st century with an extended reinterpretation that redraws the splintered history of electronic music in Berlin once more.
Over the course of the next week this page will slowly fill with links to articles that will explore the theme of machine music in different ways and become a virtual contents page to use and return to.
We start with our new short film on the story of Cybernetic Serendipity Music, as told by Peter Zinovieff, Russell Haswell, Yuri Patterson and the ICA's Juliette Desorgues. Click HERE to begin.
Before we get started in earnest, why not also take a look at:
Sculpting Sound: The art of vinyl mastering
The 14 synthesizers that shaped modern music
How to press a record: 30 photos from inside The Vinyl Factory
The greatest electronic albums of the 1950's and 1960s
Pioneers of sound: The story of the BBC Radiophonic Workshop