Published on
August 20, 2019
Category
News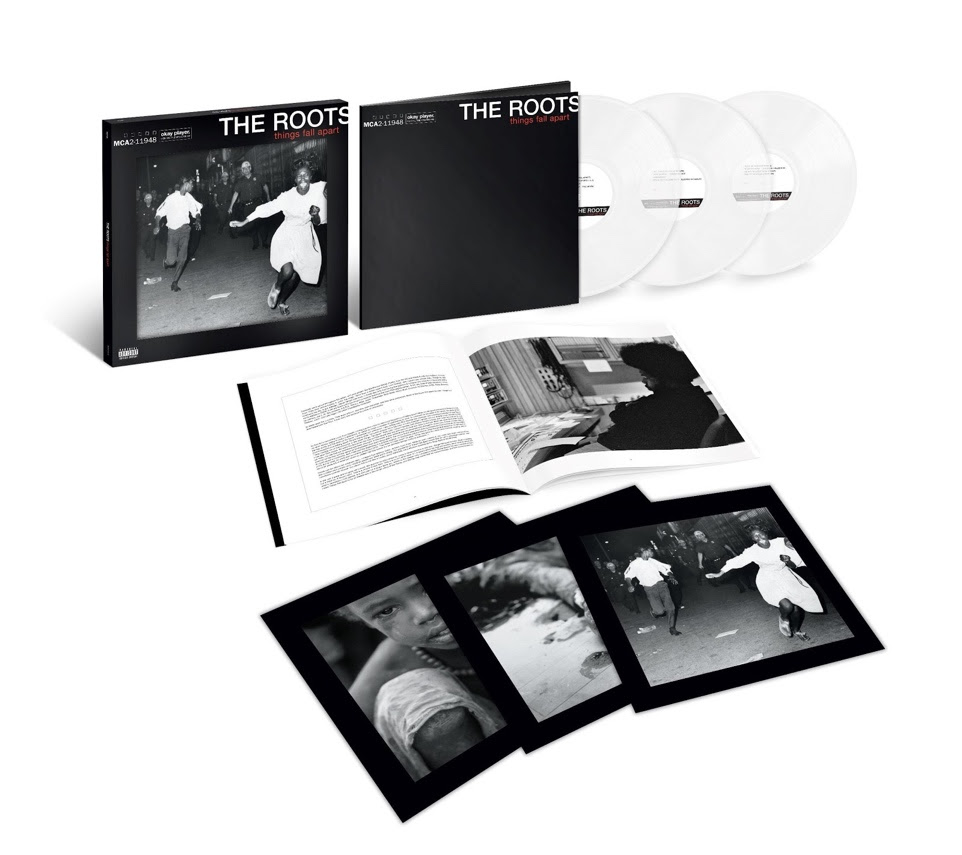 With bonus tracks, archival photos, liner notes from Questlove and more.
The Roots are reissuing three albums in anniversary editions, starting this autumn via Urban Nerds.
Read more: Watch Questlove of The Roots talk about buying records and vinyl snobbery
The albums include 1994's Do You Want More?!!!??!, 1996's Illadelph Halflife, and 1999's Things Fall Apart.
First up is Things Fall Apart – a 3xLP available 27th September this year to celebrate its 20th anniversary. The deluxe edition will include a remastered version of the record, bonus tracks, rare photos, essays from Black Thought and Questlove, and liner notes from Questlove.
 Do You Want More?!!!??!  reissue is set to come out in 2020, followed by  Illadelph Halflife  in 2021, both of which will celebrate their respective 25th anniversaries.
The albums follow the The Roots' 2014 LP And Then You Shoot Your Cousin; the band have also revealed a new album is in the works, forthcoming in late 2019.
Head here for more info, check out the Do You Want More?!!!??! tracklist below.
Tracklist:
Side A
1. Act Won (Things Fall Apart)
2. Table Of Content (Parts 1 & 2)
3. The Next Movement
4. Step Into The Realm
5. The Spark
Side B
6. Dynamite!
7. Without A Doubt
8. Ain't Saying Nothin' New
9. Double Trouble
Side C
10. Act Too (The Love Of My Life)
11. 100% Dundee
12. Diedre Vs. Dice
13. Adrenaline!
14. 3rd Acts: ? Vs. Scratch 2…Electric Boogaloo
Side D
15. You Got Me
16. Don't See Us
17. The Return To Innocence Lost
18. Act Fore… The End?
Bonus Tracks:
Side E
20. Table of Contents #3 – cut from album; previously released on The Legendary EP; not up digitally
21. What You Want – from The Roots Come Alive
22. Quicksand Millennium ¬- cut from the album, released on Homegrown! Vol. 2 compilation
23. We Got You (Extended) – extended version of track from The Roots Come Alive
24. You Got Me (Drum & Bass w/ Jill Scott) – unreleased
Side F
25. You Got Me (Me Tienes Remix) – from "You Got Me" CD single; not up digitally
26. Act Too (Love of My Life) [Remix] – from Brown Sugar soundtrack; not up digitally
27. Y'all Know Who – from Homegrown! Vol. 2 compilation
28. The Lesson – Part III (w/ Jaguar Wright) – from The Roots Come Alive
29. New Years @ Jay Dee's – from "You Got Me" CD single; not up digitally