Published on
August 29, 2016
Category
News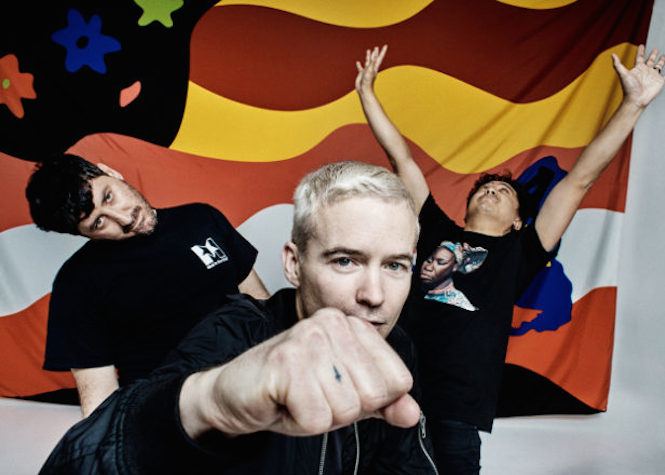 Featuring Nina Simone, Sun Ra, Frank Zappa, Thurston Moore, Madlib and Ata Kak.
Australian crate diggers The Avalanches returned to BBC Radio 1 this weekend to record a new Essential Mix, fifteen years after their debut on the series.
As hoped it's an eclectic ride through Sun Ra, Nina Simone, Madlib, Black Milk, Moondog, Bruce Haack, Edan, Frank Zappa and Mort Garson alongside field recordings and oddities. Have a listen here and find the tracklist below.
Read Next: How The Avalanches weaved thousands of samples into a supernatural tapestry with debut album Since I Left You
After sixteen years of silence, The Avalances made a comeback this year with their sophomore album, Wildflower.
The Avalanches Essential Mix
Emahoy Tsegué & Maryam Guèbrou – The Story of the Wind
Unknown – Hello
Dion McGregor – Snowflakes
Dion McGregor – Midget City
Ratatat – Black Heroes
Wild Man Fischer – The Leaves Are Falling
Sun Ra – Enlightenment
Nancy Dupree – James Brown
The Joubert Singers – Stand On The Word
Cindy & The Playmates – Now That School Is Through
Grateful Dead – Shakedown Street
Edan The Humble Magnificent – Fumbling Over Words That Rhyme
Nina Simone – Ain't Got No, I Got Life (Live)
Betty Everett – 1900 Yesterday
Moondog – Fog On The Hudson (425 W 57th Street)
Wild Man Fischer – Wild Man On The Strip Again
The Temple City Kazoo Orchestra – Stayin' Alive
Krak Attack CX Kidtronik & Tchaka Diallo – Fame Rapp
Moondog – Up Broadway
The Parliaments – What You Been Growing
Paul McCartney & Linda McCartney – Monkberry Moon Delight
Africa – Light My Fire
Clarence Reid – Miss Hot Stuff
Edan The Humble Magnificent – Funky Voltron (feat. Insight)
Stark Reality Discovers Hoagy Carmichael's Music Shop – Dreams
Madlib – Rock Konducta Vol 1
Unknown – The Snake
Ohio Penitentiary 511 Jazz Ensemble – Psych City
Blair – Life
Nancy Dupree – What Do I Have
Donald Byrd And The Blackbirds – Jazz Alphabet (Live)
Play Along At Home Rhythm Band – Pease Porridge Hot
Dick Rosmini & Hello People – Experiments (Teac Home Recording)
The Broads – Sing Sing Sing
Shooby Taylor – The Human Horn
Don Armando's 2nd Ave. Rhumba Band – I'm An Indian Too
The John Cacavas Golden Space Orchestra – Hydrogen and Helium
Bruce Haack – Lie Back
Bruce Haack – Sing
Frank Zappa – Oh No
Hermeto Pascoal – Som da Barba (Music From the Beard) (Live)
Blair – Virgo Princess
William Onyeabor – Better Change Your Mind
Thurston Moore & Lee Ranaldo – The Year Punk Broke
Thurston Moore – Thurston @ 13
Jack Fascinato – Music From A Surplus Store
Clara Mondshine – Die Drachentrommler (Dragon Drummers)
Frank Zappa – Excentrifugal Forz
Bruce Haack – Rubberbands
The Stooges – L.A. Blues
Bad Brains – Big Take Over
J-Jems – Dance
Bruce Haack – Motorcycle Ride
Chandra – Kate
Tony Schwartz – Music In The Streets
Ata Kak – Daa Nyinaa
Yoko Ono – Walking On Thin Ice
The Slits – I Heard It Through The Grapevine
William Onyeabor – Let's Fall In Love
Black Dice – Glazin'
Univ. of Ghana Postal Works – Cancelling Stamps At The University Of Ghana Post Office
Joe Moks – Boys And Girls
The Pointer Sisters – Don't It Drive You Crazy
David Essex – Rock On
Paul McCartney – Check My Machine
Jimmy Van M & Richard Hieronymous – I Weigh With Kilos
Hanny Nahmias – Hanna's Sabbath Dress
Sinkane – How We Be
Mort Garson – The Wozard of Iz
Uriah Heep – Wake Up
Black Milk – Wake Up
Mort Garson – Prologue
Frank Zappa – Mom and Dad
The Zombies – Hung Up On A Dream
Tony Schwartz – Music In The Streets