Published on
October 16, 2018
Category
News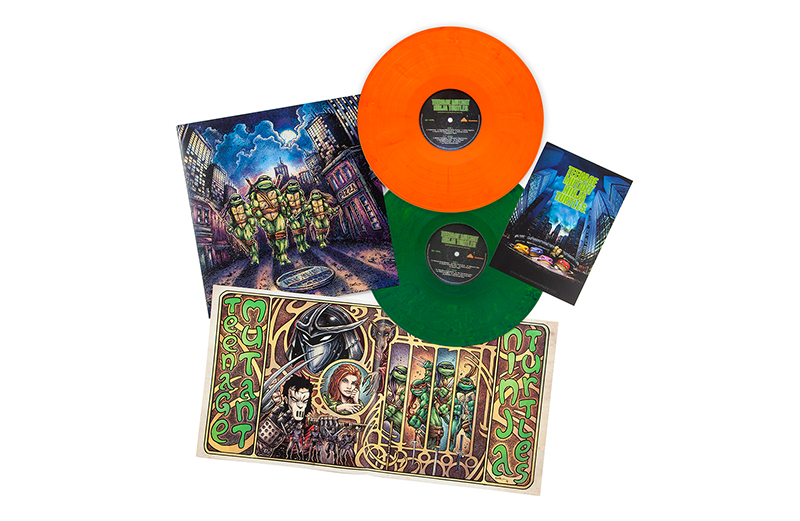 Cowabunga.
The original Teenage Mutant Ninja Turtles soundtrack from the 1990 live-action film is being released on 2xLP, this October,
TMNT was the first in a trilogy of Turtles films from the early '90s that spawned from the popular comic and cartoon TV series. Its score was composed by John DuPrez,
TMNT became the highest grossing independent film at the time, and cemented the four martial-arts-superhero-turtles into popular culture, with the most recent film being released in 2016.
Available across 8 different variants, each double vinyl package is named after an iconic character from the film: Leonardo, Michelangelo, Donatello, Raphael, Casey Jones, April O'Neil, Master Splinter, and The Foot.
Its original artwork was designed by TMNT co-creator Kevin Eastman, and tells the story of the 1990 film in comic book style. The package also includes an illustrated poster by Eastman and a 1990 TMNT film poster postcard.
Listen to clips from the score and check out the track list below ahead of its 19 October release.
Tracklist
Side A
1. Crimewave
2. Teenage Mutant Ninja Turtles
3. Crime Fighters
4.Possess The Right Thinking
5. Subway Attack
6. Splinter's Tale I
Side B
7. Hidden Treasures
8. Shredder's Big Entrance
9. Raphael In Trouble
10. Huge Fight
11. Tatsu Attack
12. Trouble
13. Their Greatest Fear
Side C
14. Message From Splinter
15. Time To Go Back
16. Splinter's Tale
17. Battles With The Foot
18. Sewer Surfin'
19. Street Fight
Side D
20. Shredder's Last Stand
21. The Fall Of Shredder
22. TMNT (Alt Mix)
23. Splinter's Tale I (Alt Mix)
24. Splinter's Tale II (Alt Mix)