Published on
April 8, 2014
Category
News
Vintage masters and metal stampers could be used to press previously unheard Sun Ra releases.
The most expensive band souvenir in the world or that holy grail Sun Ra recording that, rescued from obscurity, will provide the missing link in the astral jazzman's feted catalogue? It's a dilemma any number of the 65 'watchers' of this extraordinary eBay lot could be toying with.
As picked up by Spin, a collection of Sun Ra's "historic master tapes, stampers, and mothers" are currently for sale via a fairly solid listing on the online auction site. The haul, which purports to contain 10 Sun Ra masters and two further unverified stampers, is thought to contain studio materials from Ra's work at New York's Variety Recording Studio between the 1960's and the 1980's.
However, there is a word of warning for armchair archaeologists and budding reissue label heads from seller and Variety Studio founder Warren Allen Smith:
"The metal stampers/mothers are sold as a batch with the caveat that, unless a pressing plant with equipment similar to that used in the 1960s to 1980s can be found, no pressings could be made. It is possible that none of the present stampers can be used to make further pressings. However, it might be possible to digitize the data in order that a digital master could be created for digitally downloadable and CD creations."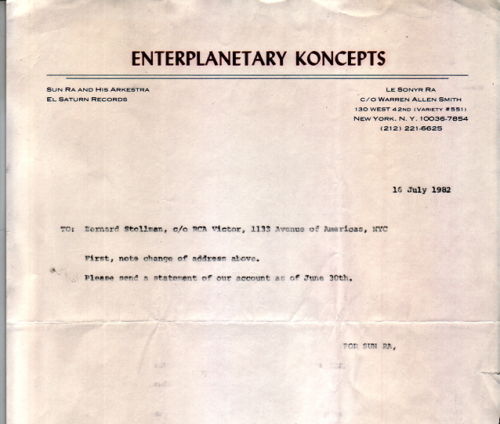 Although further details of the contents are scarce, it's thought that material from Sun Ra's meeting with John Cage is included as well as a tantalising letterhead from Sun Ra with the title 'Enterplanetary Koncepts'.
Sketches for an unreleased LP perhaps, or just a collection of unplayable studio offcuts? Check it out and stake your claim here. Bidding starts at $20,000, with a 'buy now' option of $26,000 until the auction ends on 15th April. There are currently no bids. [via Spin]
This year would also have been Sun Ra's 100th birthday, and you can read our review of the recent reissue of Other Strange Worlds here.