Published on
January 22, 2015
Category
News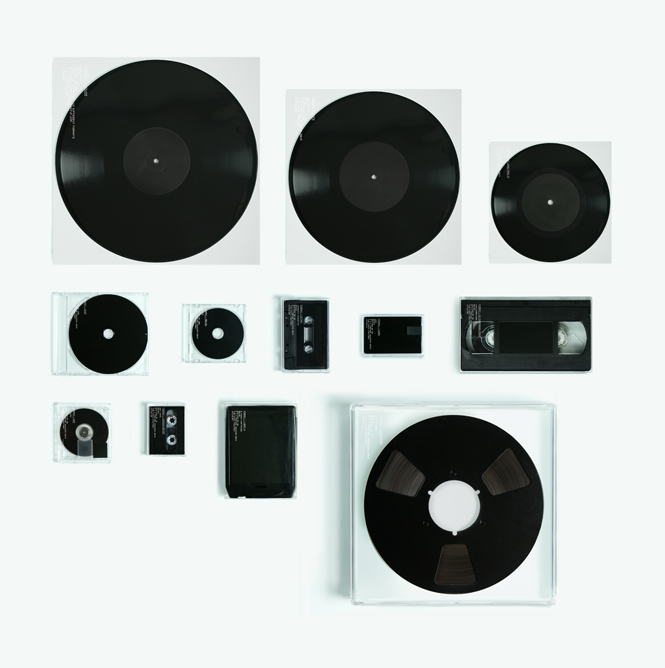 Listen to music from Trevor Jackson's new album F O R M A T, which charts the legacy of the physical music format.
Trevor Jackson's first album in 14 years will be released next month on 12 different physical formats, with each format holding one track. The formats are: 12-inch, 10-inch and 7-inch vinyl, CD, mini CD, cassette, USB, VHS, MiniDisc, DAT, 8-track and reel-to-reel.  A vinyl edition and digital versions that collect all 12 album tracks will follow, all released by The Vinyl Factory.
Now, for the very first time, you can listen to snippets from the album:
The first opportunity to hear the album in full will be at an accompanying exhibition at The Vinyl Factory in Soho where you'll also be able to experience a new audio-visual artwork by Jackson. All items will be available individually at the exhibition and online except the reel-to-reel which is only available in a special edition of the entire set.
Here's the full tracklist and the edition size for each format:
01. LUMILINE – 12" vinyl – Edition of 500
02. RTFX – 10" vinyl – Edition of 300
03. THEY CAME FROM NY – 7" vinyl – Edition of 200
04. SCUZ – CD – Edition of 150
05. BELIAL – Mini CD – Edition of 100
06. LETHAL – Cassette – Edition of 75
07. ICARO – USB – Edition of 50
08. IN YOUR HANDS (EDIT) – VHS Videotape- Edition of 30
09. OCP – Mini Disc – Edition of 25
10. VOODOO RACIST – DAT – Edition of 20
11. I WANT U – 8-track Cartridge – Edition of 15
12. NOWHERE – 1/4" Reel to Reel Tape – Edition of 10 (Available with the entire Set)
F O R M A T will be released by The Vinyl Factory on 25th February 2015 in 12 different limited edition formats. Vinyl and digital album versions will be released a month later.