Published on
April 1, 2020
Category
News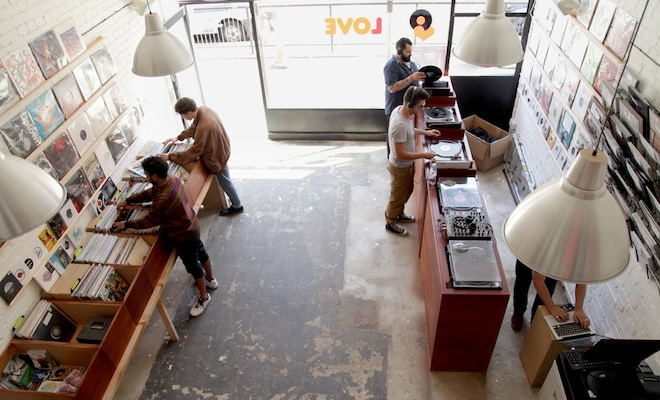 Celebrating your favourite music HQs by shopping remotely.
A new campaign called Record Store Of The Day has launched, to support independent record shops during the Coronavirus pandemic.
Read more: How record shops are getting vinyl to you during the Coronavirus pandemic
The initiative urges people to buy records from their favourite shop online, as well as via social media and telephone orders, while physical browsing is not possible.
Running until at least 30th April 2020, the campaign is backed by artists and labels including Floating Points, Alex Nut, Erased Tapes, Eglo, Jazz and Re:freshed; in addition to the BPI, AIM, ERA and Record Store Day.
Record Store Of The Day is helmed by UK music distributors Cargo, Forte Distribution, Kudos Records, Little Amber Fish, Nova Distribution, The Orchard, PIAS, Proper Music Distribution, Republic of Music, Shellshock, SRD and Trapeze.
In addition to supporting shops online, the campaign is asking for people to share a picture or name of a record that you love on Twitter, Facebook and/or Instagram, with the @ of the shop where you purchased it, along with the hashtag #recordstoreoftheday.
Head here for additional info, and check out the list of participating stores in full below, with more to be announced.
Participating shops
Banquet Records – Kingston Upon Thames
Wax and Beans – Bury
Underground Solu'shn – Edinburgh
Sounds of the Universe – London
Empire Records – St Albans
Black Circle Records – Leighton Buzzard
Spinning Discs Sheffield – Sheffield
Up North Records – Chester
Soul Brother Records – Putney, London
Derrick's Music – Swansea
Off the Beaten Tracks – Louth, Lincolnshire
Sister Ray – London
Record Corner – Godalming
World of Echo – London
Intense Records – Chelmsford
Fish Records – Stone, Staffordshire
Reflex – Newcastle upon Tyne
Transmission Records – Margate
The Vinyl Whistle – Headingley
Grind and Groove Records – Keighley
Sound Records – Stroud
Seismic Records – Leamington Spa
Resident – Brighton
Lion Coffee + Records – London
Red House Records – Swindon
The Record Store – Ashford
Vintage & Vinyl – Folkestone
HiFix – Coventry
Flashback Records – London