Published on
October 8, 2019
Category
News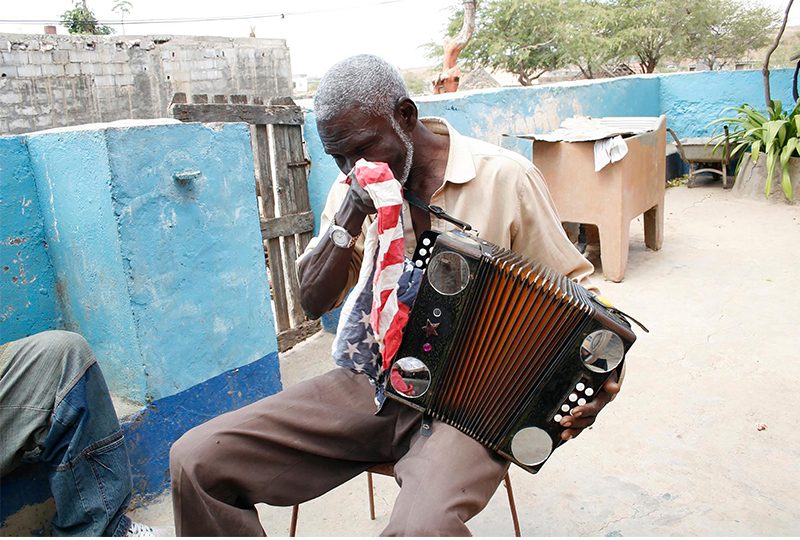 "Listen carefully and dance recklessly."
The new compilation, titled Pour Me a Grog: The Funaná Revolt in 1990s Cabo Verde, will be released in October via Ostinato.
Watch more: The rebel synths of Cabo Verde
Curated and compiled by Vik Sohonie & Olav Aalberg, the eight track LP presents the politically transgressive sounds of late '90s Funaná.
In 1950s Cabo Verde a group of young men known as Badius embarked on an almost 2,500 mile expedition from their home of Santiago to the Island of São Tomé. They left not to find jobs, but to buy an accordion, locally known as gaita.
After working for years in harsh conditions to buy instruments and tickets home, they formed a group of self-taught gaita players. Cabo Verde's strict curfews, designed to prevent politically subversive gathering, meant their music was swiftly outlawed and policed by the Portuguese secret police, who feared the dance music would lead to large crowds.
In 1997 a group going by the name Ferro Gaita made a disc based on the gaita, ferrinho and bass guitar sounds. Quickly capturing the ear of Cabo Verde, the album sold at unprecedented rates.
Pour Me a Grog: The Funaná Revolt in 1990s Cabo Verde has compiled the politically charged gaita and Funaná sounds from this turbulent, but musically adventurous, period.  The release follows Sweet as Broken Dates: Lost Somali Tapes from the horn of Africa and Two Niles to Sing a Melody: The Violins & Synths of Sudan, both released by Ostinato Records.
Head here for more info ahead of its 25th October release, check out the artwork and tracklist below.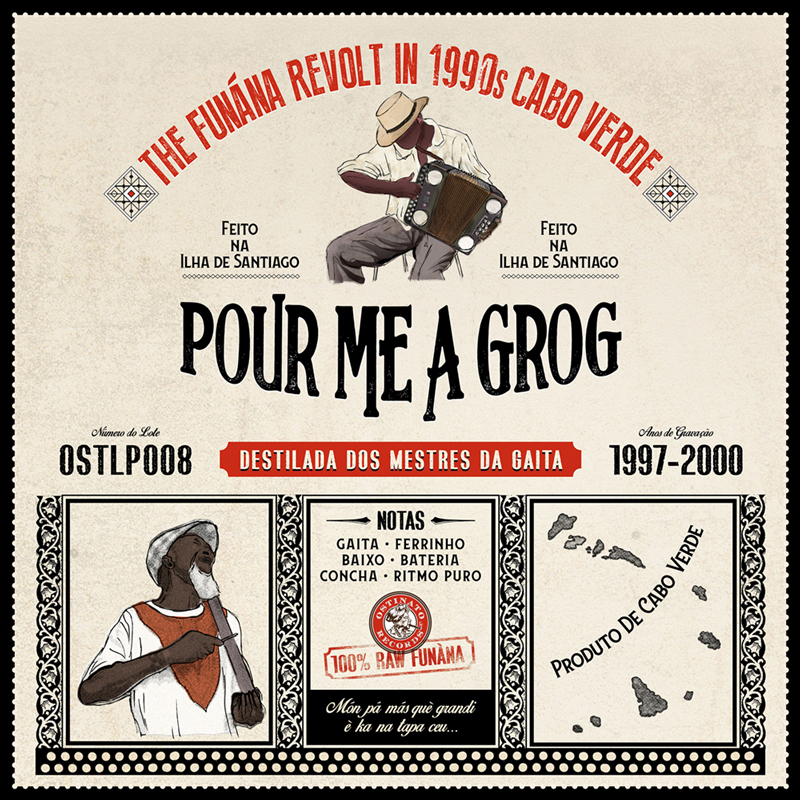 Tracklist:
1. Ferro Gaita – Rei di Tabanka
2. Etalvinho Preta – Mulato Ferrera
3. Tchota Suari e Chando Graciosa – Nha Boi
4. Avelino e Orlando Pantera – Nha Lutcha
5. Peps Love – Pom Um Grogu
6. Bitori e Fefé di Calbicera – Mô Na Máma
7. Orlando Pantera – Rabidanti
8. Fefé di Calbicera – Tra Tchapéu