Published on
April 28, 2015
Category
News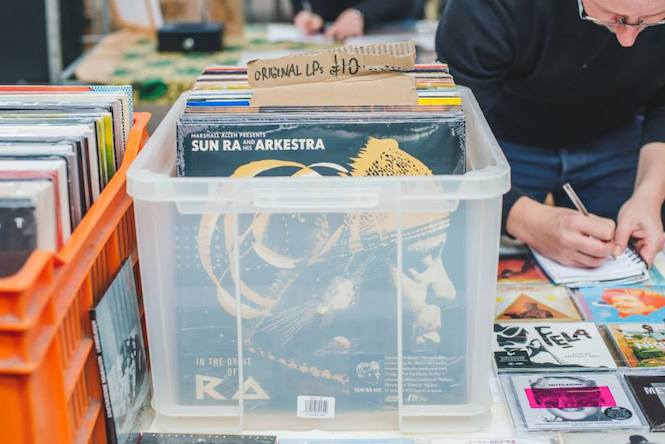 Independent Label Market heads west with stacks of exclusive vinyl to make its Bristol debut this Sunday.
London's enjoying a strong record fair culture at the moment with local markets cropping up in Hackney, Peckham, Kilburn and most recently Elephant & Castle. On that circuit of course is Independent Label Market whose semi-regular gig at Spitalfields has become an established fixture for record collectors. Shoreditch might be home turf but ILM has never been afraid of spreading its wings: pitching up in Glasgow, Berlin, L.A. and Toronto to champion local labels and give collectors the chance to pick up A-grade records.
For its latest instalment ILM heads to Britain's West Country to take on Bristol. The debut market will showcase the cream of Bristol crop; Hypercolour, Idlehands, Futureboogie, RWDFWD, Ghetto Funk, Rise Audio, Turbo Island Tees, Astro:Dynamics along with Heavenly, Caught By The River, Black Acre, Ninja Tune, !K7, Strut, Hospital and a number of other labels from around the UK. As ever, crates of jaw-dropping records including exclusives, signed vinyl, rarities, test pressings and advance copies will be available exclusively at the market.
With so many top records on offer, we've drawn up this shopping list for Bristol punters:
---
– !K7: Pre-release copies of DJ Kicks: Actress.
– Strut: Previously unreleased Sun Ra and his Intergalatic Research Akerstra album Planets Of Life Or Death recorded in Amiens in 1973.
– Ninja Tune: Second chance to grab three Record Store Day releases that sold out in a flash – Amon Tobin's Dark Jovian, Annabel (lee)'s debut album, and Vapor City Remixes by Machinedrum.
– Heavenly: Limited copies of the Temples lenticular 12″ Beyond The Wizard Sleeve remix album.
– Black Acre: Super limited Clap Clap x DJ Khalab 7″s.
---
Independent Label Market: Bristol takes place at St Nicholas Market, in The Glass Arcade, as part of Bristol City Council's 'Make Sunday Special' series. More info here.