Published on
November 16, 2017
Category
News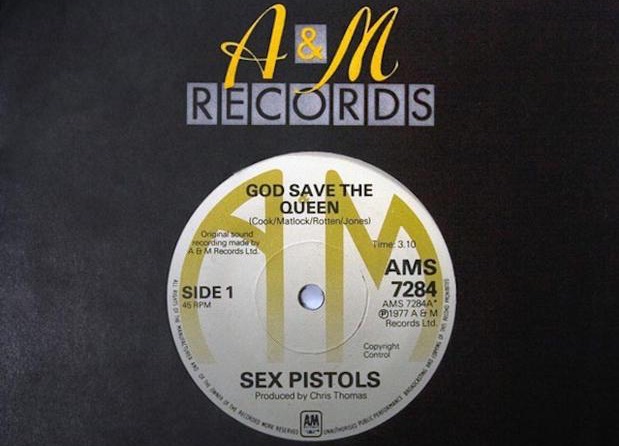 Sex Pistols' cancelled A&M Records 'God Save the Queen' 7″ is being auctioned.
Regularly included in lists of the rarest and most valuable records in the world, a cancelled pressing of Sex Pistols' 'God Save the Queen' 7″ single on A&M Records is going up for sale in London this weekend.
Read next: Sex Pistols immortalised in new book God Save Sex Pistols
Although now celebrating forty years since the single was released on Richard Branson's Virgin Records, changing the course of pop culture forever, Sex Pistols' 'God Save the Queen' has a pre-history that many don't know.
Originally signed to A&M Records, 25,000 copies of the Pistols' single were pressed ready for distribution before the label's owner Herb Alpert reportedly tore up the contract just six days in.
While most of the records were destroyed, a handful were already on their way to the media, with only nine thought to exist featuring the A&M card envelope. As a result copies have fetched up to £13,000, the last of which was sold in 2006.
The rarest punk record in history and a missing piece of iconic popular culture, Sex Pistols' A&M Records 'God Save the Queen' 7″ will be sold this weekend (18th & 19th November) by collector Eddie Lock at London Musicmania, Olympia London.
One of the world's biggest record fairs you can find out more and get your tickets here.