Published on
February 12, 2014
Category
News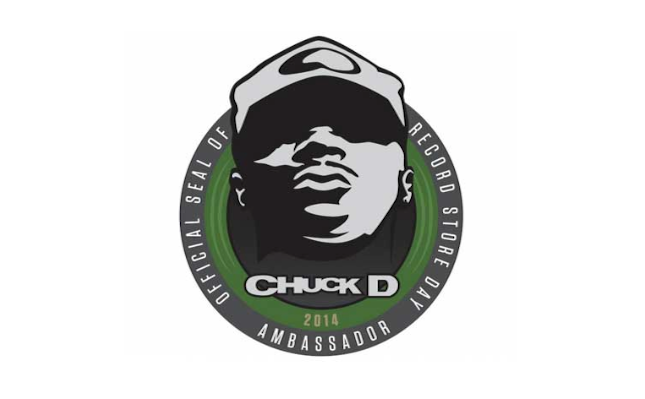 The annual vinyl knees-up chooses its figurehead.
Record Store Day have announced that their ceremonial ambassador for this year's event will be Public Enemy's Chuck D. Receiving the torch from certified vinyl nut and Third Man proprietor Jack White, Chuck D has wasted no time in outlining why the humble record store is central to his, and the industry at large's experience of music.
Last year's event proved to be both the most popular and lucrative for the beleaguered indie record stores involved, with the UK posting a 60% increase in sales on the previous year and doubtless contributed to making 2013 the biggest year for wax transactions since industry watchdog Nielsen SoundScan's records began in 1991.
Hoping to oversee even greater prosperity, Chuck D has released this Record Store Day rallying cry, which you can read in full below:
Over 27 years and 93 countries visited, as a professional lead vocalist of the RAP group Public Enemy, I don't go one single day without emphasizing that the genre of hip-hop is spawned from DJ culture. The founding members of Public Enemy were, and still are, DJs. The tool and fuel for DJs has forever been recordings. And where these recordings have long connected, with pros and fans alike, has simply been The Record Store, the connection point of listener and the recording.



The introduction of the available recording to the public had opened and webbed the sounds of the world across the planet long before the www. It has been influential to the creators of so many of the greatest recordings as well, sort of a second rite of passage after the live radio or TV performance. Motown's Berry Gordy had a record store, Elektra founder Jac Holzman had a record store, the STAX label had their Satellite Record Shop right next to their studio. Keith Richards opens a conversation with Mick Jagger as teenagers on a UK train platform because he had a stack of hot blues records in his arms after leaving a shop. Well you should have an idea of what I'm saying here.



The record store made musicians listen beyond themselves. It both complemented and supplemented the radio, in fact the best radio stations in the past followed the vibe of the record stores of their regions, thus growing and nurturing each other. The fans and listener had everything to gain, and if they wanted to get into making music, the Record Store turned into their first school and sonic passport out.



Do not get me wrong, I am a fan of technology, but I am a bigger fan of the music. I used to be a big fan of the industry of music when it, like sport, at least offered a seemingly fair field of play, no matter where one came from. Upon the growth of Hip Hop through vinyl-cassette-Cd-MP3 I long wanted, and advised, many Record Stores ways to adapt to surviving the ICE AGE. Like last year's Record Day Ambassador, the great Jack White, I concur with his view that people want to gather, share thoughts, and suggest music. There's few musical events more exciting than Record Store performances, whether it's Grimey's In Nashville, Criminal Records in ATL or Rough Trade in London. I've long thought The Record Store tour circuit is so necessary and rewarding.



In this age where industry has threaded the music sound with virtual sight and story I am honored to be called upon to be Record Store Day Ambassador of 2014. With the masses, neck bent into their smartphones, let all of us music lovers GPS our way into a reality that is the Record Store. It's worth a great try, let's do this…


Chuck D

Co Founder of Public Enemy

Rock and Roll Hall Of Fame 2013



Record Store Day is planned for Saturday 19th April 2014. Keep your eyes peeled for more info on special releases and events as the day approaches. [via Exclaim!]
Watch our video from Jack White's Third Man records in Nashville HERE.