Published on
November 18, 2013
Category
News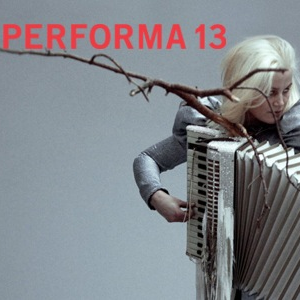 Sound artist Christian Marclay to present the award at New York's international performance art festival.
Marking the end of the prestigious live visual performance festival for the second time since the honour was introduced in 2011, the Malcolm McLaren Award celebrates the most innovative and thought-provoking performance of the biennial.
A culmination of Performa's extensive commissioning, touring and educational program, the festival's 2013 finale will pay particular tribute to the award's namesake, the visual art and fashion icon (and one-time Sex Pistols manager) Malcolm McLaren, whose seminal 1983 LP Duck Rock will celebrate its 30th anniversary this year.
Alongside the award of the $10,000 prize to be presented by The Vinyl Factory artist Christian Marclay, the evening's entertainment will pay homage to McLaren's landmark work as an expression of the vitality of exploration and innovation Performa have stood for in bringing a cross-section of the world's most daring visual performance artists to New York City.
As well as a rare hour-long film of Duck Rock, there will be performances by Gay Dog (Mykki Blanco) and No Bra (Susan Oberbrecke) a series of art installations inspired by the record and live remixes the album, with The Vinyl Factory set to reissue a re-mastered and repackaged vinyl edition of Duck Rock in 2014.
Founded in 2004 by art historian and curator RoseLee Goldberg, Performa introduced the award in 2011 where it was presented for the first time by the late Lou Reed. This year's grand finale will take place from 9pm on 24th November at the Performa Hub, 13 Crosby Street, New York, NY, 10013.
For more information about the Award and the festival as a whole visit 13.performa-arts.org.
Christian Marclay's mesmerising debut Groove was released on The Vinyl Factory earlier this year. Click here for more info.
Listen to the whole of Duck Rock below: