Published on
September 11, 2017
Category
News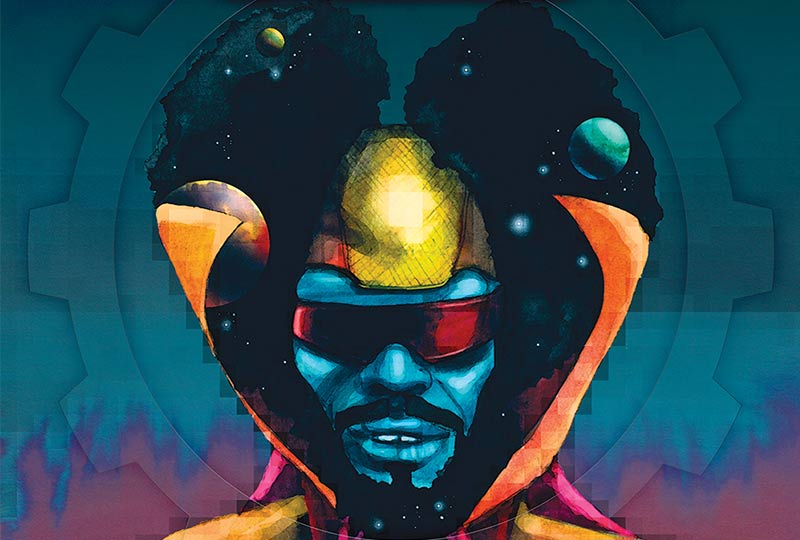 Featuring Moodymann, Underground Resistance, Amp Fiddler and more.
Iconic Motor City producers are reimagining the songs of Parliament, in new album Funkadelic Reworked by Detroiters, from Ace Records.
Read more: An introduction to Parliament Funkadelic in 10 records
The 17-track album, which spans funk, rock, disco, techno and house edits, includes reimaginings from Detroit legends Moodymann (as well as his Kenny Dixon Jr. alias), Amp Fiddler, and Underground Resistance, amongst others.
Highlights include Anthony "Shake" Shakir and T Dancer giving 'Standing on the Verge' a touch of techno grit, while Gay Marvine puts his boogie-filled, magic dance floor touch on 'Undisco Kidd'.
There were a selection of legendary Detroit producers who didn't make the cut though, "Theo Parrish, Carl Craig and Wajeed all worked on remixes but felt their mixes just didn't hold up to Funkadelic's legacy – that is truly a rare kind of respect, and shows you just how much this music still means in Detroit," says album curator Brendan M. Gillen, of Interdimensional Transmissions.
Pre-order a copy here, listen to 'Cosmic Slop (Moodymann Mix) Funkadelic' and checkout the track list below.
Tracklist:
Side 1
1. Sexy Ways (Recloose Disco Flip)
2. You Can't Miss What You Can't Measure (Alton Miller Mix)
3. Get Your Ass Off And Jam (Marcellus Pittman Remix)
Side 2
1. Cosmic Slop (Moodyman Mix)
2. Music For My Mother (Andres Wo Ahh Ay Vocal Mix)

3. Super Stupid (Dirtbombs Version)
Side 3
1. Music 4 My Mother (Underground Resistance Mix)
2. Undisco Kidd (Gay Marvine Edit)
3. Take Your Dead Ass Home (The Fantasy Version)
Side 4
1. Let's Take It To The Stage (Amp Fiddler Laughin @Ya Mix)
2. Standing On The Verge (Anthony Shake Shakir & T Dancer Remix)
3. You And Your Folks (Claude Young Jr Club Mix)
Side 5
1. Be My Beach (Mophono & Tom Thump)
2. You And Your Folks (Claude Young Jr Dub)
3. Let's Make It Last (Kenny Dixon Jr Edit)
Side 6
1. Looking Back At You (Ectomorph Stripped And Dubbed)
2. Maggot Brain (BMG Dub)