Published on
August 26, 2014
Category
News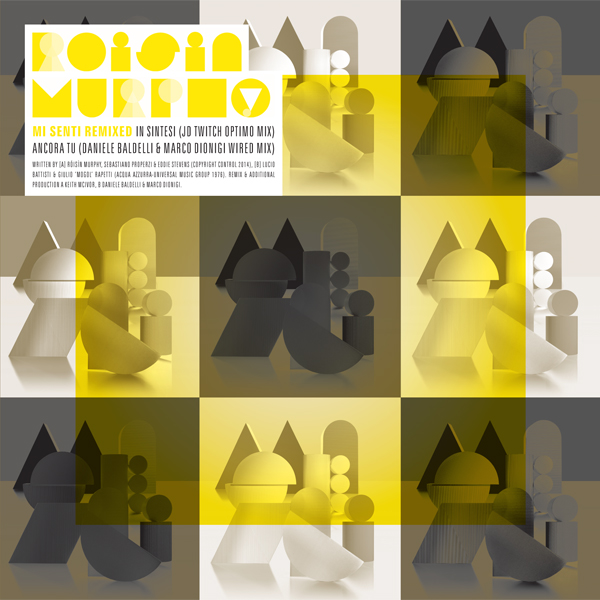 Warped future disco is the order of the day as JD Twitch joins Daniele Baldelli & Marco Dionigi to rework Róisín Murphy's stunning Italian EP Mi Senti.
Róisín Murphy is set to release the second remix bundle from her new EP Mi Senti. The two-track 12″ opens with Optimo's JD Twitch and his dark and orchestral take on Murphy's 'In Sintesi', the only new composition from the original EP, which otherwise features Murphy covering five classic Italian pop songs.
On the flip, a collaborative remix from two of Italian cosmic disco's hall of fame Daniele Baldelli and Marco Dionigi hears the pair let loose on 'Ancora Tu' – Murphy's cover of the classic Lucio Battisti hit – transforming it into a retro-futuristic romp, all vocoders, scintillating percussion and crunching guitar riffs.
Released as 12″ vinyl and download, this second Mi Senti remix bundle follows the four-track collection of reworks by Horsemeat Disco's Severino & Nico de Cegila, Leo Mas, All Seeing I and Psychemagik, which was released by The Vinyl Factory in June this year.
Róisín Murphy's Mi Senti Remixed featuring JD Twitch and Daniele Baldelli & Marco Dionigi will be released on 10th September by The Vinyl Factory. Click here to pre-order now.
To mark the initial release of Mi Senti, we asked Róisín Muprhy to pick her all-time top 10 Italian records. Click here to find out what she chose and what an awsome mashup video of Psychemagik's 'In Sintesi' from the first remix bundle below.