Published on
August 1, 2018
Category
News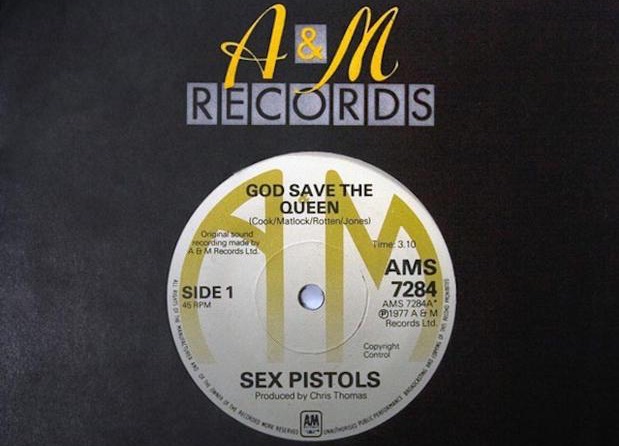 One of supposedly only nine original copies of the Sex Pistols' 'God Save the Queen' is now being sold on Discogs.
Before signing to Virgin Records and officially releasing 'God Save the Queen', a song that declared the arrival of punk into the mainstream, the Sex Pistols were originally signed to A&M Records. However, just six days after they were signed on March 10th 1977, A&M's owner, Herb Alpert, destroyed the contract, due to the Sex Pistols' volatile nature.
Subsequently, the 25,000 copies already pressed were destroyed by A&M. However, nine promo copies are thought to have survived, making them some of the rarest records pressed in the UK.
Genuine originals have a serrated anti-slip necklace and '7284' written twice on the B-side runout. The record has 'God Save the Queen' on the A-side and 'No Feelings' on the B-Side.
The Sex Pistols' 7" single is being sold on Discogs by UK-based user davepunx for £16,450. If sold for the asking price, it will become the most expensive copy sold to date. The last original A&M pressing sold on Discogs for £11, 142 in November 2017, becoming the most expensive record sold that month.
The record's price has been steadily rising, with Pete Bonner, owner of Pyschotron records, selling his copy at £15,000 in July, an increase from the £13,000 a copy fetched in 2006.