Published on
October 30, 2013
Category
News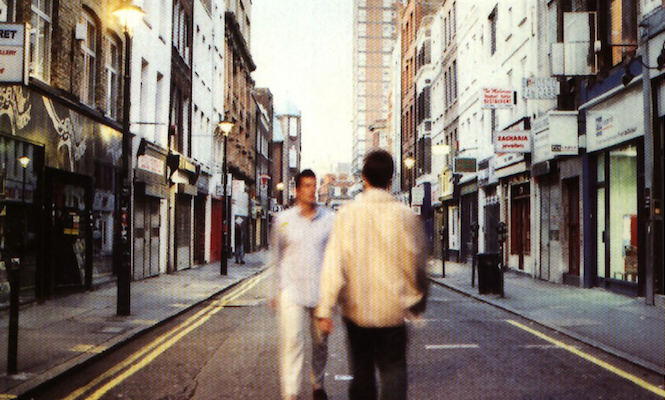 Official Charts Company release list of big sellers from the fallow years of vinyl.
Considering that figures for UK vinyl sales in 2013 have reached a reported 12 year high, it's not altogether surprising that all but two of the 20 biggest selling records of the last two decades listed by the Official Charts Company and NME were released in the preceding 8 years.
Leading the way with first and second place are Oasis, whose What's The Story Morning Glory? pips Definitely Maybe to the top spot, with Portishead's Dummy taking the final podium place. Although The Beatles also figure strongly, the list is a pretty succinct document of the more adventurous end of the mid-90's mainstream, dominated as it is by Brit pop (Oasis, Blur, Pulp) and its Mod and Madchester fore-runners (Paul Weller, Stone Roses), Bristolian trip hop (Massive Attack, Portishead) and The Prodigy.
While it is no surprise to see Radiohead's The King Of Limbs sneak into the chart as the only LP released post-2001, the next most recent entrant is Travis, whose The Invisible Band peaks at a heady forth spot. (via NME)
Here's the full list:
1. Oasis – What's the Story Morning Glory? 91995)
2. Oasis – Definitely Maybe (1994)
3. Portishead – Dummy (1994)
4. Travis – The Invisible Band (2001)
5. Radiohead – The King Of Limbs (2011)
6. Leftfield – Leftism (1995)
7. The Beatles – Live At The BBC (1994)
8. Massive Atack vs. Mad Professor – Protection/No Protection (1995)
9. Queen – Made In Heaven (1995)
10. The Prodigy – Fat Of The Land (1997)
11. Paul Weller – Stanley Road (1995)
12. The Stone Roses – Second Coming (1994)
13. Blur – Parklife (1994)
14. Nirvana – MTV Unplugged In New York (1994)
15. The Prodigy – Music For The Jilted Generation (1994)
16. Neil Young – Harvest (1972)
17. Pulp – Different Class (1995)
18. Oasis – Be Here Now (1997)
19. DJ Shadow – Endtroducing (1999)
20. The Beatles – Anthology 1 (1995)