Published on
April 12, 2013
Category
News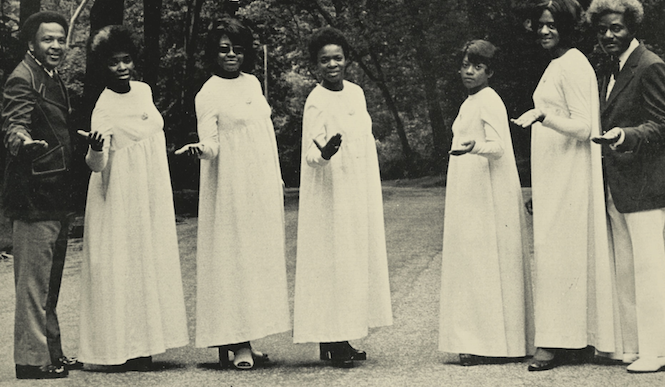 Archival label to release 48 unique titles, covering nearly two dozen LP and CD configurations, the same number of 45s (and double 45s), a 10″ picture disc, and four massive box sets, across six labels.
Following the latest addition to Numero's Eccentric Soul series, the label have announced they will be resurrecting DJ Shadow's upstart Cali-Tex label for a retrospective of Mickey And The Soul Generation centering around "Iron Leg", a track that prompted Josh Davis (AKA DJ Shadow) to call them his "favorite funk band".
Numero have returned to Shadow's original 2003 reissue to produce the updated Iron Leg: The Complete Mickey & the Soul Generation with Davis' adding valuable new material and a previously unreleased track.
However, the tag of "soul label" has never sat altogether comfortably with Numero's wonderfully eclectic series of releases, although the Chicago outfit wears it well. Funk and soul may be the root of much of their output, but the branches often reached beyond towards the Latin and calypso influences sounds of Belize or the Bahamas.
Now, with releases shooting off in all directions, Numero have taken the next step. The Hüsker Dü 2×7″ "Amusement" planned for Record Store Day falls into that tentative space between post-punk and hardcore, their Unwound retrospective kicks off with the band still known as Giant Henry for the hand-printed Big Baby release and Codeine weigh in with a rare live performance called What About The Lonely? on red and black vinyl.
All available from the Numero Group RSD outpost on the Kedzie, Milwaukee, and Logan intersection, they're also producing an exclusive 24-Carat Black picture disc.
All in all it sounds like an exciting few months in Illinois.
Check out their website's awesome Digital Dig archive and see below for a full list of the releases (excluding RSD specials) which Numero have planned for 2013:
NUM003 Eccentric Soul: The Bandit Label 3LP
NUM040 Good God! Apocryphal Hymns CD/2LP
NUM046 Iasos: Celestial Soul Portrait CD/2LP
NUM047 Eccentric Soul: The Forte Label CD/2LP
Jr.009 Otis G. Johnson: Everything "God Is Love" 78 LP
Jr.010 Rokk: I Want To Live High LP
Jr.011 Centaura: Lawdy, Lawdy, Lawd LP
Jr.012 Sixth Station: Deep Night LP
NPH44004 King Bullard Version: Songs of the BOS Label LP
CT-102 Iron Leg: The Complete Mickey & the Soul Generation 3LP
ER-3014 Express Rising: Express Rising CD/LP