Published on
July 2, 2018
Category
News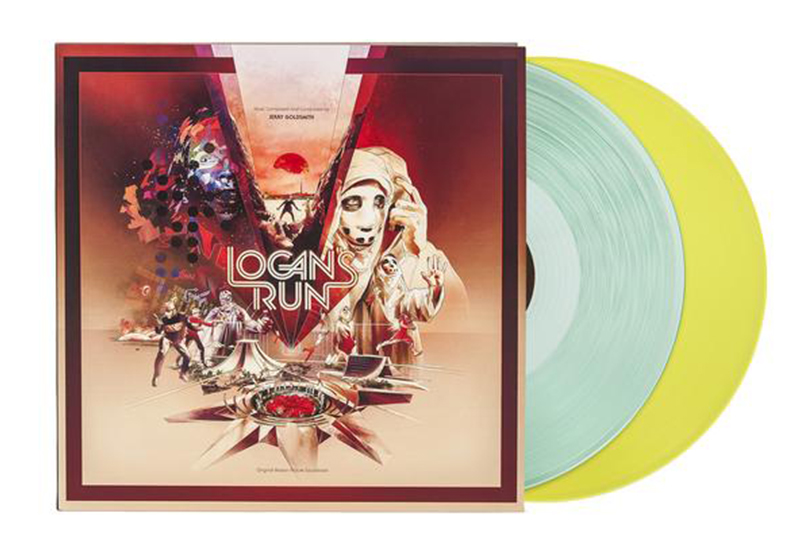 Mixing electronics and early modular synths with classical orchestral arrangements.
Jerry Goldsmith's complete original soundtrack for 1976 dystopian sci-fi movie Logan's Run is getting its first ever vinyl release, in a deluxe package via Waxwork Records.
The film stars Michael York, Jenny Agutter, and Farrah Fawcett as members of a seemingly utopian society – where all of the population are killed when they turn 30 in the interest of maintaining equilibrium. Not ideal.
Crafted by storied American composer Jerry Goldsmith, its score is noteworthy for his use of electronic sounds and early modular synthesisers alongside more traditional orchestral arrangements.
Logan's Run was released the same year as The Omen, for which Goldsmith received an Academy Award, and whose soundtrack has also been rereleased this month.
Remastered from the original tapes for this new reissue, with new artwork by Martin Ansin, Logan's Run OST is available in two coloured vinyl variants – crystal blue/green and yellow or crystal green and red.
Order a copy here, listen to 'Flameout' and check out the track list below.
Tracklist
Side A
A1. The Dome
A2. On The Circuit
A3. The Sun
A4. Flameout
A5. The Monument
Side B
B1. You're Renewed
B2. Ice Sculpture
B3. Love Shop
B4. The Truth
B5. Intensive Care
B6. End Of The City
B7. Love Theme From Logan's Run