Published on
March 7, 2014
Category
News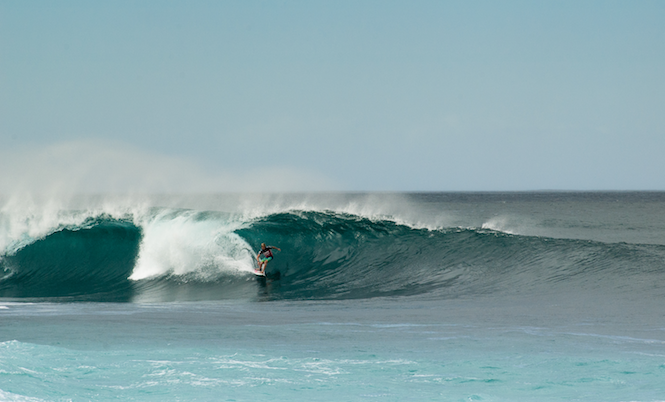 Aloha Got Soul and Weekends West provide the perfect playlist for the first weekend of spring.
Picture this: The sun's out, there's a hint of warmth in the air and it's Friday afternoon. Sounds alright, doesn't it? Just imagine our excitement then, when we returned from lunch to find a brand new mix of sleek and funky Hawaiian soul from Honolulu's finest record digger Roger Bong aka Aloha Got Soul nestling in our inbox. Serendipity can be a beautiful thing.
Equal parts rat pack chintz and Hawaii Five-0 swank, Soul Time In Hawaii is a picture postcard of paradise after one too many cocktails, best summed up by hula girl serenader George Paoa who croons: "We got sunshine and flowers everyday, People lovin' people, children play, No-one seems to worry havin' lots of fun, Swimmin' in the ocean lyin' in the sun, My place is here, I'll drink my beer…" We implore you to immerse yourself below:
Being geographically isolated from the US music scene, Hawaii developed its own sun-soaked variation of the classic soul and disco sound away from the hula bars frequented by the Don Drapers of this world, which, in the hands of Roger Bong and his brilliant blog Aloha Got Soul are beginning to make their way back into the collections of the world's most diligent record diggers. Psychemagik, Floating Points and Ed Motta are counted among his numerous and growing admirers of what is one of the most unfairly neglected canons of music around.
For this outing, Aloha Got Soul has teamed up with young London-based fashion company Weekends West for the launch of a limited and hand-printed Soul Time In Hawaii t-shirt. To mark the occasion there'll also be two parties taking place simultanesouly on the 22nd March, one in London at Brilliant Corners in Dalston, the other in Honolulu. I know where I'd rather be. You can find out more about these on the flyers below or on the event's Facebook page: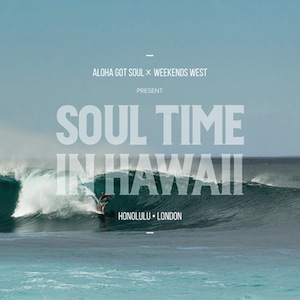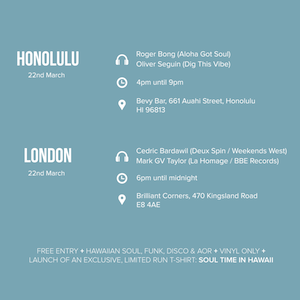 Speaking of vinyl-only mixes, if you haven't heard the first in our new series with Andrew Ashong then make sure you get to it right now.