Published on
January 19, 2022
Category
News
A tribute to '90s raves and Brixton Electric nights.
These days, BBC presenter Ros Atkins may be best known for his trusted news reportage. However, in Atkins' younger days, he was apparently partial to a rave – particularly hardcore and d'n'b parties. DJing soon followed, with gigs in the UK and South Africa along the way.
Watch next: Vinyl Factory Live: Calibre
Atkins maintained these music pursuits alongside his journalism career until the mid-2000s, when his daughter was born, at which point he "suddenly had a lot less time and energy".
Delving into this tale, Atkins shares: "Now here's a story. Back in the '90s, along with lots of teenagers in Cornwall, I started going to raves & listening to hardcore and drum & bass. Here's me and my mate Ollie after a long night (Helter Skelter, Milton Keynes, 97…). And yes that is a high viz jacket…"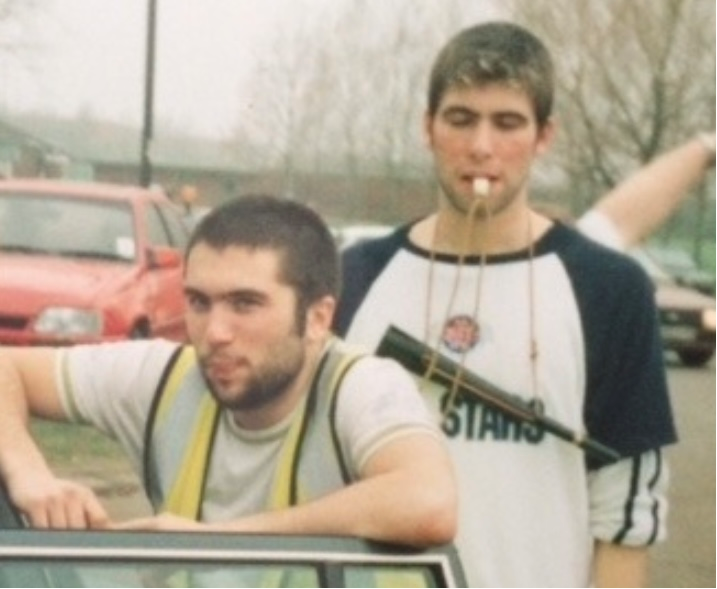 I also started to DJ. Inspired by LTJ Buckem, DJ Hype Playaz, Ray Keith, and others, I started to buy a lot of d'n'b, and, through my 20s, in a very amateur fashion, I DJed a range of music in London, Cornwall & Cambridge.
I also lived in South Africa for a while and, improbably, ended up playing in the d'n'b room at a huge rave in Joburg train station. (I had an inbuilt advantage as d'n'b was hard to get in SA back then.)
Then in 2006, I got booked to play a festival in Regent's Park. It was a reasonably sweaty affair… A few days later, our eldest daughter was born and suddenly I had a lot less time and energy! DJing didn't fit into life so well and I've not done a gig since."
Following a recent interview where Atkins was asked about his DJing career, BBC 6 Music ingeniously tapped him for what is, objectively speaking of course, an excellent mix, which you can listen to here.
"The mix I've done is inspired by some brilliant pre-COVID nights spent at Electric Brixton, where d'n'b heavyweights LTJ Buckem, DJ Storm, Roni Size & Dilinja expertly mixed styles and eras. Those nights felt as visceral and uplifting as anything in the '90s."
With classic records, alongside underground gems, and newer releases, it's clear that Atkins hasn't lost his touch.
Listen to the mix above, and check out the tracklist below.
Tracklist
1. J Hype & Ganja Max (Feat MC Fats & DJ Daddy) – Rinse Out
2. Dred Bass – Dead Bass (Origin Unknown remix)
3. Shimon and Andy C – Night Flight (original)
4. High Sense – Cold Fresh Air (Cyantific Remix)
5. LTJ Bukem – Atlantis (DJ Marky and S.P.Y. remix)
6. D.Kay and DJ Lee – Wax'd VIP
7. Calibre – Mr Maverick
8. Koffee – Toast (Clipz bootleg)
9. Atlantic Connection – In Your Eyes
Photos: Ros Atkins