Published on
October 4, 2017
Category
News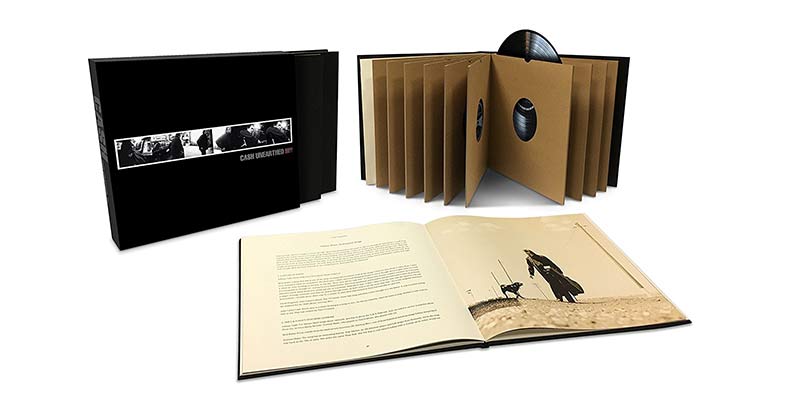 A monumental Man in Black box set.
Johnny Cash's five-part, nine album long, Unearthed release will be available on vinyl for the first time this November, from American Recordings and UMe.
Originally released in 2003 on CD, the set was intended to be a celebration of the 10 year collaboration between producer and American Records founder Rick Rubin and Johnny Cash.
Cash died unexpectedly at the age of 71, before ever hearing the final masters.
The vinyl package "features two cloth-bound books housed in an LP-sized black-cloth slipcase": a book that holds all of the vinyl and a 60-page book with liner notes, interviews, commentary about all 79 songs from Cash and Rubin, plus exclusive photography.
Unearthed vinyl box set is available 3rd November 2017. Listen to 'Rusty Cage' and check out the track list below.
Tracklist
Part 1: Who's Gonna Cry
Side A
1. Long Black Veil
2. Flesh And Blood
3. Just The Other Side Of Nowhere
4. If I Give My Soul
5. Understand Your Man
Side B
1. Banks Of The Ohio
2. Two Timin' Woman
3. The Caretaker
4. Old Chunk Of Coal
5. I'm Going To Memphis
Side C
1. Breaking Bread
2. Waiting For A Train
3. Casey's Last Ride
4. No Earthly Good
Side D
1. The Fourth Man In The Fire
2. Dark As A Dungeon
3. Book Review
4. Down There By The Train
Part 2: Trouble In Mind
Side A
1. Pocahontas
2. I'm A Drifter
3. Trouble In Mind
4. Down The Line
Side B
1. I'm Movin' On
2. As Long As The Grass Shall Grow
3. Heart Of Gold
4. The Running Kind
Side C
1. Everybody's Trying To Be My Baby
2. Brown Eyed Handsome Man
3. "T" For Texas
4. Devil's Right Hand
Side D
1. I'm A Drifter
2. Like A Soldier
3. Drive On
4. Bird On A Wire
Part 3: Redemption Songs
Side A
1. A Singer Of Songs
2. The L & N Don't Stop Here Anymore
3. Redemption Song
4. Father And Son
Side B
1. Chattanooga Sugar Babe
2. He Stopped Loving Her Today
3. Hard Times
4. Wichita Lineman
Side C
1. Cindy
2. Big Iron
3. Salty Dog
4. Gentle On My Mind
Side D
1. You Are My Sunshine
2. You'll Never Walk Alone
3. The Man Comes Around
Part 4: My Mother's Hymn Book
Side A
1. Where We'll Never Grow Old
2. I Shall Not Be Moved
3. I Am A Pilgrim
4. Do Lord
5. When The Roll Is Called Up Yonder
6. If We Never Meet Again This Side Of Heaven
7. I'll Fly Away
8. Where The Soul Of Man Never Dies
Side B
1. Let The Lower Lights Be Burning
2. When He Reached Down
3. In The Sweet By And By
4. I'm Bound For The Promised Land
5. In The Garden
6. Softly And Tenderly
7. Just As I Am
Part 5: Best Of Cash On American
Side A
1. Delia's Gone
2. Bird On A Wire
3. Thirteen
4. Rowboat
Side B
1. The One Rose (That's Left In My Heart)
2. Rusty Cage
3. Southern Accents
4. The Mercy Seat
Side C
1. Solitary Man
2. Wayfaring Stranger
3. One
4. I Hung My Head
Side D
1. The Man Comes Around
2. We'll Meet Again
3. Hurt