Published on
September 25, 2013
Category
News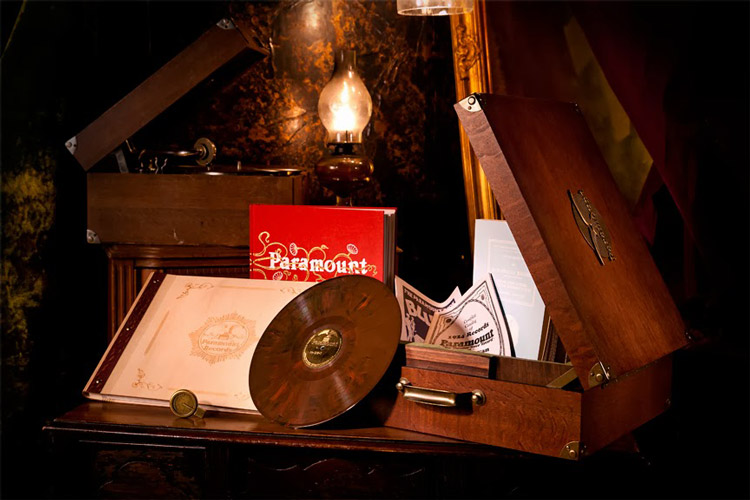 Early jazz and blues label celebrated in luxurious box set.
It could have been lifted straight from the set of The Great Gatsby. Charting the 25 year history of one of America's foundational jazz and blues labels, The Rise And Fall Of Paramount Records 1917-1932 is more of a museum exhibit than a reissue.
Spanning the prohibition years when jazz was the nation's surrogate liquor, Paramount Records gave a platform to legends Louis Armstrong and Jelly Roll Morton alongside an astonishing array of greater and lesser known blues and gospel artists who benefited from the label's open door policy.
In what feels like Third Man playing a game of one-upmanship with itself, The Rise And Fall Of Paramount Records 1917-1932 is the latest in a line of extravagant special editions this year, following their Sun Records 7″ series and the decadent Great Gatsby OST.
Crafted, as only Third Man can, to recreate the glamour of the roaring twenties, the story of Paramount Records will be told in two parts, the first of which comes housed in an oak "cabinet of wonder", with 6 heavyweight LP's and a 350-page encyclopaedia shedding light on the remarkable and chaotic chair manufacturer turned record industry giant.
With a product description bordering of self-parody – the records will be pressed on "burled chestnut colored vinyl w/ hand-engraved, blind-embossed gold-leaf labels, housed in a laser-etched white birch LP folio" (seriously?) – there's no escaping the ambition of the project, pursued in collaboration with John Fahey's Revenant Records. Volume One is due out on 29th October, a whole year before Volume Two. Quarter-sawn oak, lush sage velvet upholstery and custom-forged metal hardware must be hard to come by.
Head over to the Third Man dream factory for more details.