Published on
August 21, 2014
Category
News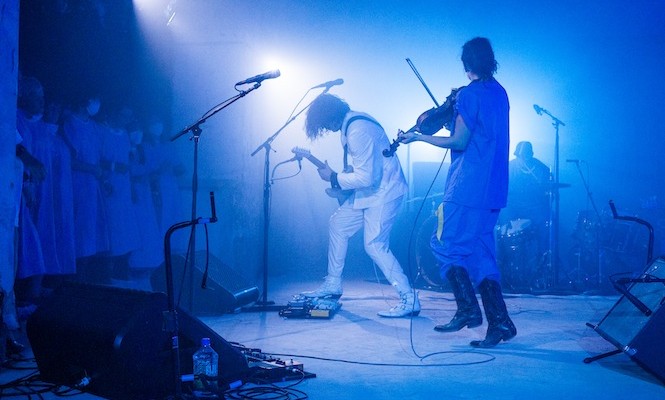 Another chapter in the story of Jack White's ill-fated secret gig emerges.
Last month, Jack White invited a group of just 40 of his most hardcore fans to the bowels of The Vinyl Factory's brutalist 180 The Strand space in central London under the pretext that they were to be subject to a set of medical screenings for an unknown super virus performed by fictional health apparatus Vescovo.
Led on by a set of online clues, the select 40 spent much of the Wednesday night in the basement of the empty office block which has been transformed into the Vescovo treatment clinic by immersive theatre company Punchdrunk. Clad in dust-blue scrubs, they were none the wiser that they were about to see Jack White perform one of the most talked about secret gigs of the year.
Tearing through White Stripes classics like 'Dead Leaves and the Dirty Ground' and the lead single off his new album Lazaretto – which has since become the biggest selling vinyl release since records began – the frenetic set descended into chaos as White himself seemed to be struck down himself, breaking down mid-solo only to be stretchered from the venue in a state of seizure.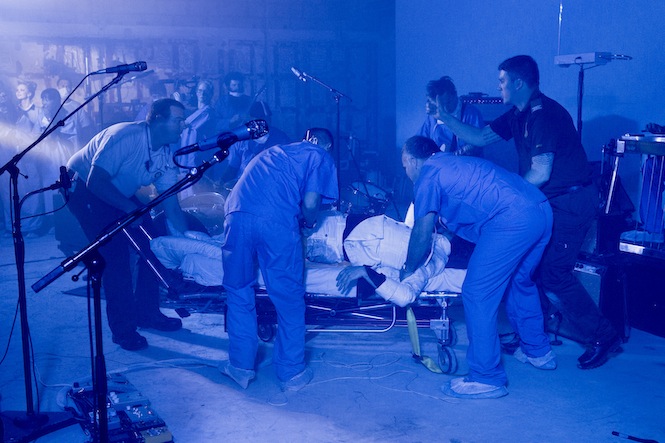 Now, clandestine CCTV footage has emerged from the evening, showing glimpses of how the event unfolded in the lead up to White himself being rushed from the scene in a Vescovo-marked ambulance.
Posted on White's Facebook page on August 19th, the video came with the following message:
The truth about Vescovo – A message from Nurse Hopper:
I am Nurse Nancy Hopper, the last survivor of the outbreak at Vescovo & Co's London clinic. I don't have long left but wanted you to know the truth. You are receiving this message because you appear on the Vescovo database and may be at risk.
Here is the only footage I could salvage from that night.
Be careful.
What it means is anyone's guess, but you can bet your good health this won't be the last we'll hear from Vescovo. Watch the video in full below and read more about the initial event here.