Published on
August 12, 2016
Category
News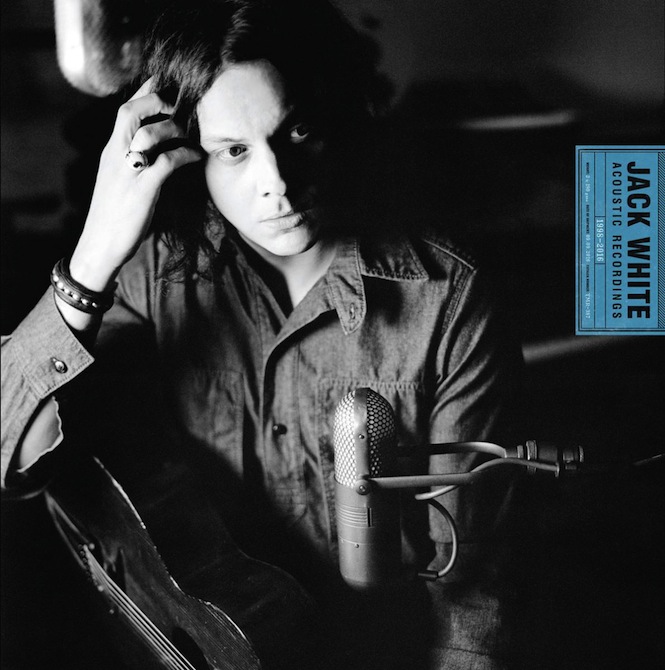 Career-spanning compilation due next month.
When he's not sending records into space, Jack White still deals in earthly matters. Featuring alternate versions, mixes and previously unreleased recordings from The White Stripes, The Raconteurs and solo material, Jack White Acoustic Recordings 1998-2016 is a comprehensive overview of the Third Man boss's songwriting development.
Arranged in chronological order, the record begins with music from The White Stripes' second ever 7″, tracing favourites and lesser known tracks from De Stijl, White Blood Cells, Elephant and Icky Thump.
Originally intended for release on Get Behind Me Satan, you can hear 'City Lights' now, which is included in the release and is technically the first new, worldwide commercially released White Stripes song since 2008.
There is also music from his only outing with The Raconteurs and both subsequent solo albums, Blunderbuss and Lazaretto, as well as tracks recorded for the Cold Mountain soundtrack and Coca-Cola's What Goes Around campaign from 2006.
Released on 9th September, the 2xLP vinyl edition of Jack White Acoustic Recordings 1998-2016 is available for pre-order now. Check out the tracklist below.
SIDE A
01. Sugar Never Tasted So Good
02. Apple Blossom (Remixed)
03. I'm Bound To Pack It Up (Remixed)
04. Hotel Yorba
05. We're Going To Be Friends
06. You've Got Her In Your Pocket
07. Well It's True That We Love One Another
08. Never Far Away
SIDE B
01. Forever For Her (Is Over For Me)
02. White Moon
03. As Ugly As I Seem
04. City Lights (Previously Unreleased White Stripes Track)
05. Honey, We Can't Afford To Look This Cheap
06. Effect & Cause
SIDE C
01. Love Is The Truth (Acoustic Mix)
02. Top Yourself (Bluegrass Version)
03. Carolina Drama (Acoustic Mix)
04. Love Interruption
05. On And On And On
06. Machine Gun Silhouette (Acoustic Mix)
SIDE D
01. Blunderbuss
02. Hip (Eponymous) Poor Boy (Alternate Mix)
03. I Guess I Should Go To Sleep (Alternate Mix)
04. Just One Drink (Acoustic Mix)
05. Entitlement
06. Want And Able